While independently produced music is becoming more and more prevalent, it is a very difficult course for any artist to follow. The UW's own Sarah St. Albin, a graduate student in the English department, is committed to this course with great success. Her first EP, "Small Voice," is set to be released March 10, and she begins her West Coast tour after graduation.
St. Albin grew up on a small farm northwest of Spokane. She began taking piano, guitar, and voice lessons at age 14, but she was not allowed to study music earlier in life so she could focus on academic studies instead. She was driven to practice regardless.
"I started out singing to my chickens," St. Albin said. 
After taking lessons for about a year, she began writing songs. Her first song was a ballad inspired by the tragic death of a local girl. After writing this song, the theme of loss began to emerge in her work, and can still be seen in her recent writing. She continued to write throughout high school, recording two demos, and her guitar instructor became her first CD engineer as she recorded in his studio in the mountains of Eastern Washington.
Since her start in songwriting as a teenager, St. Albin has been sporadically continuing to compose, with a marked increase in songwriting last year when she decided to focus her efforts on being a practicing independent musician. While the theme of loss has continued to be present in her newest work, she has been making a concerted effort to be positive as well.
St. Albin began higher education at the University of Idaho, then transferred to the University of Montana, eventually completing her undergraduate studies at the UW. She began majoring in psychology before switching to English. The singer is currently completing her master's degree in literature at UW and will graduate this spring. Some narratives derived from Victorian literature have influenced her compositions, St. Albin observes.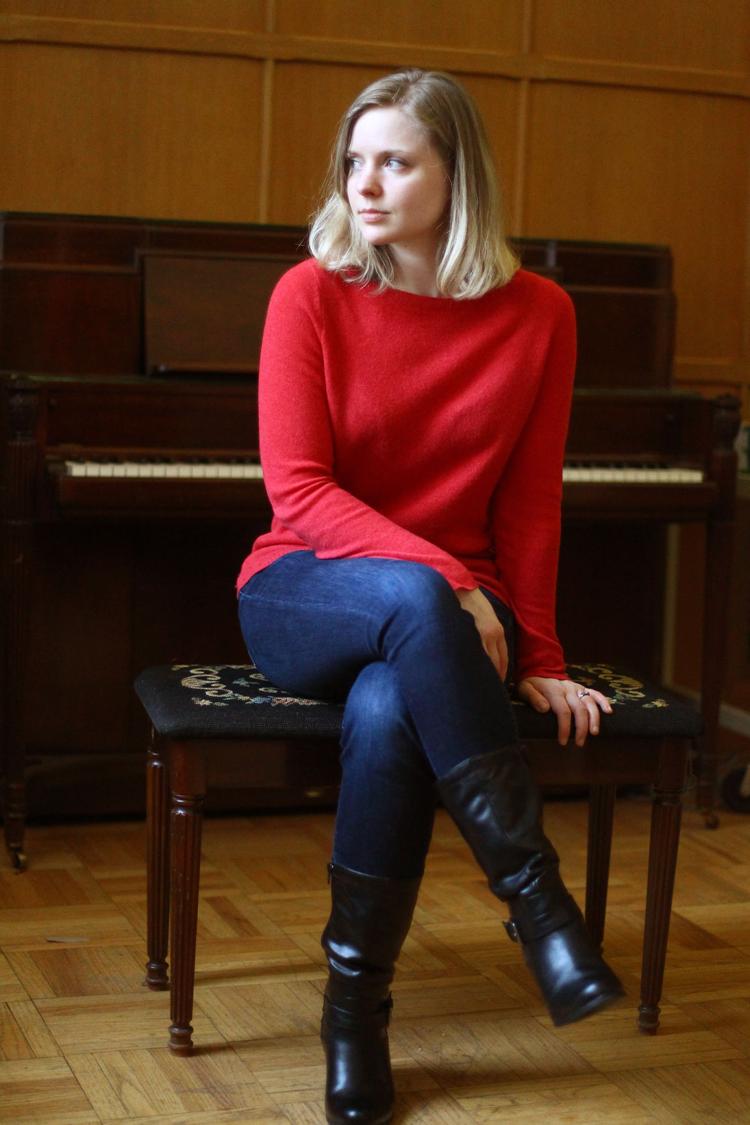 While St. Albin is very interested in Victorian literature, she discovered through her graduate studies that she wanted to pursue a career in music instead, despite the instability of the field. 
"It's extremely tough — I love it," she said of the music industry.
St. Albin cites other artists as main influences to her musical style, and does "a lot of studying of other musicians," from Tori Amos and Sarah MacLachlan, all the way to Led Zeppelin. St. Albin herself has a classical, almost operatic sound to her voice, which reflects a heavy influence from Celine Dion. She continues to experiment with her sound and is working to try out other vocal styles. Greatly influenced by classic rock, a trait which is most noticeable in her composition, many of her songs fit the classic form of rock songs, despite their scaled-down, acoustic instrumentation. 
St. Albin has found the local Seattle music scene to be very supportive. She started out playing at open mic shows then graduated to organizing local artist showcases, which evolved into full-fledged performances. St. Albin has experience being entrepreneurial in the music industry, as she runs an arts publishing and entertainment agency called Desibelle Entertainment. 
"The hardest part has been convincing people to take a risk," St. Albin said. "It's like having a start-up." 
Her determination to make it as an independent artist in part stems from her commitment to the artistic integrity and freedom that is inherent in the independent music philosophy. St. Albin strives to take her genre in new directions. With the release of her new EP, she defines her current genre as "introspective piano pop." Her songwriting style holds true to her Amos and McLachlan influences, and is centered around the piano. 
However, songs such as "Juliet" add a more upbeat, pop character to her work. "Juliet" is one of St. Albin's personal favorites on her EP, as she had fun writing and recording it. She also enjoyed the challenge of recording this particular song. 
"My producer and the drummer who came in to do this, they were thinking of a McCartney-esque feel to the song," St. Albin said. "It changed the entire way that I played it. It was a challenge, but a rewarding challenge." 
The title track, "Small Voice," was the first of the EP songs to be written, and greatly reflects St. Albin's style. 
"The song itself is about witnessing abuse," St. Albin said. "'Small Voice' refers to the victim's voice telling you again what's happening." 
This song explores the complex and dark intricacies of these relationships. The EP as a whole deals with topics such as codependency and learning to speak up through catchy melodies and reflective lyrics.
Sarah St. Albin's EP, "Small Voice," will be available on most major streaming services. She embarks on her first tour at the end of March, beginning in the Pacific Northwest and traveling around the West Coast. She will be performing at the Sunset Tavern on March 12 for her EP launch, and will be accompanied by other local bands My Cartoon Heart and Tobias the Owl.
Reach contributing writer Alyson Podesta at development@dailyuw.com. Twitter: @Alyson_Podesta