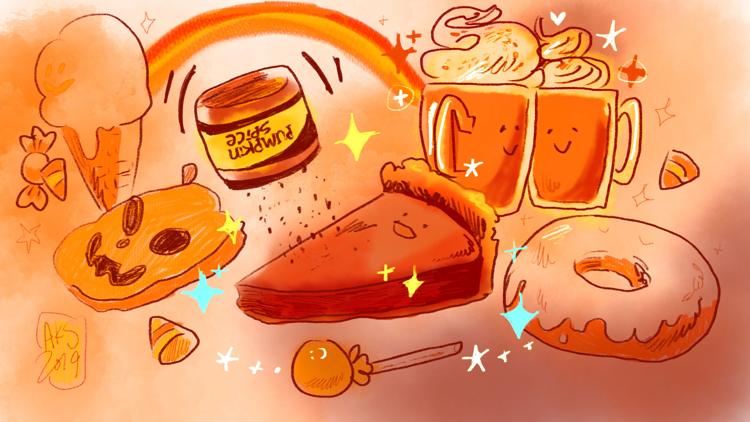 It's that time of year again, when the ground becomes crispy, when our sweaters come out, and when all our foods suddenly become pumpkin spiced.
Yes, I'm talking about the concoction of cinnamon, ginger, nutmeg, allspice, cloves, and sometimes pumpkin. Originally only added to pumpkin pies, Starbucks would eventually add this spice mixture to its drinks, creating the Pumpkin Spice Latte in 2003.
Now, 16 years later, it has been put in nearly everything you can think of.
Prior to writing this article, I had never tried anything with pumpkin spice. It didn't seem too appealing to me, considering that I could add my own cinnamon and nutmeg to my lattes if I so pleased. 
However, after seeing it all around me and an opportunity for an interesting article arose, I succumbed to the social pressure and ended my needless boycott.
Lattes
Diving headfirst into pumpkin spice mania, my first stop was, naturally, Starbucks, home of the drink that started this trend. The Pumpkin Spice Latte is a great hand-warmer for those cold fall days. Personally, I'm not a huge fan, but you really can't go wrong with a lightly spiced latte.
For the best pumpkin spice latte in the area, though, head to Anchorhead Coffee. Located two blocks from the Westlake light rail station, it is only a short light rail journey to PSL heaven. With a pumpkin spice syrup made in-house (that actually has pumpkin in it too), this latte blows it out of the park in terms of flavor. Its decadent spices are well-balanced by espresso and milk.
Doughnuts
Pair up that latte with some doughnuts. Offering two choices, Top Pot Doughnuts gives customers options when it comes to their preferred doughnut style. 
For a thick cake consistency, choose the pumpkin Old Fashioned doughnut topped with a sugar pumpkin spice glazing. It's sweet, but not too overwhelming.
For soft and fluffy texture, try the Bismark pumpkin cheesecake doughnut. Chewy, with an oozy pumpkin cream filling, this doughnut topped with cheesecake crust and cheesecake glaze makes for a perfectly sweet and enjoyable experience.
Ice cream
Although not exactly weather appropriate, Molly Moon's has a great seasonal pumpkin sundae, made with pumpkin ice cream, pepita brittle, hot fudge, whipped cream, and a Chukar cherry on top. The ice cream has a perfect balance of a sweet taste and spices, mixed with organic pumpkin.
For a vegan option, head to Salt & Straw for a scoop (or three) of Mummy's Pumpkin Spiced Potion. Concocted using a mixture of rooibos, pumpkin, caramel, and blackberry shoot, it's a great alternative for those of us who are lactose intolerant. What it lacks in dairy, it makes up for in flavor.
Yogurt
If ice cream is not really your thing, head to Ellenos Yogurt in Pike Place for their two pumpkin-flavored yogurts. Though they're both well-spiced and mixed with pumpkin flavoring, I recommend the pumpkin pie option, since it also has a touch of crushed graham cracker crust that just elevates the yogurt's usual texture. It's distinct and sweet but does not lose its characteristic yogurt taste.
Macarons
Upon walking into their University Village location, one is immediately overwhelmed by the many different macarons and cupcakes that Trophy Cupcakes offers. At the front of the glass case lay their pumpkin pie macarons, which really do taste like pumpkin pie in macaron form. As good as macarons are already, this one takes it to a whole new level, with a filling that seems to come straight from a pumpkin pie while remaining gooey enough to be in a macaron.
Frybread
Of all the pumpkin spiced foods that I tasted, Off the Rez's pumpkin frybread really took the cake. Traditionally made with white flour, sugar, and lard, this deep-fried delight's dough was mixed with pumpkin and topped with sugar, pumpkin spice, and whipped cream. Conveniently located in the Burke Museum, it is the perfect snack to eat after exploring all that the new museum has to offer, though entry is not required in order to eat at the cafe.
As good as all the foods above were, I really do not recommend eating them all in one weekend like I mistakenly did. Each food and drink had its own characteristic taste, and they were all delicious but was a little too much to handle for one man in one weekend.
Heading into this pumpkin spice adventure, I had no idea that there were so many choices from which to choose — and still more out there for me to try. It seems like we have reached peak pumpkin spice, but I know there is much more to come in the future as I sit here writing wearing my Trader Joe's pumpkin spice biocellulose face mask and Lush pumpkin spice lip scrub.
Reach writer Timothy Phung at arts@dailyuw.com. Twitter: @TimPhung
Like what you're reading? Support high-quality student journalism by donating here.