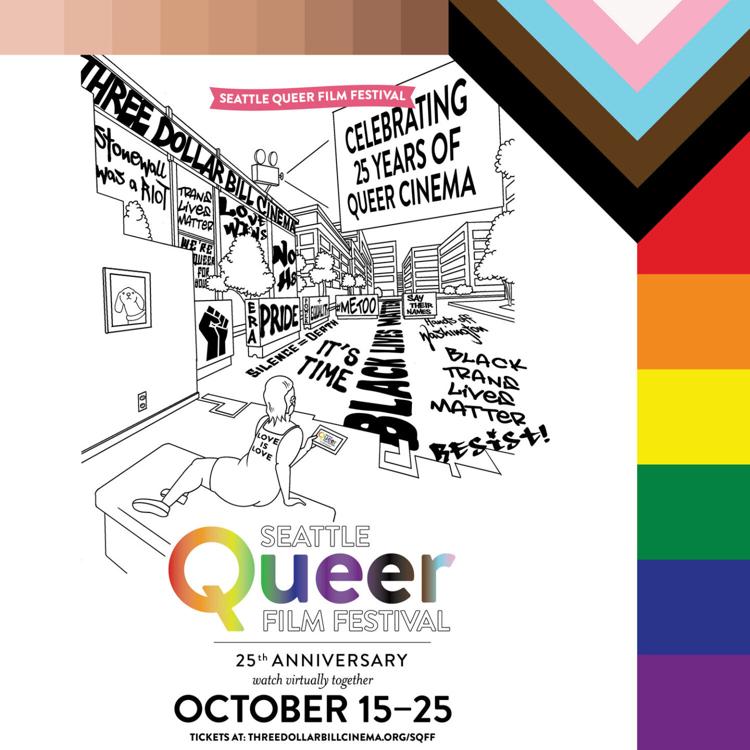 This year, the Seattle Queer Film Fesitival (SQFF) celebrates its 25th anniversary. SQFF is being held online this year and will run through Oct. 25. There are more than 40 films available to choose from, ranging from collections of short films to feature pieces like "Monsoon," which stars Henry Golding of the acclaimed "Crazy Rich Asians."
"It's a reality of our lives that we have to be safe, careful, and mindful," Kathleen Mullen, interim director of SQFF, said. "[We strive to] give people something to look forward to by watching the films and enjoying them in their living rooms or in their studio or wherever they are."
Despite this year's remote format, SQFF continues to provide a venue for queer film and discussion. While viewers are able to watch films at any time during the duration of the festival, there is a recommended schedule for viewing. For many of the films, there are accompanying live Q&A sessions with the directors and actors.
One such film is the centerpiece feature "Gossamer Folds." It is recommended to watch the film on Thursday, Oct. 22 at 6 p.m. to then tune in to the live Q&A at 8 p.m.
SQFF has more than just wonderful movies. The festival also held two free workshops, "How to be a Trans Ally" and "How to be an Effective Ally." These workshops were offered to the public with the intent of making the festival more inclusive.
"On a number of different levels, we are working on having a space where people can watch and come together to see themselves reflected in films and in the media, to be able to discuss the representations [on screen], and to reflect diverse communities and inclusive communities within the work that we show and also within the organization," Mullen said.
For its 25th anniversary, SQFF worked to center marginalized voices within the LGBTQIA+ community through a QTBIPOC (Queer Trans Black Indigenous People of Color) series. The "Many Rivers to Cross: Diaspora Stories" series features films about people from all over the world finding themselves and finding love.
I was able to watch the documentary "Surviving the Silence," which shares the untold story of Colonel Patsy Thompson and her wife, Barbara Brass. The suggested viewing time for "Surviving the Silence" is Oct. 23 at 3 p.m., though I recommend watching this movie whenever possible.
"I was most inspired by Col. Pat Thompson and Barbara Bass' love story; that was what hooked me in from day one," Cindy L. Abel, the film's director, said. "Then I got to hear more about the historical connection and how the unknown history they were revealing actually helped shape present-day military policy, and I thought: 'How did I not know this story behind a story?'"
The documentary is about the fierce love between the two women, despite the fear and danger associated with them being together. For most of their relationship, it was illegal for lesbians to be out and serve in the military, but Col. Thompson wanted to serve her country and love her wife, so the couple kept their relationship a secret.
"That still goes on today — it was the experience of many couples, military or not, who were LGBTQ, and some still have to live in the shadows today in order to protect their employment, families, or housing, or even just to not get beat up on the streets, which is unfortunately seeing a resurgence in the last few years," Abel said. "So their story, even though they are the ones visible and telling it, is the story of hundreds of thousands of LGBTQ Americans."
The documentary is a poignant look at the enduring history of LGBTQIA+ love in the United States. This seems to be a theme of SQFF: emphasizing the balance between recognizing tangible change and directing attention to the areas in which broader acceptance and progress are still yet to be had.
Representation is important for everyone, and SQFF provides the perfect platform for sharing a wealth of media that analyzes and relates what it means to be a member of the LGBTQIA+ community in today's world. The festival also provides a unique forum for people to talk and communicate with others during this time of isolation.
Tickets are still available for many films. If you have the time, I highly recommend browsing the schedule and choosing one or two films to watch and enjoy.
Reach writer Zoe Schenk at arts@dailyuw.com. Twitter: @schenk_zoe 
Like what you're reading? Support high-quality student journalism by donating here.