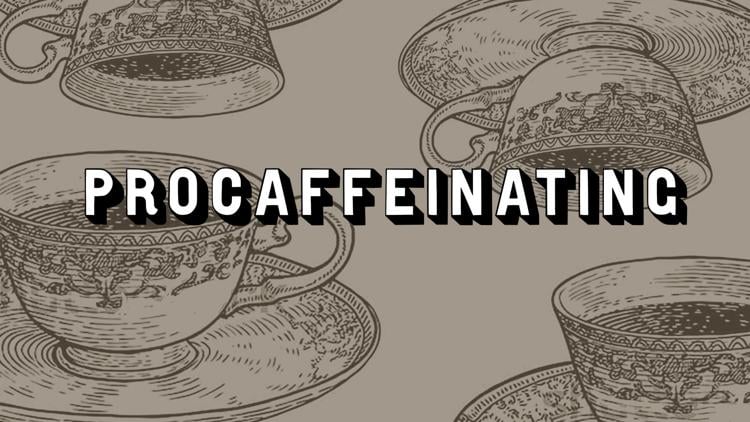 Located on the corner of a busy intersection in the Eastlake neighborhood, Eastlake Coffee is the perfect place to stop and get some focused work done. 
The menu is minimal, featuring only the five standard espresso drinks (lattes, cappuccinos, mochas, americanos, and macchiatos) and teas. Each drink can be flavored with the standard syrups and the milk can be substituted with an alternative. 
According to their website, they do offer specialty summer beverages like the Cardamom Vanilla Latte or Irish Espresso Soda (which sounds intriguing and makes me wish I found this cafe a little earlier), but as we head into fall proper, it's a little too late in the year to catch those drinks.
Eastlake serves Lighthouse Roasters' coffee which, in addition to their excellent espresso, makes for a nice, smooth drip. 
Given the limited menu, I went for a latte and chose to substitute oat milk. In my opinion, oat milk gives the latte a smooth texture without seeming fatty. Most alternatives to cow's milk tend to overpower the espresso with their own flavor, but unlike almond or soy, oat milk doesn't change the overall taste. 
Eastlake has one of the best cafe layouts I have seen so far. There's very little space in the building, but they have managed to pack in more than enough seating without it seeming crowded. 
There is barstool seating in the front looking out of the windows, which is probably best for people working with notebooks and paper because the light falls directly on the table. There are also a couple of tables outside which are less appealing these days as we drop into the 50s.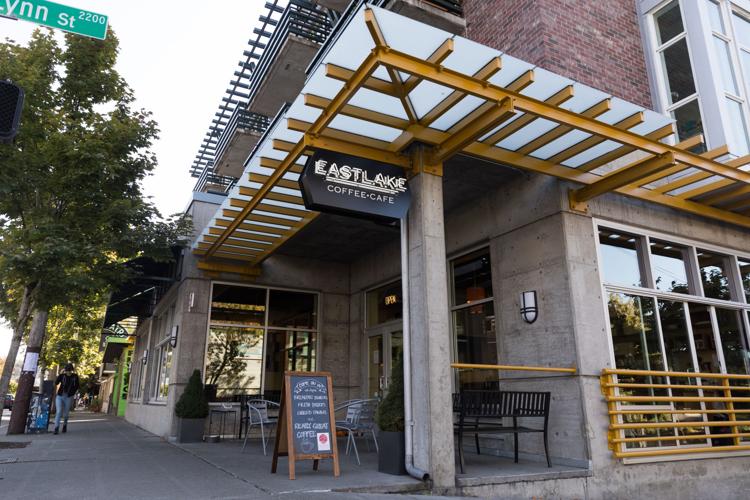 On the other side of the cafe is the main seating area. Booth seating with small, round tables line the walls, creating a U-shape against the large window. These spots are perfect for those working solo. The layout is ingenious as it saves space by eliminating the need to add chairs to these tables and also creates individual seating in a way that makes the customers feel like they aren't really working alone. 
There are plenty of outlets for those using the booths, so you don't have to worry too much about charging up everything before you head out. 
For those who want to work with a friend or a small group, there are a couple of tables in the center of the cafe for two or three people sitting together. There is also an orange couch against the wall, providing a seating option for someone who isn't there to squeeze that paper in before the deadline and just wants to relax with a piping hot mocha and a pastry (all of which come from Seattle's Macrina Bakery). 
Eastlake's decorating decisions are eclectic but somehow work together. A shelf on one wall has an old video camera, some books, and two candleholders, while the other shelf has what looks like an old-timey radio or cassette player and more books. This look, complete with framed illustrations of French cars, rounds out Eastlake's aesthetic. 
With a 15-minute bus ride on route 70 dropping you right at the front door, Eastlake is extremely accessible. It is only open until 6 p.m., so make sure to come earlier in the day and get the most out of the naturally lit space. 
And finally, if you don't want to come for the coffee or the interesting decor, come for the typewriter that sits at the end of the bar, which is the perfect way to kill time while you wait for your coffee.  
So head down to Eastlake to try their cappuccinos and leave the barista a gracious note on the typewriter, just to say "thanks a latte."
Reach columnist Ash Shah at arts@dailyuw.com. Twitter: @itsashshah
Like what you're reading? Support high-quality student journalism by donating here.