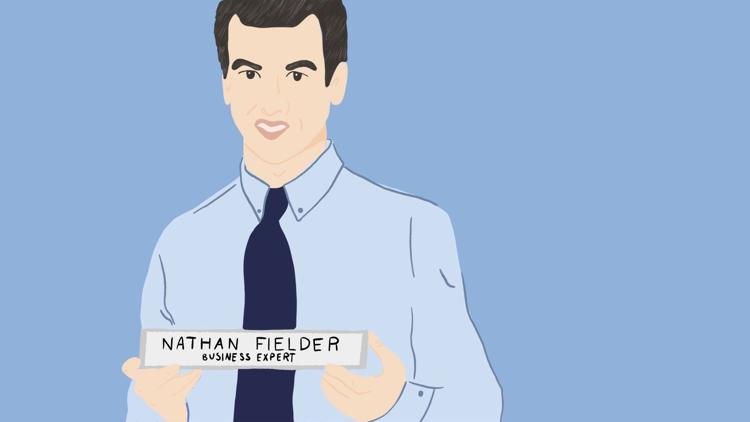 On Thursday, May 28, over 600 attendees logged onto a Zoom conversation with the man, the myth, and the greatest magician of all time, Nathan Fielder.
Fielder, a Holocaust awareness advocate first and comedian second, is best known from his Comedy Central show "Nathan for You," in which he proposes absurd plans to small businesses with a mystifyingly deadpan delivery, often going viral — does Dumb Starbucks ring a bell? 
Fielder has also become increasingly popular among Millennial and Gen Z populations, with his retweet-worthy videos like 'dance' and 'Thin Watermelon' which have accumulated over two million views between the two 30-second clips. 
Broadcasting live from his home in Los Angeles with the help of ASUW and Foster School of Business assistant professor Phillip Quinn, Fielder revealed a more intimate side of his life during quarantine with his two cats, Rocket and Jackie, and even a glimpse at his bathroom countertop, with an emphasis on a tube of Preparation H. 
Because of the pandemic, many of the ASUW events planned for spring quarter were postponed. However, ASUW Arts + Entertainment (A + E) program coordinator Jacques DeBar said A + E was determined to continue hosting events virtually. 
"This was not planned as an in-person event before the quarantine," DeBar said in an email. "As a result [of the pandemic], we worked with our team and volunteer base to pivot quickly to digital events, and Nathan seemed like a great personality for a digital event."
Quinn began the hour prefacing his background to Fielder, expressing his personal love for comedy as well as his education in accounting, to which Fielder suggested a look at Quinn's Rate My Professor page. Reading student's reviews of Quinn's past courses, Fielder managed to squeeze out the professor's signature dad joke for everyone watching.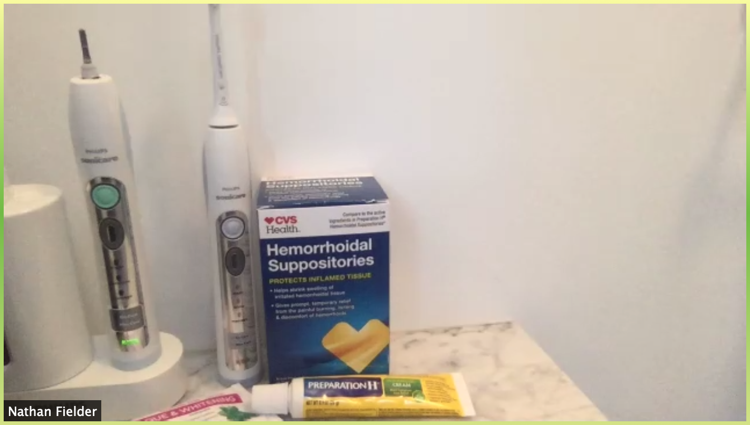 Quinn also addressed Fielder's career trajectory, asking the question on all of our minds — how did you transition from business school to comedy?
Fielder said that comedy never occurred to him as a serious option. He would make silly shorts with his film school friends — i.e. 'Job Hunt' — and interviewed Canadian lawmakers on the skit-comedy show "This Hour Has 22 Minutes," while focusing on finishing his degree and working at a local firm. He explained that his negotiating skills came to him early on, and even in high school he would haggle with his teachers, which sometimes required following them to their cars after school until they caved and adjusted his grades. 
Now, at 37, he has received various awards and nominations, including the 2019 Writers Guild of America Award for Television in Comedy Sketches for "Nathan for You."
Throughout the call, Fielder stayed true to his straight-faced persona, muttering quiet apologies when his shared screen showed various articles titled "How to Increase Penis Size with Herbs" instead of clips from his short films.
After some back and forth with Quinn, Fielder decided to take questions from the virtual audience, and the Zoom chat went ballistic with messages.
One of Fielder's best talents, arguably, is his ability to make people uncomfortable, directing their own questions back onto them. When students came on to talk with him, the call became more of a party than a formal interview.
Before answering their questions, Fielder wanted to know how college students were dealing with staying inside and social distancing. To a group of hypermasculine boys, he asked whether they were sad about no longer being able to be sexually active. The group roared with laughter and awkwardly dodged the question.
Another hot topic was Fielder's fan base and mysterious social media accounts like Women for Fielder. While it is still unconfirmed, these fan accounts are rumored to be run by the man himself. Fielder commented on the subject by expressing his gratitude for the flattering comments and photos that are posted by "female professionals from all walks of life including lawyers, doctors, and judges." 
While it looks like "Nathan for You" will not be returning for a fifth season, something to look forward to will be a new post-quarantine project. Fielder has been confirmed to be collaborating on a new show with "Uncut Gems" filmmakers Josh and Benny Safdie called "The Curse" for Showtime.
ASUW A + E also has plans to continue virtual events for students, especially if the UW continues classes online.
"As long as the college experience continues to live online due to the COVID-19 pandemic we will seek to provide digital programming to meet the entertainment needs of the student body," DeBar said. "Depending on when UW returns to standard in-person operations, virtual events are likely to continue."
Reach writer Ellen Cooper at arts@dailyuw.com. Twitter: @ellenecooper
Like what you're reading? Support high-quality student journalism by donating here.