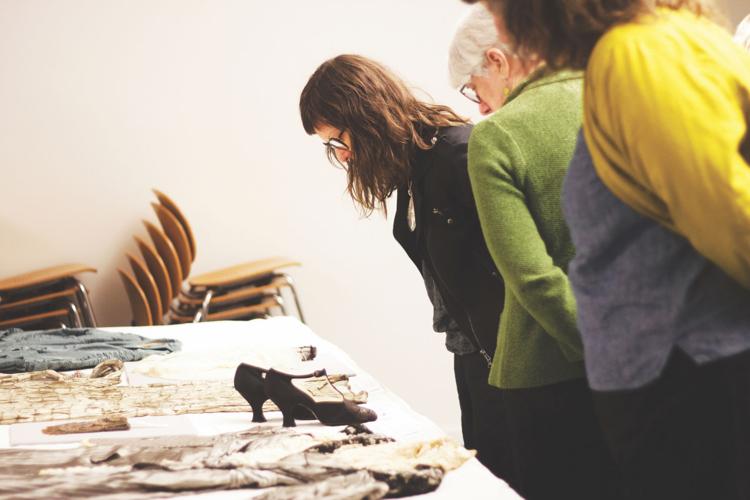 Clothing, while practical in its use, is also understood as a statement about an individual's life and self-expression. Walking around on campus, you often see varied styles of clothing and dress and you may make assumptions about the person wearing it, but an individual's clothes aren't the whole picture. Many factors contribute to the way we dress, including societal expectations, wealth, and social position. 
At the Henry's "Women's Lives Through Womenswear," held Sept. 12 in the Eleanor Henry Reed Collection Study Center, Dr. Ann Poulson, associate curator of collections, led an exposition on the dresses and related clothing of American women of the 19th and 20th centuries to explore such ideas. 
The goal for the event was "to learn more about how the clothing they wore shaped women's lives, reflected societal values, and projected individual personalities," according to the gallery's website. Though a quick spot the difference between an asphyxiating corset of the 1800s and a loose-hemmed flapper dress of the 1920s might tell the viewer something, it was the dialogue and context around the pieces that helped clarify the differing lifestyles of women in these centuries beyond their pop-cultural representation. 
The brightly lit room teemed with dresses, accessories, and the usually unseen undergarments that often worked as behind-the-scenes ropes and pulleys to perfectly display a fragile dress. Poulson asked those attending to consider many questions while examining the dresses. Some of these related directly to the prepared theme, addressing lifestyle, societal position, and cultural differences of the time period, specifically in regard to the way women were experiencing the world. Other questions prompted deeper analysis, questioning who was excluded from wearing such attire. 
While collectively examining a beige 1830s evening dress, Poulson posed the question: "What could they do in this dress?"
"Stand there," replied an audience member. The crowd laughed uneasily at the bothersome realization.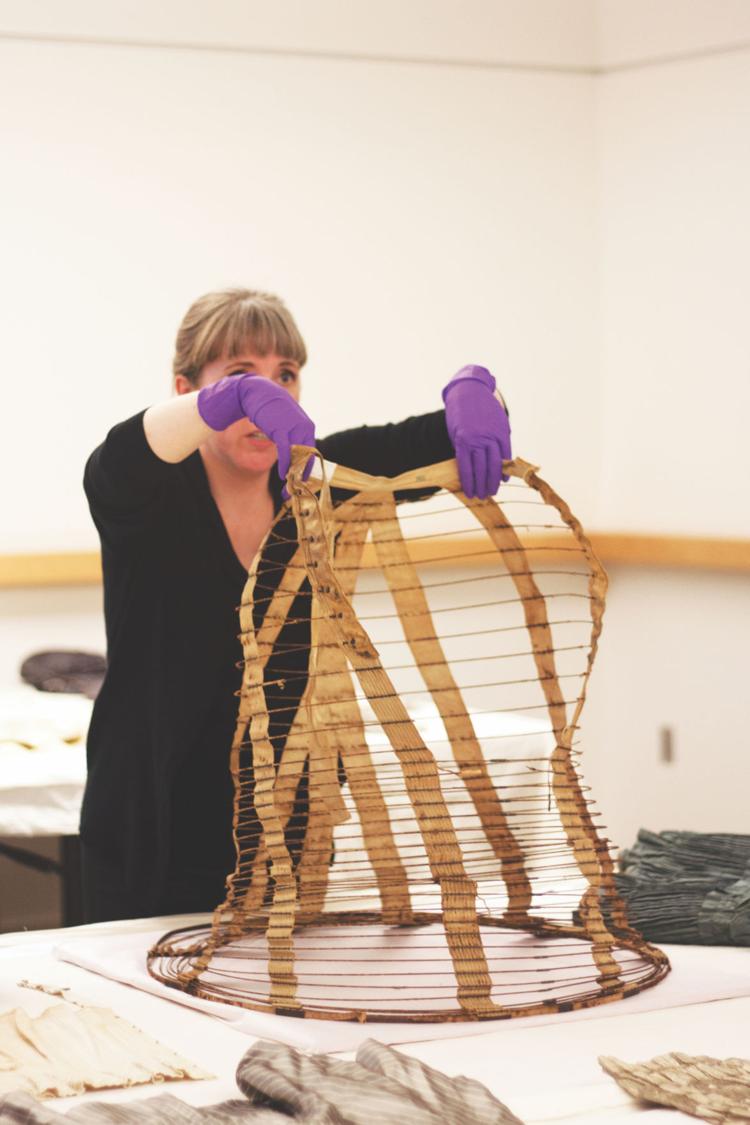 Poulson pointed out the fact that she was wearing high heels. She explained that while they limit her from being able to do certain actions, they make her feel good too. With them, she's taller and has better posture. This helped further develop one theme of the night — that clothing can be restrictive in some eyes and enabling in others.
Small differences in clothing from varying time periods evoked subtle commentaries on the culture of the time. A corset marked 1908-1910 was fashioned in a simple beige color and lace trim, deviating its bust only upon closer inspection, with a small v-shape to accommodate each breast. It was so flat that at first glance, I thought it was a skirt. Another sat at a far table, this one made almost entirely of lace, making the black body of the garment somewhat transparent. 
Another corset, dated 1952-1960, included two distinct cups lined with wiring to not only accommodate but display and give a specific look to the woman's breasts. So much can be inferred about changing societal attitudes toward women and sexuality just based on the small differences between two similar pieces. 
"I'm a huge proponent of material and visual history … looking at the remnants of [a] society and not just the textual elements, which we tend to say are the ultimate authority, because a lot of times, that's not actually what happened on the ground," Poulson said. "If you look at what's left, you can better understand the society that framed [these women], that they in turn shaped." 
Although examining the artifacts themselves without any outside context can help inform one's opinion, it's important to note that there is a give and take between the top-down and bottom-up approaches. The top-down approach comes from a preexisting standpoint, using previous knowledge to inform conclusions. The bottom-up involves coming to a conclusion based on the stimuli directly before the observer.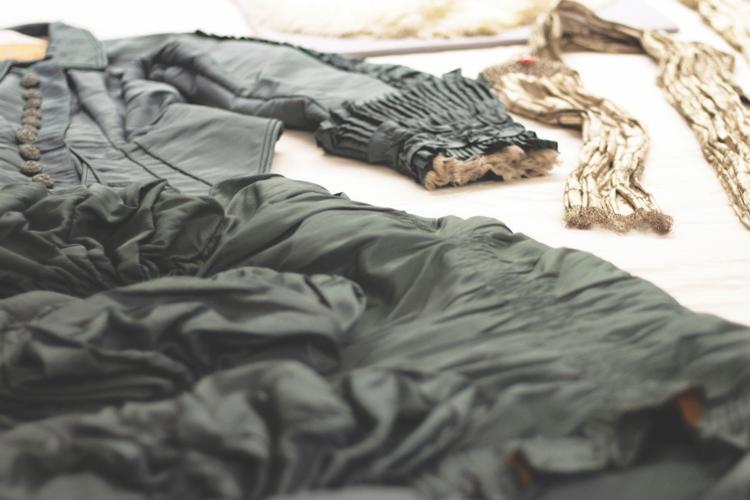 For example, Poulson explained a common misconception that people were smaller in the centuries before, largely due to the prominence of smaller clothing in exhibits. Poulson explained that this is not the case, and that larger clothes were more likely to be handed down and eventually worn out, whereas clothes that were too small and could not find an owner to fit them were the one's preserved and eventually donated to museum collections.    
"A lot of times with these eras, women's stories were not really told … [they] have been largely neglected because [womenswear is] women's work, it's frivolity, it's just fashion," Poulson said, sarcastically. 
But as this event showed, there is much to learn about the lives of women of the past through their clothing, just as we can learn much about our present society from the clothes we wear.
"A lot of what we wear, what we have worn, is shaped by the societies in which we live, but [it] also shapes the lives that we can live," Poulson said. "It shapes how you can move, it shapes how you express yourself, and that can be both enabling and restricting … whether it's your choice to present yourself that way, or whether you feel you have to for societal reasons. It is actually a very complicated and nuanced subject, which I like to explore through the remnants of it, by looking at these garments … looking at the actual objects and being able to imagine their lives that they lived."   
Reach writer Jorn Peterson arts@dailyuw.com. Twitter: @PetersonJorn
Like what you're reading? Support high-quality student journalism by donating here.