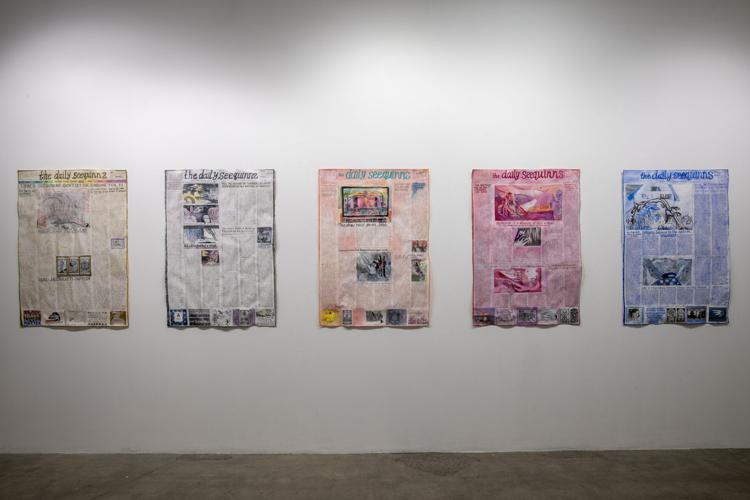 "Notes on the Unseen: 2nd Year MFA Exhibition" ran from Oct. 28 to Nov. 14 in the Jacob Lawrence Gallery (JLG). This past summer, nine graduate students created an array of artworks that address themes of "neglected realities, repressed traumas, and invisible contagion," according to the UW School of Art + Art History + Design.
JLG is offering individual, no-contact viewing appointments as a part of the gallery's COVID-19 prevention methods. Visitors are given a map of the exhibition that labels each piece with the artist and medium.
The works range from Holly Hazelton's "Earthly Underworld," a 60 x 64 in. painting of fallen leaves on the ground, to Payton Cahill's "Lay My Bones at Nolan Creek," which depicts a collection of glass vials with charcoal-colored trees painted inside. Additionally, Jacob Fetterman presents a bedazzled "Tandem Fountain," while Xiaoyi Gao's "Everything is fine, don't worry" invites viewers to circle around clay phones hanging from the ceiling with painted stills of Facetime. 
Another artist, Jia Jia, displays her work "Membrane," which consists of ziplock bags filled with papers lining the wall, a blank notebook, and an "Oxford Starter Chinese Dictionary." The piece explores her status as an international student during the COVID-19 pandemic and addresses her efforts to protect herself both physically and mentally. Words are circled on each page: "salary," "heavy," and "death." Ultimately, the blank notebook is her personal dictionary that is still in the works.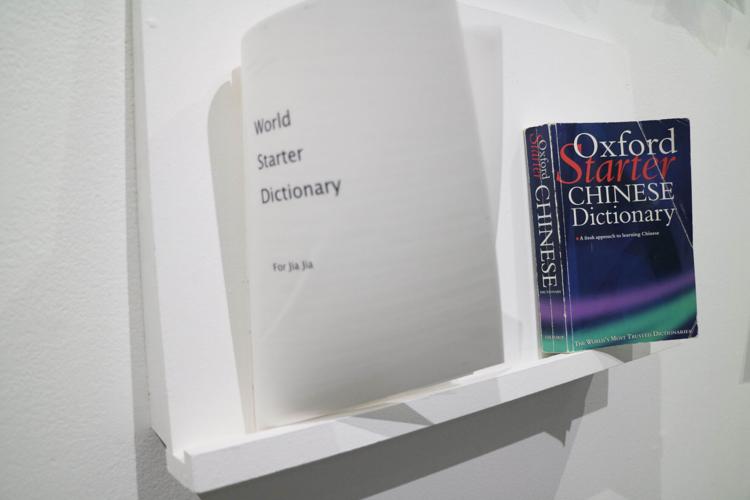 The pages of her Chinese dictionary that are ripped out, folded, or crumpled into balls and placed in the dated bags are from the early days of the pandemic, when she needed protection for her hands in public spaces. Jia Jia explained that, one day, she had nothing but her dictionary with her, and so she ripped out a page to use as a barrier against a door handle.
"From a microcosmic view, I think [of myself] as an individual, or as a non-resident alien, [and] I just need protection," Jia Jia said. "Like from physical to prevent [the] virus, or mentally. Mentally means, during the battle between China and America, especially where we're holding [visas], which feels insecure during this time. So it's kind of also, for me, about this piece finding protection as an individual."
Quinn McNichol's work, "the daily seequinns," is similar to "Membrane"; both seem to act as diaries. McNichol's piece is a five-part elaborate newspaper. The piece speaks to their experience in the pandemic as an artist, while living alone and grappling with the constant inundation of breaking news.
The newspapers were written between the summer solstice, or time of most sun, and the autumnal equinox, or time of darker days. This is reflected in the background colors of the pieces, which range from blue to pinks and yellows.
"Sometimes for me, things happen intuitively or organically in the studio. And then when I take a step back, I realize, 'Oh, that's it,'" McNichol said about this artistic choice.
As a viewer, the piece is quite eye-catching. The newspapers are much larger than traditional size and employ various, discordant elements. The title is a play on the artist's name; there are multimedia collages; and the words included are original, but with some inspiration from music and podcasts. Also, the use of a ballpoint pen makes the presentation appear diary-like. 
McNichol talked about her mother's relationship to the news, as an editor who was devoted to reading the newspaper.
"It kind of turned me off and made me more interested in fiction," McNichol said. "And actually, I really avoided news for a long time. But as I get older, it's kind of inevitable. Like, I think to be an ethical human being, I have to pay attention to current events."
Despite the stark differences between artworks and media in "Notes on the Unseen," recurring themes appear throughout the exhibition, with students focusing on foreign life, adjusting to a pandemic, and feelings of isolation. Many of the works are interactive and invite viewers to observe at a closer range or walk around the art piece.
Although the artworks forgo descriptions, this allows viewers to utilize their imagination and connect the dots between the art and current events.
Reach contributing writer Huma Ali at arts@dailyuw.com. Twitter: @humabali 
Like what you're reading? Support high-quality student journalism by donating here.