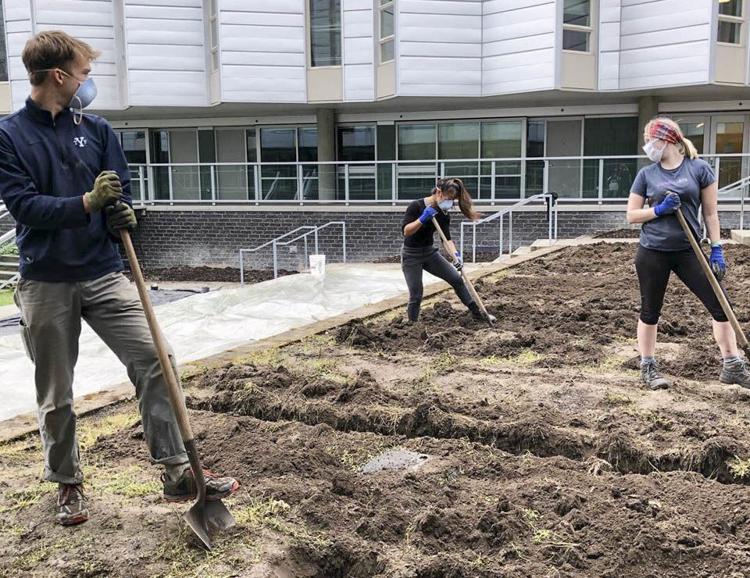 Though concerns about equity and security plagued the transition to remote learning, many students have completed their coursework, or at least accessed it, through tools that facilitate online teaching. Even before the pandemic, many professors supplemented their in-person teaching with online alternatives. 
However, the transition has been less than seamless for the UW Farm, a 1.5-acre urban farm and educational facility located northeast of the main campus.
The farm, which a group of students and faculty started from three garden beds in 2006, ordinarily produces over six tons of produce, the sale of which, combined with funding from Housing & Food Services (HFS), the School of Public Health, and the College of the Environment form the bulk of the farm's financial support. 
Between 50 and 70% of the harvest is sold to HFS and UW Farm Community Supported Agriculture (CSA) subscribers who pay a flat upfront fee to receive weekly packages of seasonal produce. The remaining harvest, which fails to meet commercial aesthetic requirements, is donated to the UW Food Pantry, thereby making the UW Farm the pantry's sole source of fresh produce. 
But before its produce appears on consumers' plates, the UW farm depends on students and non-UW community members to help with tasks ranging from starting seeds to weeding to picking, washing, and packing produce. 
In spring quarter 2019, 290 students put in anywhere between 15 and 25 hours of work interning, researching, completing capstone projects, and fulfilling service-learning requirements on the farm.
Since COVID-19 began impacting campus operations, work on the farm has looked very different. 
For six weeks, university policies necessitated by public health concerns left Perry Acworth, the farm's full-time manager, and an AmeriCorps volunteer fully responsible for completing the work that is typically shared by hundreds of volunteers. Gov. Jay Inslee classified farms as essential businesses with permission to continue operations, but the UW Farm's status as an educational facility engaging in relatively small-scale food production blurred the lines. 
With the farm lacking critical research projects to attend to, the university automatically imposed teleworking guidelines that challenged the farm's foundational mission of being "student-powered" and "providing access to organic fresh vegetables."
Given the advanced planning and continual attention required for food production, stopping production in March would mean months without produce to harvest. 
As Acworth put it, "you can't start peppers in May, the window has closed."
Keeping the farm open was a no-brainer to students like Aisling Doyle-Wade, a former student staff lead at the farm, who also expressed concerns about the farm's critical role of feeding those facing food insecurity. 
In early April, the World Food Programme predicted that panic-induced grocery hoarding could disrupt the global food supply chain, but temporary closures of meat processing plants and breakouts of COVID-19 in migrant agricultural workers' dense living quarters have also revealed the vulnerabilities of the industrialized food system. 
Concerned about the reduced quantity of food available for HFS and local grocery stores to donate, Acworth quickly mobilized to coordinate with other Washington university farms to classify their farms as essential. 
Additionally, Acworth rallied longtime UW Farm advocates like Sean Ferris from the Division of Student Life and Yona Sipos from the School of Public Health to argue that despite lacking large-scale research, the farm should continue operations. 
Pre-pandemic, the farm was already following guidelines set by the National Organic Program and Good Agricultural Practices to maintain high levels of food safety. The only major adjustment required would be the implementation of social distancing. 
"In a pandemic, don't you want food for people's bellies?" Acworth said. "I was thinking much longer term, and I wanted to be prepared for the UW Pantry and households if there are glitches in the food system."
Much to Acworth's relief, the university granted her request during the last week of April. With all four student staff members allowed to return beginning May 4, the farm may work to fulfill its commitment to empower healthy lifestyle choices and educate the community about sustainable food systems. 
Until Acworth can confidently ensure the safety of additional volunteers, however, operations on the farm remain limited to six staff members and several graduate students. In the meantime, those eager to support the farm may find other ways to help.
Though shares of the farm's 16-week summer CSA sold out earlier than in previous years, reflecting the widespread desire to develop self-sufficiency from the fragile food industrial system, consumers may still reserve shares for the peak season CSA. That CSA, which lasts from August through September, includes produce like tomatoes, basil, and sweet peppers. 
Ultimately, Acworth and Eli Wheat, a lecturer in the College of the Environment, co-chair of the farm's advisory committee, and owner of SkyRoot farms, hope that the increased interest in their farms reflects a desire to cultivate meaningful relationships that outlast the pandemic. 
"Consumers are starting to connect to intentionality around food preparation, food purchasing, and food production," Wheat said. "That's a shift that is really positive towards building stronger and more resilient food systems."
Reach writer Estey Chen at arts@dailyuw.com. Twitter: @esteychen
Like what you're reading? Support high-quality student journalism by donating here.