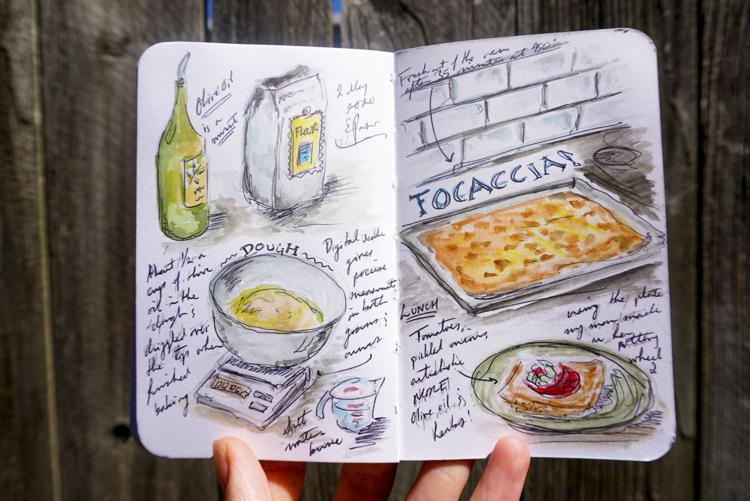 One of the first things I noticed at the beginning of quarantine was everyone started baking their own bread. Staying at home with too much time on people's hands, I saw an increase in photos of baked goods on my Instagram feed, specifically sourdough.
After about two weeks into the shelter-in-place, my dad hopped on board the sourdough train. And now, about a month and a half later, we've had a fresh loaf of sourdough on our table every week. He experiments with different flours and rising times to get different flavors, then tests my sense of taste and smell to see if I can figure out what he did differently. 
So with the house filled with the aromas of bread and the kitchen counter perpetually covered in flour, I decided to try my hand at it. 
I decided to make focaccia after watching an episode of "Salt, Fat, Acid, Heat" on Netflix. The generous amounts of olive oil and fairly simple recipe made it feel like a relatively straightforward task I could accomplish.
Prior to quarantine, my family didn't own a digital scale. However, after two of my dad's loaves did not turn out as well as he had hoped, he decided to invest in one for all the bread he anticipated we would be baking. 
So I mixed everything together, used a lot of olive oil, and let it rise for about four hours. I came back to spread it out with even more olive oil in a sheet pan, put dimples in it with my fingers, then sprinkled a saltwater brine over the top. It baked for 30 minutes and when it came out of the oven, the warm aromas of olive oil, salt, and golden brown dough filled the kitchen and dining room. 
My family couldn't wait to dig into the slightly crispy, soft, salty, and olive oil rich bread. It was an overwhelmingly calming experience, and I only wonder why I didn't start sooner.
The recipe I used can be found here.
Until the next sketch,
Reach The Campus Sketcher Elijah Pasco at arts@dailyuw.com. Instagram: @the_campus_sketcher
Like what you're reading? Support high-quality student journalism by donating here.