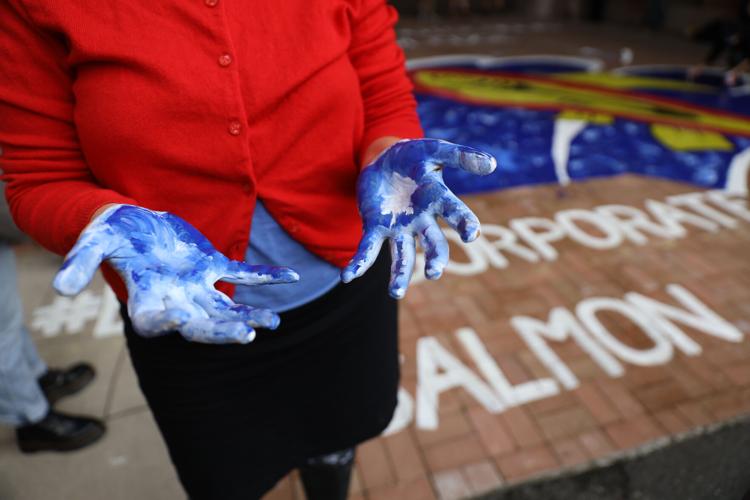 On Oct. 12, Indigenous People's Day, a group of around 30 demonstrators came to campus to make a statement. This group was not invited by the university and, as of now, has yet to be publicly acknowledged by the school for their actions.
Activists, students, families, and members of the Coast Salish tribes came together to paint an impromptu art display in the space between the Suzzalo and Allen Libraries. It depicted a massive red salmon in tribal art style, with the words "Honor Indigenous Knowledge, #block corporate salmon" written around it in bold white text. Banners also appeared at the Chief Seattle statue and over the University Bridge that same day with the same hashtag.
These are some of the first public displays of a new activist movement gaining online traction, referred to as #blockcorporatesalmon, one of several online movements by the food sovereignty activist group Uprooted and Rising. The group primarily aims to unite voices against the release of a genetically engineered, tank-farmed salmon, which is slated for the U.S. market sometime this fall by biotech firmAquabounty Technologies. This fish marks the first genetically engineered animal species ever approved by the FDA for the express purpose of human consumption.
Dr. Graham Young, director of the Western Regional Aquaculture Center based at the UW, says neither the center nor the Washington Sea Grant has assisted Aquabounty in creating what's been dubbed "The Frankenfish." However, Uprooted and Rising has called out the university for catering to corporate aquaculture interests while ignoring input from Washington's Indigenous communities, for whom salmon represents a cultural cornerstone.
"The salmon is a centerpiece of our culture, who we are as a people. It's a food source that historically sustained our people for thousands of years," Willard Bill Jr., cultural director of Muckleshoot Tribal Schools, said.
Bill Jr. attended the event on campus, not as a representative of the tribe, but as a member of the Muckleshoot community, eager to support opponents of genetically engineered salmon and to bring a Native perspective to campus.
"It seems negligible to me," Bill Jr. said. "An institution of this magnitude is not including their perspective, or at least engaging those training peoples to have a deeper understanding of this issue."
To members of the boycott, this lack of perspective is especially surprising given that, in 2017, Lummi and Swinomish fishermen responded to a state of emergency following a Cooke Aquaculture net collapse in the Salish Sea. Fishermen mobilized to combat intense pollution and capture hundreds of thousands of Atlantic salmon that had escaped into Puget Sound, in what was nothing short of an environmental catastrophe handled by Washington's Indigenous community.
A member of the UW's Native American Advisory Board, Bill Jr. says he is hopeful that the UW's aquaculture curriculum will address tribal concerns with regard to salmon fishing in the near future.
"It's at that top-tier level that I really like to see them engage in those conversations, because it does have great influence on all students, and I'd really like to see that type of response coming," Bill Jr. said.
An ongoing project at Washington Sea Grant to advance Indigenous aquaculture practices actually is currently underway at UW, although statements made by the boycotting team have neglected to mention this. The "cross-Pacific Indigenous Aquaculture hub," meant to integrate Indigenous aquaculture techniques from communities in Washington, Alaska, and Hawai'i, doesn't apply to salmon farming but does show that the UW isn't shying away from Indigenous voices in its aquaculture research.
Dr. Young expressed confusion over statements made by members of the boycott, stating, "The idea that we put research funds into net pen culture of salmon is simply wrong." 
Young says aquaculture research at the WRAC must impact aquaculture development in two western states to be brought forward. Because the Puget Sound is the only area in those states with net pen salmon farming, such research hasn't been conducted by the WRAC in regard to salmon specifically.
Also featured at the campus demonstration was former UW student activist Yasmin Ahmed, who now works as a staff organizer for Uprooted and Rising and serves as the assistant director of student community engagement for the Heritage Center at UW. To Ahmed, transparency in regard to corporate aquaculture research at UW, and a complete pivot away from this to community engagement, is necessary.
The UW's status as the "mother of all sea grant universities," as Ahmed calls it, makes it particularly important to the salmon boycott movement. A sea grant university is a school that receives federal money to conduct aquaculture research, oftentimes in conjunction with the National Oceanic and Atmospheric Administration (NOAA). 
"We haven't found a whole lot of specific research that UW has done in terms of genetically engineered salmon, but I can't imagine that sea grant universities are not involved in this research in some way," Ahmed said. "NOAA is certainly involved in this, and the University of Washington is also connected to NOAA. So through that relationship, as well, they need to hold their community partners accountable."
The Western Regional Aquaculture Center (WRAC) is based at the UW and encompasses aquaculture research in 12 western states. To Ahmed and the rest of the salmon boycott, the WRAC's lack of community focus is comically apparent in its mission statement, which claims to use aquaculture research to benefit both consumers and producers.
"'Consumers [and] producers' — who are those people, actually? Where do they come from?" Ahmed said. "The work itself is dangerous and not super well-regulated. They don't address the communities that are actually impacted by this."
Dr. Young explained that the WRAC mission statement stems from text in the congressional act which founded the WRAC in 1980. As for transparency in their research, Dr. Young states that it's all readily available online: "You could just go on our website and you can find all the research we've sponsored for at least the past 10-12 years." Research conducted by Washington Sea Grant is also readily available online.
Ahmed hopes that the nature of an online boycott doesn't portray higher education as an enemy; rather, she thinks it will encourage the UW to keep community as the focal point of all research.
"We'd like to have the university acknowledge its influence as a sea grant university, and publicly come out against genetically engineered salmon, and ideally halt its aquaculture research as well," Ahmed said.
Reach reporter Luke Schaefer at arts@dailyuw.com. Twitter: @lookassschaefer
Like what you're reading? Support high-quality student journalism by donating here.