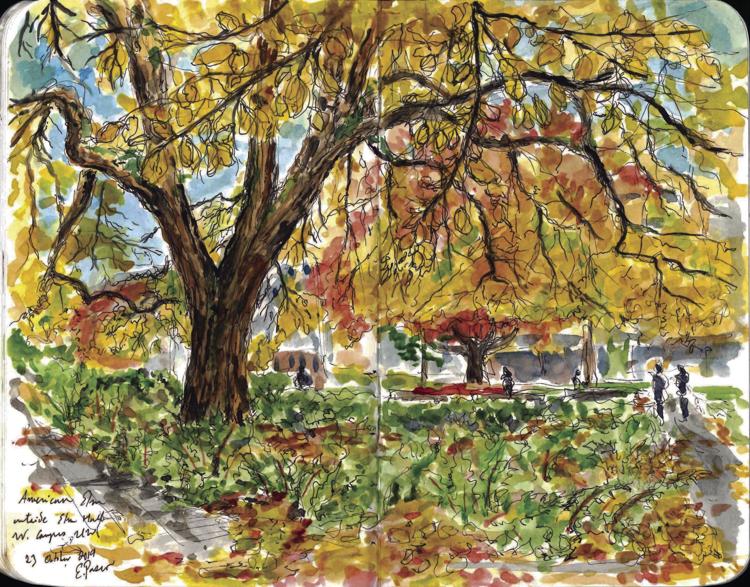 I think it has become obvious to all of us just how beautiful the deciduous trees have become on campus. The vibrant hues of gold, orange, and crimson bring a feeling of warmth to the chilling air. Seeing these colors swirl around as the wind blows leaves from the branches is probably one of my favorite things about autumn. And given my recent infatuation with all things plant-related, I simply had to feature the changing colors of our forest friends.
My favorite trees are all gnarled with twisting, overhanging limbs and complex branches that delicately divide as they reach further and further outward and upward. Trees have an architecture and structure of their own, and I find the way they grow to be infinitely intriguing. The complexity of the system of branches can be quite the arduous challenge to capture, but after getting into a rhythm, it becomes much easier to draw the intricate lines. 
My first sketch is of the towering American elm outside of Elm Hall on West Campus. This tree's leaves were a beautiful golden-orange color. As the wind rushed through the branches, the leaves rustled in a symphony of sound and danced their way through the air to the ground.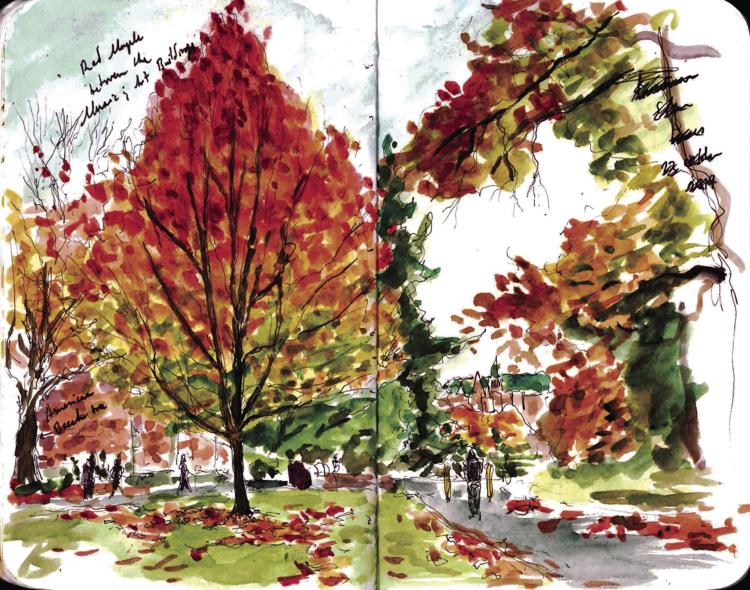 The next tree is a red maple that sits between the music and art buildings in the Quad. What I like about this tree, in particular, is the color gradient of the leaves from a light yellow-green, to gold, to orange, to a deep crimson.
I was able to identify these trees with the help of an online map of every tree on campus. This interactive map allows you to search for trees by species, or if you are curious about a particular tree on campus, you can zoom in to its location and click on the tree icon which will give you all the information you could ask for. If you are as much of a tree nerd as I am, this website will possibly be the greatest thing you ever come across in your time at the UW. 
If you're feeling stressed because from midterms or just the quarter in general, befriend a tree in the process of changing colors and letting go of its leaves — I guarantee it'll make your day a little bit better. Also, don't hesitate to reach out to me with your favorite trees on campus — I'm always looking for another project.
Until the next sketch,
Reach The Campus Sketcher at arts@dailyuw.com. Instagram: @the_campus_sketcher
Like what you're reading? Support high-quality student journalism by donating here.