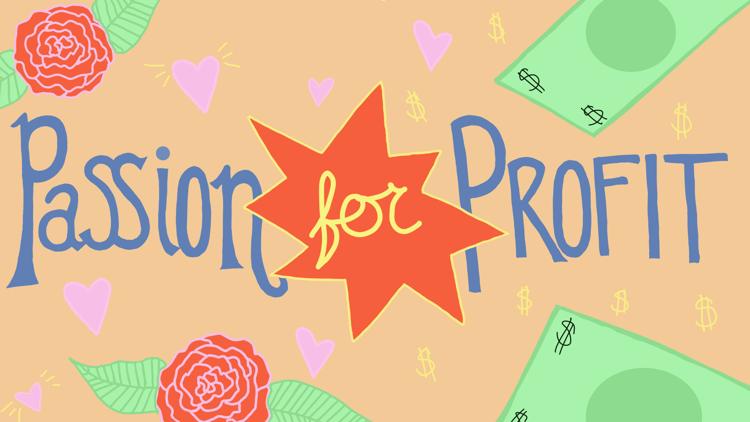 Passion for Profit examines the rise of passion blogs, their until-recently-untapped profitability, and what these websites imply about the future of multimedia.
In true digital-age fashion, Killer And A Sweet Thang (KAAST) found its beginnings on Tumblr. The account, whose name originates from a lyric in the Too Short song "Gangsters and Strippers," was created in 2012 by former Seattle high school student, current NYC editor-in-chief Eileen Kelly. The site, which was executed from a personal, anecdotal perspective, began as a forum for Kelly to field questions regarding love, sex, health, and young adulthood.
Kelly's interest in sex education developed as a result of her upbringing: she was raised in a predominantly male household with a single father and two brothers, and attended a Catholic school that dismissed formal sex education classes and, in her opinion, often stigmatized teenage sexuality. Amid this lack of resources, Kelly decided to create what she viewed as a "safe space" for people who, like herself, were in need of an outlet that could guide them through the confusions of love and life.
Over time, as the Tumblr blog grew in popularity, amassing thousands of shares and generating an avalanche-like onslaught of questions, Kelly realized that KAAST, if it were to continue to succeed in supporting its fan base, could no longer be a one-woman operation.
One of Kelly's main goals in transitioning KAAST's format in 2016 from Tumblr to an independent website was to expand the perspective from which content was being published. By assembling a team of multiple editors and over 100 writers, Kelly broadened the scope of narratives that could be incorporated on the site and lent representation to individuals across gender identity, race, and age range.
Thematically, KAAST is designed to focus on the evolving role of social media in the love lives of young adults; specifically, the site delves into how the internet both enhances and hinders communication between young people.
After graduating high school, Kelly attended the New School in New York for two years, studying sexuality and the gender spectrum, before leaving in May of 2015. At the time, her burgeoning internet popularity had begun to afford her real-life celebrity status. As she expanded into other digital markets — her Instagram, created in 2013, has since amassed over 400,000 followers — Kelly was offered opportunities such as magazine profiles and speaking engagements to grow her personal brand as a professional sex educator.
Due to the website's sometimes explicit content, KAAST is unable to use traditional web advertising. Kelly has previously stated that the site, which she often calls a "passion project," is not designed for the purpose of profitability; rather, it was created with the intention of providing peer-to-peer conversations on topics that might otherwise be considered taboo, and therefore left undiscussed.
The KAAST website belongs to the larger Birds&Bees forum; which has its own social media presence and includes a blog, merchandise shop, and links to Kelly's Tumblr archives. There's also a podcast entitled Pillow Talk, available on iTunes and Spotify, hosted by Kelly and a KAAST affiliate. The podcast, which airs weekly, aims to "normalize sexual experiences" through the voices of the "people who live them."
Ultimately, KAAST is a passion blog that utilizes first-person narratives to provide an honest and comprehensive, albeit untraditional, sex education to readers who might otherwise lack access to such resources. The website, which is growing in conjunction with Kelly's burgeoning career as a professional sex educator, employs a wide range of writers and editors, whose diverse backgrounds and experiences promote a strong sense of inclusivity and acceptance within the KAAST community.
From its humble beginnings as a Tumblr advice blog to the status it currently holds as a leading sex-positive internet space, KAAST has proved that a critical difference lies between exploiting sexuality and embracing it. Underlying the website's most basic characteristic, its name, is the inherent belief that young adults can be both a "killer" and a "sweet thang" — essentially, they can take charge of themselves and their desires without sacrificing their youthful vulnerability.
Reach columnist Brooke Kaufman at arts@dailyuw.com. Twitter: @bkaufmanLJ
Like what you're reading? Support high-quality student journalism by donating here.