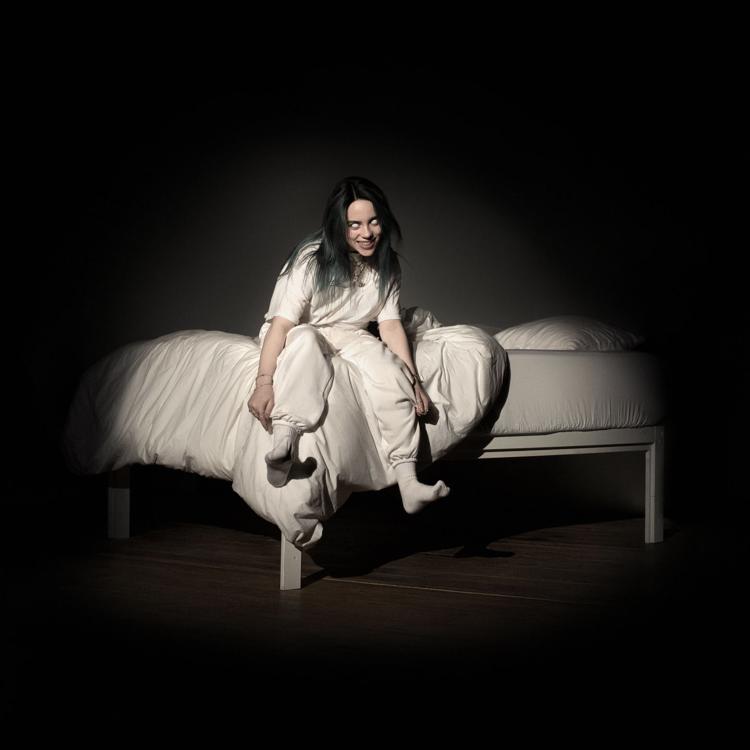 On her shrewd and enjoyable debut, "WHEN WE ALL FALL ASLEEP, WHERE DO WE GO?," 17-year-old singer-songwriter Billie Eilish immediately underscores that the record we're about to experience is something of a special event.
"I have taken out my Invisalign and this is the album," she announces, presumably to her producer and co-writer brother, Finneas O'Connell, on the LP's interlude-length first track. The statement is followed by a mad-scientist cackle. This stuff's serious to her, sure, but Eilish wants to show that we're going to have some fun too.
On track two, the campy Nine Inch Nails-meets-Britney Spears jaunt"bad guy," Eilish makes some other things clear. She wants people to think of her as a pop villainess, as the title indicates, but also to know that she's willing to take a dark sense of humor further than you'd expect from a stereotypical teen-pop idol. In the wispy chorus, Eilish runs us through the kinds of person she considers herself — a "make your mama sad type" — before claiming that she's also a "might seduce your dad type." She immediately follows the shock-value line with a vocoder-supplemented reminder that she's a "bad guy," then a petulant "duh!" While it doesn't make the lyric any more palatable, this Serge Gainsbourg-like lyrical transgression nonetheless exemplifies the level on which Eilish often operates: she's a pop prodigy with a knack for writing songs as catchy as they are sometimes-uncomfortably provocative.  
In a recent Guardian profile, Eilish discussed whom she idolized growing up. She was especially enamored by Justin Bieber, who reached the pinnacle of his popularity when she was in middle school. Eilish claims that she dedicated an almost unhealthy amount of time and attention to him and would sometimes break out in tears at random just because she thought so highly of him. As the piece's writer points out, however, Eilish has become (though perhaps in a less conventionally-heartthrobish way) similarly idolized by the youngsters who primarily make up her fanbase.
She has about 16 million followers of Instagram, where her photos regularly pass the one million likes mark; a myriad of her songs have easily crept past 100-million-streams status on Spotify, and her new album set an unprecedented pre-order record of 800,000 sales before its March 29 release. To top off her preternatural popularity, a lot about Eilish's rise is both unconventional and fairly unprecedented for an artist of her age. She's largely ubiquitous and beloved among teens, yet still mostly operates on the fringes of what we think of as the mainstream. She's ascended not because of a single song (though she initially broke out at the age of 14 with "Ocean Eyes"), but several. She shirks easy mass appeal, whether it be because of her music videos, her brash and androgynous wardrobe, or her overarching sound.
The pretty-consistent electricity and cohesion of "WHEN WE ALL FALL ASLEEP, WHERE DO WE GO?" is the most unexpected — and most exciting — thing about it. Before listening, I'd considered Eilish more of a quasi-provocateur than an effective musical artist. But with her first LP-length foray, it seems Eilish and her co-conspirators put sonic unity first.
Eilish has regularly been compared to Lorde for the goth edge and similar coming-up story, and Lana Del Rey, who has a comparable warble. But, playing through "WHEN WE ALL FALL ASLEEP, WHERE DO WE GO?," which is bass-heavy and coolly juxtaposes clanging production with feathery vocals, it seemed suddenly unnecessary to try to pinpoint who exactly Eilish sounds like. She's a sort of musical mixologist, borrowing characteristics from other acts to make something that's recognizably hers.
"WHEN WE ALL FALL ASLEEP, WHERE DO WE GO?" is at the peak of its powers when Eilish works with the uptempo, which, thankfully, she often does. The third track and first single, "you should see me in a crown," is arguably the closest teen pop has come to mimicking the quiet-to-blaring dynamism of PJ Harvey's alt-rock all-timer "Rid of Me." "Ilomilo" feels like the sonic equivalent of a strobe-light attack while under the influence — which is, in this case, a good thing.
Down-album songs "bury a friend" and "my strange addiction" — the latter of which contains a plethora of samples from "The Office," if you can believe it — have lyrical ideas as attention-grabbing, for better and for worse, as their odd-bird melodies. Capitalizing on the my-own-worst enemy trope and Eilish's own nightmares, "bury a friend" is steeped in punky black humor; "my strange addiction" is rather ambiguous and up to interpretation. But the possibility that the titular addiction might be about the TV show it generously samples from is winningly goofy.
Ballads on the album, from the plaintive "when the party's over" to the downcast Jeff Buckley-ish "i love you," are efficient, though hardly as welcoming of repeat-listens as their jumpier counterparts. Eilish does have an achingly pretty closer, however, in "goodbye," which multiplies her voice in a way that craftily invokes the harmonious beauty of the Beatles' "Because."
There are a few blips on the record that underline that Eilish still has some growing up to do. The album's sixth track, "wish you were gay," is a shameless — and unsuccessful — stab at provocation. Spiritually similar to Katy Perry's fatuous "Ur So Gay," it's about Eilish wishing that a guy she has a crush on were gay so that there would be a clearer-cut explanation as to why he wasn't into her. Eilish has made it clear that the song wasn't intentionally malicious, but it still comes across as feather-headed and immature. "8," on which she near-nonsensically chirps over a ukulele, emphasizes that not all her idiosyncrasies translate all that well musically, and the aforementioned "bury a friend," though meant to be broad-stroked in the first place, might cause trouble for its rampant and incautious allusions to suicide. As teen pop's dark horse, though, the for-the-most-part singular Eilish is bound to misstep as often as she steps forward, and "WHEN WE ALL FALL ASLEEP, WHERE DO WE GO?" more often than not sounds like a move in a thrilling direction.
The verdict: "WHEN WE ALL FALL ASLEEP, WHERE DO WE GO?" is a solid collection from one of Gen-Z's more intriguing pop idols.
Reach writer Blake Peterson at arts@dailyuw.com. Twitter: @blakewpeterson
Like what you're reading? Support high-quality student journalism by donating here.