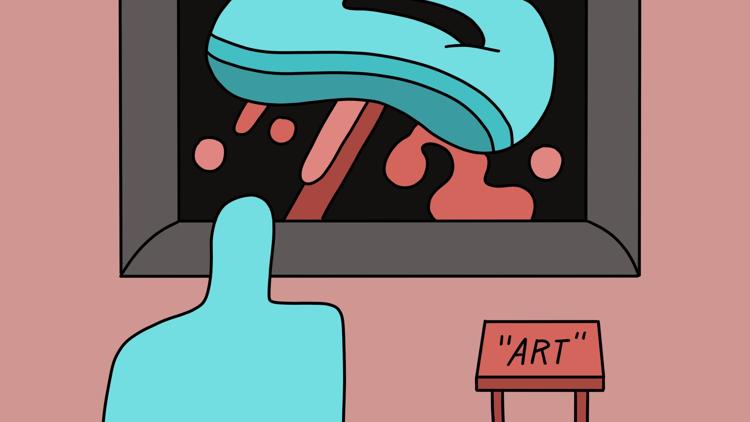 Two clocks, a glowing orb hovering from the ceiling, people pushing an ice cube walking down the street — many see these works and think contemporary art makes no sense.
This kind of art is often considered nonsensical and absurd, and contemporary artists are often seen as lacking real skill. They are accused of being privileged insiders who make art to flaunt their intellectual superiority.
Those standpoints are understandable. Since art is available to our senses, we assume that we should get a clear message from a piece right away. However, when contemporary art disrupts our expectations of how art should work, it makes sense that we might panic and instinctively reject it. 
But no one is alone in this aesthetic turmoil. We are all confused, and that's the point.
"Contemporary art is supposed to be confusing and disorienting, even if you know a ton about it," Adair Rounthwaite, assistant professor of art history, said.
With the advent of modern and contemporary art, art was no longer simply about beauty or technical expertise.
So what distinguishes contemporary art? What is it trying to do?
"The artists are asking us to reflect on the world we live in," Sylvia Wolf, director of the Henry Art Gallery, said. "How do we relate to one another? What our responsibility is to ourselves and to each other in our existence in this world? What do we think about and what are we going to do about it?"
In the world of contemporary art, it is not the answer that matters, but rather the questions posed by the artists that the art piece evokes for the viewer. Taking time to think about those questions doesn't guarantee an answer — and that's OK too. 
Although each viewer's experience of contemporary art will be different, there are a few techniques to help us look and think about contemporary art.
First, fully immerse yourself in the artwork. At an exhibit, we tend to start with reading the wall text to get a general idea. Instead, Wolf suggested people privilege their experiences by engaging with the art piece itself first. 
Try to register your thoughts and feelings during the interaction. It could be as simple as something like "I feel happy" or "I feel offended." This process is simple, but it may take some time. Be patient. If one minute isn't enough, give it two. 
Second, be open to confusion and ask questions about your own reaction. Wolf said that when she comes upon a work of art that makes her uncomfortable, she stops and thinks, "Oh, pay attention here, because something is happening."
"All kinds of emotions belong to the era of contemporary art," Rounthwaite said. "Wonder, disgust, grief, humor, shock — all these things are included in the umbrella of the kind of experience that contemporary art is trying to create for us." 
If you are upset by the fact that Felix Gonzalez-Torres put two clocks in the art gallery and called it "Untitled" (Perfect Lovers), try to unpack the reason behind your response. Why do we get offended by that? Why is it hard for us to accept the ready-made as art? What assumptions are we making about creative process?   
Third, think about what questions the artist is raising about the world around us. Many artists are tackling issues specific to their time. Contemporary artists often work collaboratively with museums to bring topics like environmental degradation, marginalized groups, or societal oppression, to name a few, into the public eye through art. 
For example, in "Library of Black Lies," an installation that was on view at the Henry Art Gallery from November 2018 to June 2019, artist Edgar Arceneaux examined how African Americans have been excluded from the creation of official history throughout history.The Henry's upcoming exhibition "In Plain Sight" specifically aims to bring the stories of marginalized communities to light through art.
"[Art] teaches me a lot about myself," Jainey Kim, a graduate student specializing in abstract contemporary performance art, said. "Especially I think, as an Asian American immigrant, there are lots of questions of belonging and community making and kinship that are made clear to me."
Contemporary art's ability to teach is an aspect that Rounthwaite prizes as well.
"Contemporary art is something that really pushes and enriches your perception of what the visual world is about," she said. "It can also create more personal open-mindedness towards how people express themselves in the world."
Not only can contemporary art broaden your horizons, it can give you an idea of your place in the world.
"I think learning contemporary art helps me understand my relationship to other people," Sam Seaver, a third-year undergraduate in the art history program, said. "I think what contemporary art has taught me is to just take a step back and look at what's simple, and how effective those simple things can be."
The Henry Art Gallery strives to engage students and beyond in this learning process. With more than 27,000 items in their permanent collection, the Henry provides abundant resources to connect students to the contemporary art world. All UW students can claim free student membership.
"It is such an amazing resource that's so overlooked," Seaver said. 
The Eleanor Henry Reed Collection Study Center makes most of the permanent collection accessible to students. If you want to take a look at Andy Warhol's work during a break between classes, the study center will make it happen. You can make an online appointment two weeks prior to your planned visit.
"[The Henry is] your museum," Wolf said. "In the world of complexity, in the world of wonder, in the world of curiosity, creating knowledge and disseminating knowledge … All of those things are enhanced by experiencing the creative work that's made by contemporary artists."
Reach contributing writer Fione Ye at arts@dailyuw.com. Twitter: @Campfiion
Like what you're reading? Support high-quality student journalism by donating here.