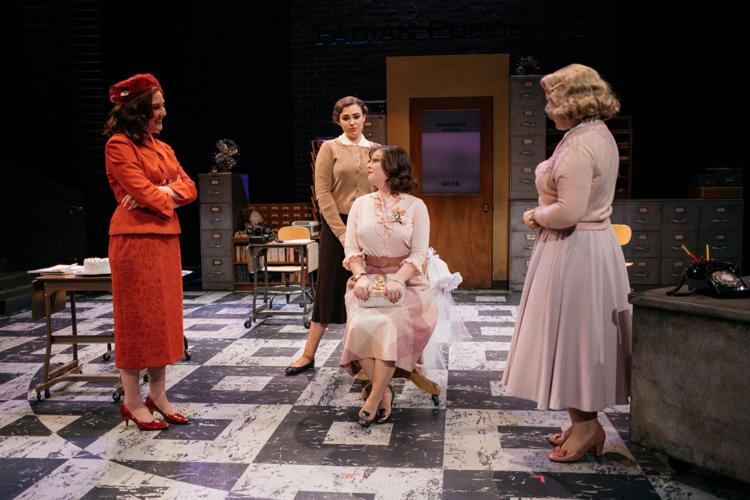 The new girl bluntly asks you whether you're a virgin, and she asks you about your sex life, because sisterhood, because as women in a sexist world, it's something that's supposed to be a central aspect of who you are.
Among conversations of sex and womanhood, UW Drama's "The Best of Everything" navigates the experiences of working white women in the '50s. About 60 years later, the themes that this production tackles are just as relevant today, whether it be through the lens of #MeToo and misogyny, or the hilarity and friendships made among women.
Originally a novel by Rona Jaffe in 1958 and adapted into a play by Julie Kramer in 2012, Valerie Curtis-Newton directs UW Drama's take on "The Best of Everything" at the Jones Playhouse.
Entering the theater, the stage is laid with a checkered tile floor to lay the foundation for the office setting, with tin office drawers and a big wooden door. The name "Fabian Publishing" hangs big and high above. Four neutral ceiling lamps hang from the ceiling, and the stage is lit with an array of purple and yellow lights. It feels reminiscent of an older, '50s-style newsroom.
This office-style set design by MFA student Adair MacCormack is consistent throughout the entire play, as the office of Fabian Publishing becomes the setting for the entire play.
The show follows five women working as secretaries at Fabian Publishing. Specifically, it follows the journey of Caroline Bender (Hailey Henderson) as a new girl at the publishing company who is trying to find success on her own terms.
The play consistently explores ideas of conventionalism and ambition. Caroline is especially characterized as rather ambitious, being a college-educated woman looking to prioritize work over marriage in her life.
This follows from her former fiance, Eddie Harris (Nick Bryant), leaving her for another woman, leaving Caroline only an ego-infused letter reading: "You are lucky you have only to read this letter rather than write it." In her reorientation away from romance and toward success in her work, others characterize her as "ambitious" and "unconventional," with a tone that suggests a bad taste in their mouth. Conventionalism is praised as the norm, especially for women in this male-dominated workplace and society.
The notable character dynamic between Caroline and Amanda Farrow (Asialani Holman), the sole female editor at Fabian Publishing, demonstrates a relationship that starts as tumultuous and ends with mutual respect. Farrow's initial disdain for Caroline, due to the competitive atmosphere they both work in, morphs into a mutual respect, reflecting the difficulty of being in a workplace where women struggle to advance. 
This play definitely delves into heavy themes, with a scene where Caroline experiences sexual harassment in the workplace from her boss Mr. Shalimar. Again, in light of the #MeToo movement and the continuing experiences of women today, "The Best of Everything" is painfully contemporary.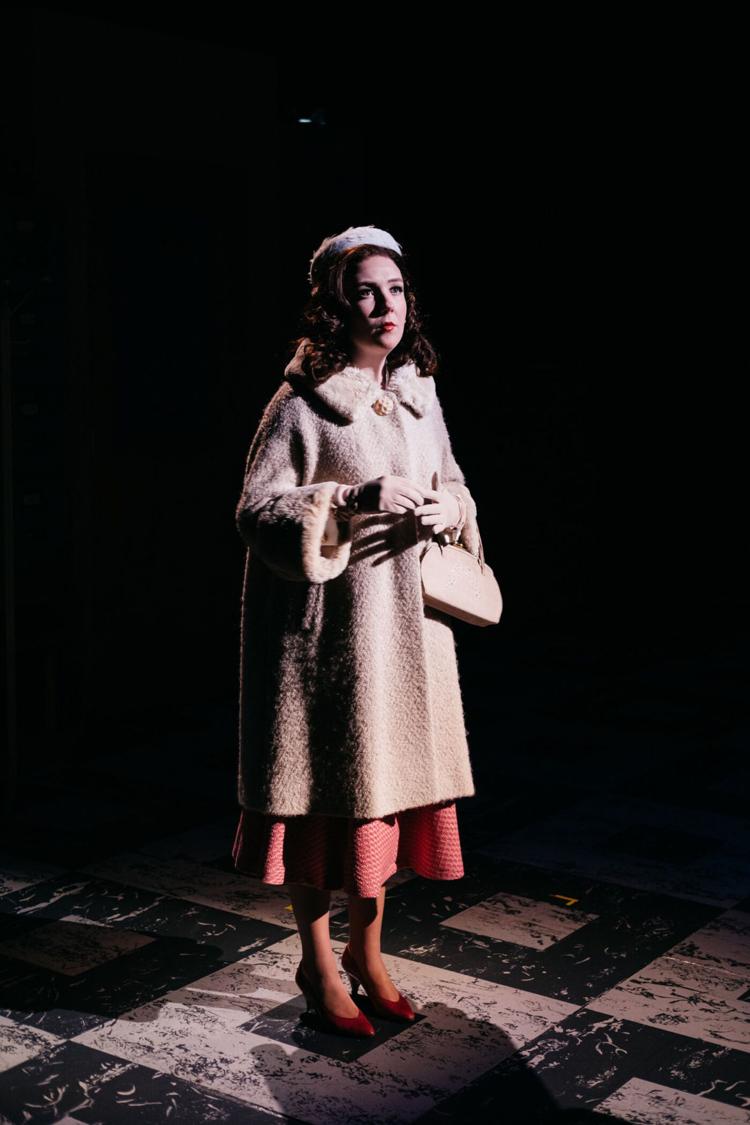 However, it's not to say that "The Best of Everything" simply depicts the sad, gloomy aspects of being a woman. In fact, a hidden gem of this production comes from the performance of Brandon Pascal as four different characters — Mike Rice, Mr. Shalimar, Ronnie Wood, and David Wilder Savage. Each transition between characters provided little bits of delightful humor, which was well done by Pascal.
Another notable scene was the Christmas party, where the women danced with cardboard cutouts of men, as these cutouts were the male "extras," in a cast of six women and two men, emphasizing the play's female perspective.
For many of the aforementioned transitions, as well as for the entire play, the lighting was central in helping to set the mood of each scene, whether it be jubilant and laughter-inducing, or calling for a more dramatic, somber mood.
Overall, UW Drama's "The Best of Everything" sought to show women figuring out their lives on their own terms. Through a poignant narrative, superb acting, design, and direction, they definitely delivered.
"The Best of Everything" plays at the Jones Playhouse through Feb. 16, with tickets from $10 to $20.
Reach writer Deborah Kwon at arts@dailyuw.com. Twitter: @debskwo
Like what you're reading? Support high-quality student journalism by donating here.