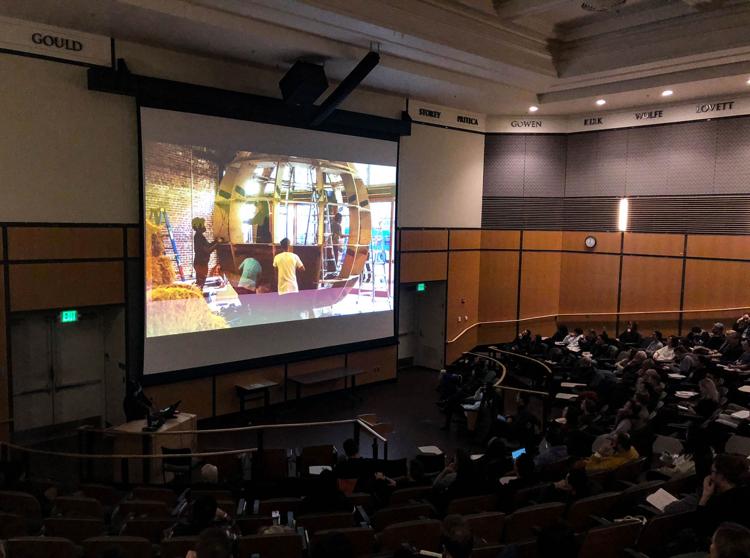 The UW department of architecture hosted the final event of its lecture series for winter quarter March 6. The final lecture for this quarter was by Taiji Miyasaka, a professor in the School of Design + Construction at Washington State University. In his lecture, Miyasaka gave the audience insights about his current exhibition at MadArt Studio called "Circum·ambience," as well as talking about the defining moments of his architectural career that led up to this piece and presenting questions about our perception of space and the environment.
Miyasaka explained that his design process for "Circum·ambience" started with thinking about how to respond to the physical space within MadArt Studio. MadArt is a large open studio with a unique atmosphere –– the walls are constructed with various materials, ceiling height differs, and the natural sunlight shining through varies as well.
"I tried to create a contrast among them as much as possible, including the contrast in the process of making," Miyasaka said, explaining the three spherical pieces that make up "Circum·ambience." "Each sculpture's location was decided based on the natural light conditions and how visitors may walk around to see the works."
At MadArt one can observe his creative ways of structuring the overall exhibit. In a sense, the entire studio is part of a larger mosaic that redefines the space.  
The smallest of the three spheres, "Wild Flower," is located under one of the skylights at MadArt. The piece is made of yellow chicken wire, creating a transparent sphere with hexagon-shaped patterns. Miyasaka explained that the repetitive twisting movement within the construction process is similar to meditation.
"Debris" is placed under a different skylight, made of wooden material from a demolished house in Capitol Hill. Looking at all the gathered material laying in front of him, he felt he could make an order with them that caused viewers to think about the relationship between each of the individual wooden pieces.  
The largest of the three spheres, "Earthen Light," is placed facing the large window, capturing the sunlight coming in from the street. The piece is constructed of an exterior wooden frame with an interior of earthen walls that was created with a mixture of soil, barley (traditionally rice straws), and water. This is also the only piece where you can physically step inside. The piece was accomplished in collaboration with plasterers from Miyasaka's hometown, Kyoto. Other than the uniqueness of the overall design, "Earthen Light" embodies various aspects of Miyasaka's architectural career and ways of thinking about design.
Miyasaka shared with me an experience he had one summer day in Kyoto: He was sitting inside a "kyomachiya," a traditional townhouse. The only light came from the intense sunlight shining upon the yard outside. Being surrounded by earthen walls, the atmosphere was dark and hot. Just then he felt a subtle movement in the air, calling it "the whisper from hell." It was this moment when he realized the intense sensitivity and connection to the environment that comes from earthen walls.
He started to take a closer look at traditional earthen walls near Kyoto, realizing how the commonness of the walls caused the subtle differences of each earthen wall to be overlooked. The different textures and colors come from various soils and pigments that each create the diverse earthen walls, and he began to treasure the unchanging techniques and design that have lasted for over 1,300 years.
However, it was not only the traditional Japanese structures of kyomachiya and Japanese teahouses that inspired his work for "Circum·ambience." He was also influenced by the experience of seeing various timber grain elevators in eastern Washington.
"They gave me a lot of inspirations," he said. "Being inside of the bin, the elevator, has definitely given me some ideas about making the sphere spaces."
However, his overall idea of "Circum·ambience" emerged from a question he had been grappling with a long time.
"This project comes from my interest in how can I understand environment and space," he said during the lecture. According to Miyasaka, how we perceive the environment surrounding us varies greatly based on time, climate or season. Just obtaining simple information of that space does not help us understand the environment we are in. This all led to the question of "how much do I know about what I am perceiving about space?"
While reading various perspectives from Descartes, Kepler, and Kant, he came upon a claim made by environmental psychologist James J. Gibson, which sat well with what Miyasaka had been questioning. Miyasaka's understanding of Gibson's idea is that we are not looking at an image copied into the brain, which them sends stimuli to react. What we are looking at exists in the environment. In a way, our perception is in front of us, not within our heads.  
This is where he also encountered the idea of ambient light. Gibson proposed two types of light: radiant light and ambient light.
Radiant light is the collision of sunrays with countless invisible air particles that combine and randomly scatter. They also reflect arbitrarily off of the objects. They repeat this myriad collision and reflection in the air at a speed of 186,000 miles per second and diffusely illuminate the atmosphere. The air is filled with this diffuse illumination, defined as ambient light.
Miyasaka was especially fascinated with this idea of ambient light in his previous work, "Black Shed." When he saw the environment surrounding the shed being reflected inside through the 80,000 small holes, he saw the potential of ambient light as a material. As a designer always looking for the potential of his material, this was a moment that sparked new approaches to his art, leading up to "Circum·ambience."
"I am still trying to find a moment to create some ambient light space," Miyasaka said, finishing off his lecture.
An architecture student who attended the lecture found especially interesting looking at "Black Shed" and the way light and enclosure can alter perceptions.  
Architect Robert Valenti, who also attended the lecture, drew inspiration from Miyasaka.
"He is exploring things on a very perceptual level, which I think connects to all architecture," he said. "It underlies how we experience things."
"Circum·ambience" is just another step on Miyasaka's journey to explore human perception of the environment, light, and space. It is installed at MadArt Studio until March 23.
Reach contributing writer Nozomi Kurioka at development@dailyuw.com. Twitter: @n_kurioka
Like what you're reading? Support high-quality student journalism by donating here.