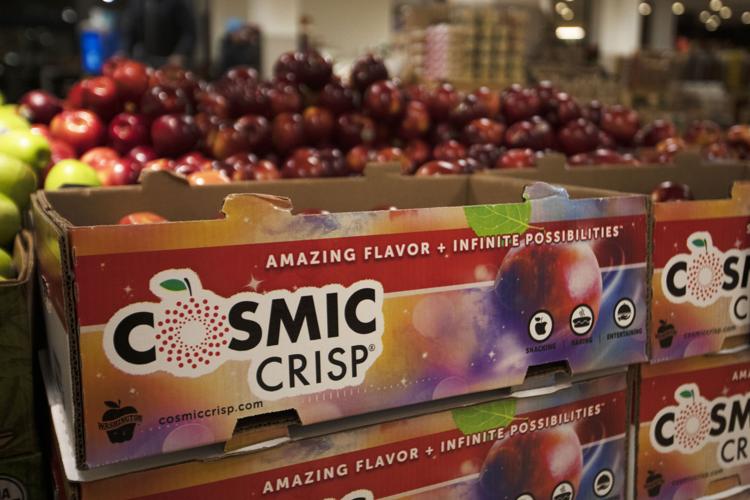 Author's note: Chow Down is a weekly column exploring the intersections of food and culture on campus and beyond. Its goal is to encourage readers to engage with food in new, thoughtful ways and, more importantly, enjoy chowing down.
While the Huskies were handily defeating the Cougs for the seventh-straight Apple Cup on Nov. 30, Honeycrisp apple devotees like myself had a different kind of apple on our minds. After years of hype cultivated by a $10.5 million dollar marketing budget, the Cosmic Crisp apple became available for purchase in grocery stores as of Dec. 1. 
Cosmic Crisp, a cross between the Honeycrisp and Enterprise varieties, has been available for less than a week at the time of publication but has already achieved an unprecedented level of fame for produce. 
The Washington State University researchers who developed the new breed promise the tantalizing trifecta of a sweeter, crunchier, tarter apple, while Cosmic Crisp ads invoke the boundless wonder of outer space. 
Not only do the ads utilize the imagery of outer space and exploration — imagine a jubilant young child gazing at a star-flecked sky through a telescope while grasping at balloons — but their marketing team recruited Leroy Chiao, a literal astronaut, to serve as a Cosmic Crisp ambassador. They also trademarked Cosmic Crisp's slogan, "Imagine the Possibilities."
Sexy branding is not necessarily new to the market as people familiar with Opal and SnapDragon apples know, but the novel, over-the-top Cosmic Crisp ads make this new apple especially alluring. With more than 100 apple varieties grown in the United States, but only 15 comprising 90% of total apple production, there's no room for subtlety. 
However, apple farmers like Scott Beaton of Jerzy Boyz Organic Orchard make a convincing argument against impulsively jumping at the buzziest apple of the moment. Instead, consumers should holistically consider the people and resources behind their groceries. 
Family-owned and operated since 1979, Jerzy Boyz, according to their website, "has been labeled the number one organic apple grower by all of [their] buyers for the last thirteen years," in part because of a commitment to small scale, low-mechanization practices like customized composts, maturity-driven pickings, and hand-packing. 
"After being a worker in the non-organic fields, I know that they use different insecticides and pesticides," Beaton said. "I don't think people realize how much of that is going on." 
While many may think the motivation for eating organic is to avoid consuming pesticide residue on fruits and veggies, consumers often forget that the dependence on synthetic pesticides in non-organic apple orchards is as much an environmental justice issue as it is a nutrition issue. 
Farmworkers and their families, many of whom are undocumented, bear the brunt of pesticide exposure but lack the resources to protect themselves. A 2015 Consumer Reports special report cited studies that "linked long-term pesticide exposure in [farmworkers] to increased risk of Alzheimer's and Parkinson's disease; prostate, ovarian, and other cancers; depression; and respiratory problems."
"One of the biggest problems farmworkers have is when they come home, their boots track in the herbicides from the field, and the kids play in the apartment," Beaton said. "The people who are working in those environments are exposed more than anyone."
Beaton concedes, though, that the competitive nature of the apple industry forces commercial growers to make trade-offs. 
"There's a tremendous amount of toxicity in these commercial orchards, but I have a lot of compassion for the growers," Beaton said. "They're barely making it. It's not a lucrative business." 
Resisting the Cosmic Crisp craze also ensures that a consumer finds a high-quality apple that suits their preferences. 
While large commercial producers concerned with increasing their yield of fewer apple varieties will pick apples regardless of ripeness, Beaton picks apples at their peak over the course of two to three weeks.
"I try to have enough choices to line up the apple to the person," Beaton, who grows 70 different apple varieties ranging in sweetness and tartness, said. "The only way I survive is having people try apples. They don't have to buy it if they don't like it."
So before you buy into the Cosmic Crisp hype, pay a local apple grower a visit at the University District Farmers Market on Saturdays from 9 a.m. to 2 p.m. Receiving a personalized apple recommendation and supporting a local farmer more than makes up for not eating an astronaut-endorsed apple.
Besides, with the University Village QFC regularly selling out of Cosmic Crisps by mid-day, you would be putting in the same amount of effort, if not more, to get your hands on a Cosmic Crisp.
Students receive $2 in "Market Bucks" to spend on the first Saturday of every month if they show their Husky IDs at the Farmers Market manager's booth. Other student perks include a discounted Honeycrisp value pack of three pounds of apples for $6 at Beaton's Jerzy Boyz stand. As a diehard Honeycrisp fan, I can assure you their taste is out of this world.
Reach columnist Estey Chen at arts@dailyuw.com. Twitter: @esteychen
Like what you're reading? Support high-quality student journalism by donating here.