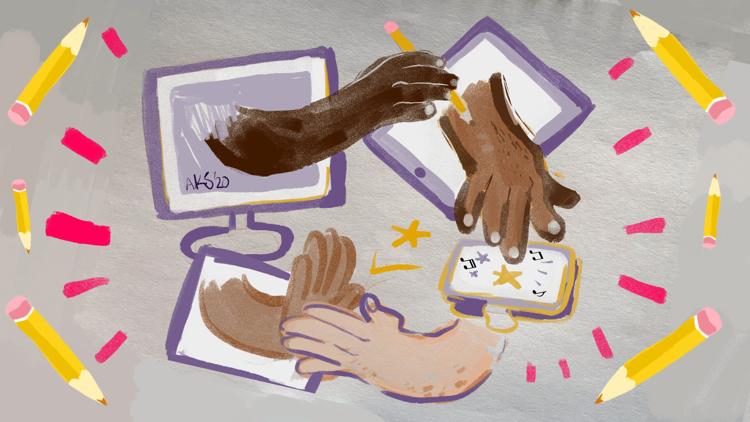 While all students were affected by the abrupt shift to online classes for spring quarter, students in the arts experienced some of the largest curriculum changes. As the quarter comes to a close, several art students reflected on the decision to continue their arts education online. 
Will Schlott, a sophomore studying vocal performance and psychology, has been participating in choir and voice lessons online due to COVID-19. Students in choir have faced several challenges such as being unable to sing in shared homes, technical difficulties over Zoom, and a lack of access to recording technology. However, Schlott is glad he chose to continue taking music classes remotely this spring.
"I didn't want to lose the opportunity that I have to make art," Schlott said. "It's hard enough to be motivated to make something when you're totally on your own, but to be isolated and then to not have other people that are there to encourage you, and help you, and feed you, you're just farther removed from it."
Other students in the arts have felt similarly appreciative of the role of art during online classes. Freshman Ben Roscoe is part of the Studio Jazz Ensemble and is taking a drama class on Broadway musicals this quarter.
"The main takeaway that I've had is that we're pretty resourceful and we're doing the best we can," Roscoe said. "It's definitely not the same but I'm really happy with the way this quarter's turned out." 
Professors have been using a variety of methods to coordinate online courses in the arts. For jazz ensemble, director Paul Harshman sends out an online template and sheet music for a song, and students then play their part over the template using GarageBand software. 
"It works out pretty well," Roscoe said. "Honestly, I think I've probably gotten better this quarter than either of the two quarters before it. To play it with the recording and then listen to myself over and over and over again has really helped me train what I'm supposed to sound like."
Students at the graduate level faced a similar decision in whether or not to continue their degree remotely. Doctoral candidate Guillaume Tourniaire decided to continue working on his dissertation "Show Boat's 'Make Believe;' Subversions of Stereotype and Sympathy as Liberalism" this spring while working remotely as a TA for DRAMA 171: The Broadway Musical.
"Every single class you take at a university needs to help you become a better human being, to connect with other human beings, to live a better life, and to help the lives of the people around you," Tourniaire said. "And so that spirit I think lives on still even in the arena of remote learning."
According to Tourniaire, tech has been a surprisingly good way to encourage engagement. Zoom sessions allow students to converse with each other and the instructors, and the class created a separate Discord server, fostering a sense of community. More introverted students are able to participate by messaging the instructors privately on the Zoom call, or voicing their opinions with Canvas discussions. 
Schlott, Roscoe, and Tourniaire all plan to continue studying the arts in the fall, even if courses stay online.  
"I plan to still seek out lessons," Schlott said. "Since high school, it's been one of those things where every week you have that dependable time with a person to forget about everything else and just focus on your art and creating something. It's one of the most productive outlets."
Tourniaire believes that studying the arts remotely provides valuable perspective in realizing their impact on culture and connection. 
"This is going to be an interesting period of questioning 'what is at the core of what we do?' and 'how do we simplify what we do so that we can continue to communicate with our audiences?'" Tourniaire said. "I've never been so excited to study what I study."
Reach contributing writer Corinne Dietz at arts@dailyuw.com. Twitter: @Corinne_Dietz
Like what you're reading? Support high-quality student journalism by donating here.