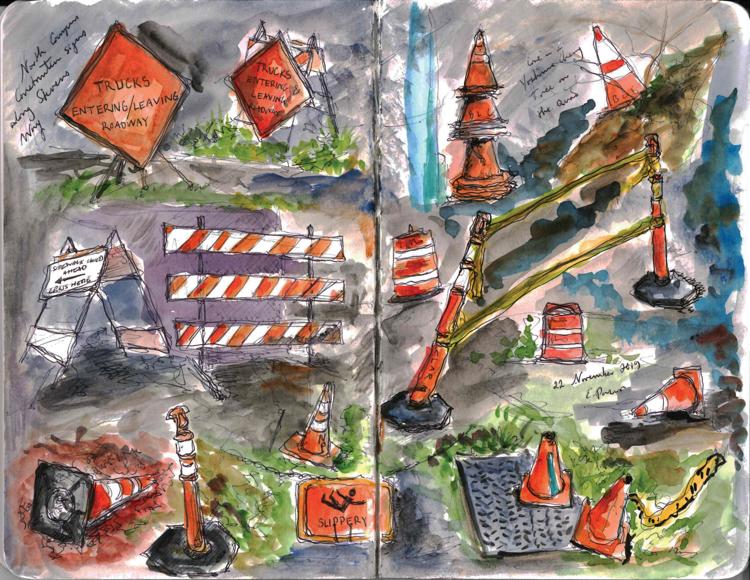 Autumn is one of the rare opportunities I have as a Seattle artist to use colors other than gray, deep blue, and forest green. As we move into winter, there is the temptation to limit my palette and sketchbook to drawings of architecture with muted colors and black ink. However, this week I decided to do something a bit unconventional and sketch as many bright, neon, orange things on campus as I could. 
This collection of cones, construction signs, and caution tape was a fun and interesting way to sketch things that are brighter and livelier. With no end in sight to the construction on campus, I had no trouble finding things to sketch. There are weeks where I will have no idea what to sketch. It seems paradoxical as there are so many things to use as subjects, but at the same time, I will still be at a loss of what to draw. Inspiration tends to come from the strangest of places, and this time it came in the form of the multitude of traffic cones that populate our campus.
Gabriel Campanario, founder of the Urban Sketchers and fellow artist, once shared during a workshop that he'll often use mundane everyday objects as subjects for sketches. I usually want to be more and more ambitious with my projects and try and tackle complex subjects with intricate designs and difficult perspective. But it's not so much the subject that matters, as the translation of the subject from reality to paper. And I can say with certainty that I have never used so much orange for a sketch in my life.
So if you have been feeling blue and a bit sad now that all the vibrant leaves have made their way to the ground, perhaps the multitude of orange construction cones will hold you over until springtime. 
Until the next sketch,
Reach The Campus Sketcher at arts@dailyuw.com. Instagram: @the_campus_sketcher
Like what you're reading? Support high-quality student journalism by donating here.