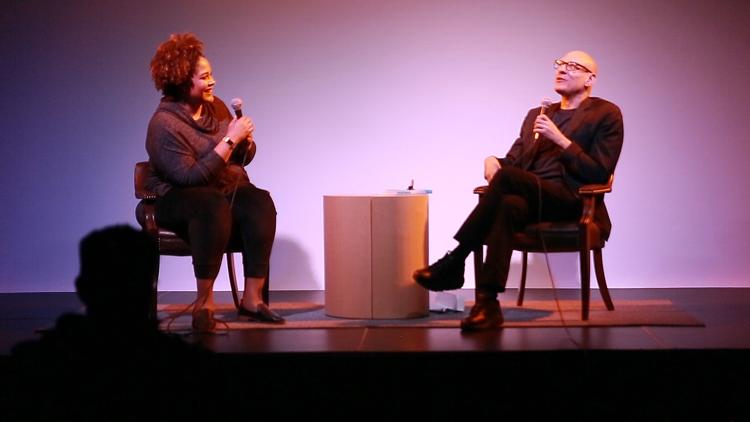 There are few things more monotonous than the generic biographical documentary, most of which end up feeling like a glorified Wikipedia page and a misuse of the cinematic medium. Yet, this description is nothing further from the truth in regards to David Shields' new film "Marshawn Lynch: A History," which explores the beloved athlete through an energetic collage of several hundred clips and images.
Shields, a UW professor and New York Times bestselling author of books such as "Reality Hunger" and "The Trouble with Men: Reflections on Sex, Love, Marriage, Porn, and Power," has an affinity for what he terms "literary collage." This film, in a similar fashion to "Reality Hunger," juxtaposes ideas and moments next to each other that may come from different periods and sources, the effect of which causes the viewers to make the connections themselves. 
The film was screened Oct. 29 at Hugo House, followed by a discussion and Q&A with Shields and local writer Ijeoma Oluo, New York Times bestselling writer of "So You Want To Talk About Race." 
"We didn't want to make a Ken Burns documentary," Shields said during the post-screening discussion. "We wanted to make the movie feel like you are in the middle of a Marshawn Lynch run."
Lynch, an All-Pro running back and super bowl champion who played for the Buffalo Bills, the Seattle Seahawks, and the Oakland Raiders, was as infamous for his on-field talent as he was for his post-game behavior, specifically in regards to his relationship with the media. The documentary focuses on what Shields describes as Lynch's "performance art genius," in which he would refuse to take part in the pageantry of post-game press conferences and interviews. In a particularly stunning clip, Lynch answers every question from journalists with the simple phrase: "I'm grateful."
This attitude toward the press caused much discussion and mockery, from sports broadcasters to comedians, and also led to him being fined by the NFL numerous times. These clips are sided by dialogues from people such as James Baldwin and Malcolm X, who speak upon the theme of how Black men in America are exploited and manipulated.
Oluo, who also stated that she had immense love and fascination for Lynch, asked Shields what sparked his interest in telling this story. In his answer, Shields mentioned a quote from Albert Camus:
"The only way to deal with an unfree world is to become so absolutely free that your very existence is an act of rebellion."
This quote speaks wonders in regards to the themes of "Lynch," as the audience pieces together how society's efforts to manipulate Lynch into acting the way they desired is not just an issue of race in sports, but race in general. The film also shows how Lynch's silence, termed by Shields as "Marshawnian silence," inspired a greater trend that led to Colin Kaepernick's refusal to stand during the national anthem. All of these events point to the idea that, as Shields stated during the discussion, "there is often fury behind silence."
I was able to talk with Shields after the panel discussion and ask him if he feels that audiences are now open to new ideas and new ways of absorbing stories. 
"The dominant form now is almost the very thing that 'Reality Hunger' was calling for … mixed genre, blurring of fiction and non-fiction, blurring the line between the true and the untrue," Shields said. "We all are living so much on our phones, this type of heavy-duty collage remix is almost where a lot of people's heads are."
It is gratifying to watch a film that allows the viewer to come up with their own ideas and engage with what is in front of them in a way that actually calls for reflection. When you, the viewer, have to involve yourself in that process, it leaves you with something greater to take home. As I was watching "Lynch," I felt like all documentaries should be made this way. 
Reach writer Armon Mahdavi at arts@dailyuw.com. Twitter: @armonmah
Like what you're reading? Support high-quality student journalism by donating here.