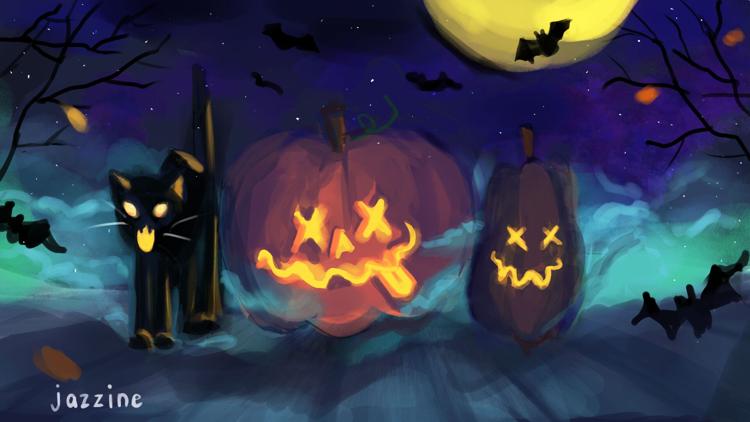 Editor's note: Real Thing: A Sonic History of Seattle is a bi-weekly series looking back on hallmark performances and artist releases in our region.
"So two percent of you are in costumes," Nirvana's drummer, Dave Grohl, said to a Seattle crowd on Halloween night in 1991. "Personally, I think it's very lame, unless you're all supposed to be punk rockers?" 
A little over a month prior, Nirvana's second album, "Nevermind,"hit the shelves of record stores, with their label hoping for sales of around 250,000 copies. Against all odds, the record went gold Oct. 31, selling half a million copies.
In a stark illustration of this sudden advent of commercial success, Kurt Cobain had gone shopping for underwear and socks at Seattle's Bon Marché the morning of the show, pulling just enough crumpled bills from the inside of his shoe to pay for the items.
In 1988, Nirvana performed their first Seattle show, which would be an underwhelming performance for an unimpressed audience at the Vogue Night Club. Now, three years later, massive crowds, reporters, and a film crew crowded into the Paramount Theatre to hear Nirvana perform.
Debates over Nirvana's greatest live performance often center around two shows: their headline performance for England's Reading Music Festival in 1992, and their unplugged set for MTV a year later. Notably, both performances are marked by controversy and performative drama, as much as quality music.
At Reading, Cobain played into rumors that his poor health rendered him unable to perform, and pranked the 50,000-member audience by emerging on stage in a wheelchair, clad in a hospital gown, before springing to his feet and launching into "Breed." For MTV, Nirvana performed a solemn set of morbid songs, amidst a stage decorated with stargazer lilies and black candles.
What the Paramount show lacks in lilies or hospital gowns, it makes up for in powerful and passionate music. The documenting film crew present that night captured plenty of visual spectacle.
The Paramount show is the only Nirvana performance ever captured on 16 mm film — other film crews documented Nirvana exclusively on digital video — and provides a truly unrivaled glimpse into what early Nirvana performances looked, felt, and sounded like for audiences.
A highlight of the show is "Breed," the ninth song of the set. Grohl launches into the track with forceful drumming, his sweat swirling through broken shafts of light; Cobain, grimy hair dangling in front of his face, screams into the microphone; and Krist Novoselic bounces barefoot across the wooden floor, blissfully lost in the bassline.
When the guitar solo arrives, camera people rush to document the action as Cobain writhes across the floor in ironic imitation of rock stardom. An audience member then unexpectedly crosses the camera frame before diving into the audience. 
Mind you, this all occurs in just over three minutes of film. A whole article could be devoted to describing this one song, but to truly appreciate the chaotic beauty of the performance, nothing compares to watching it for yourself.
Digital and physical copies of the full, hour-long performance can be purchased from a variety of retailers, but, thankfully, selections of the concert can be accessed for free on the official Nirvana YouTube channel. Or, you can stream the album release of the concert on Spotify and Apple Music.
Reach writer Henry Zing at arts@dailyuw.com. Twitter: @ZingHenry
Like what you're reading? Support high-quality student journalism by donating here.