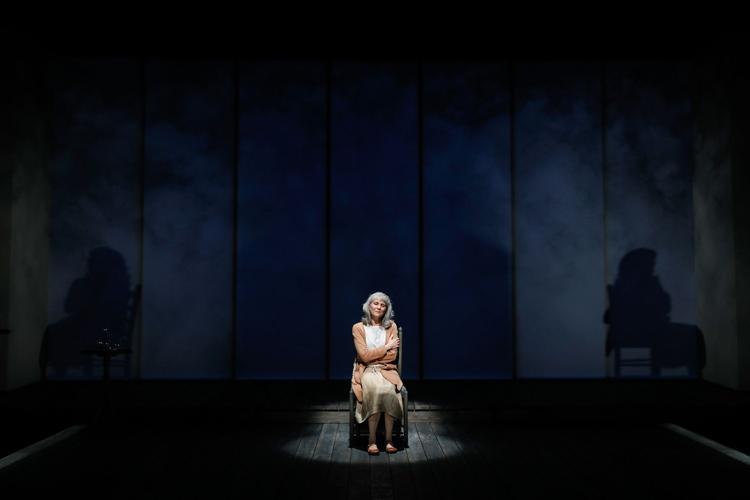 "Life changes fast. Life changes in an instant," Joan Didion writes in the opening of her memoir. This play adaptation begins with our protagonist assuring us that what has happened to her will happen to us too, giving us a reason to invest in her story from the very first lines of this show.
Literary icon Joan Didion adapted "The Year of Magical Thinking" for Broadway from her bestselling 2005 memoir. The text detailed her experiences after the loss of her husband of 23 years, author John Gregory Dunne. The one-woman theatrical adaptation showed audiences an even fuller picture since it added the death of Quintana Roo Dunne, Didion's daughter. 
The translation from text to stage is flawless in ACT's production; the play is divided into chapters and each chapter is signaled by soft music and a number illuminated in the background. 
The set is simplistic. A centered wooden chair and a small table to the side in front a cloud filled background represents one domestic location. However, Suzanne Bouchard, the incredibly talented actress who plays Didion, is able to take us to hospitals, corn fields, and Malibu beaches with her strong storytelling prowess.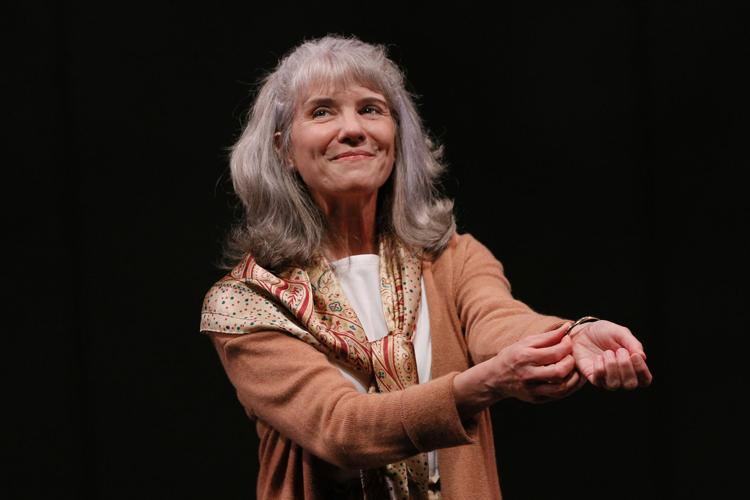 Bouchard as Didion weaves together past and present, memories of togetherness, and her present experiences of solitude. She even sprinkles in humor while tackling these difficult topics.
A strength of director Victor Pappas, who previously directed "Red Earth, Gold Gate, Shadow Sky" with the UW School of Drama, is his elevation of the text. 
"He is not going to burden a play with point of view or choices that take you away from the words," Artistic Director John Langs said about Pappas.
The focus on Didion's text is apparent. There is minimal audio and props, and Bouchard is able to capture the audience's attention for 90 minutes with just her words. 
Didion is a journalist and a creator of stories. She holds our attention with dozens of stories about her family. She also creates stories in her mind to explain the unexplainable —— the deaths of her family members. 
Magical thinking is "the belief that an object, action or circumstance not logically related to a course of events can influence its outcome." Didion mentioned ancient tribes that believed that if they sacrificed a virgin, the rain would come back. If she goes through certain steps, Didion genuinely believed her husband would come back. The brain comes to strange conclusions when faced with unimaginable situations. 
It's almost as if our protagonist sees her life as a draft to a story that she can revise. Her loved ones died, but maybe if she does the right thing, they can come back.
This play spoke to Langs during his selection process because it was the first secular story about grieving that he had seen. He believes that this is what gives it its universality, and that this story is a "right of passage for anyone who has experienced the loss of a loved one."
Despite the age-defying universality of the theme of this play, dealing with grief, there are some elements of Didion's situation that might not be relatable to a young college student.
Didion comes from a wealthy privileged background. Flying off to Paris on a whim, living on the beach in Malibu, and getting a helicopter from California to New York to go to a certain hospital, the differences between her life and ours are distractingly present.
If the purpose of the play is to express the universality of grief, Didion's high-end life is distracting from this purpose. However, at the root of all of this is Didion grasping for control wherever she can find it, and this can relate to anyone.
An older audience might be able to connect more with the topic of losing several loved ones. However, Langs believes that this play will be a completely different experience for college students and will develop an empathy in them for older people who are going through these hardships. 
Langs wants us to walk away from this play with hope. Perhaps we will feel more confident when we see this strong woman make it through life-destructing events. 
"It's OK to feel all of these feelings that these seismic events cause," Langs said. "You will be OK, you will be able to move on. You will not be the same but at some point you have to let go and live." 
We are left with a projection of crashing waves like the ones that brought together Joan, Quintana, and John in Malibu. Like the ever changing waves that come and go we must accept the change in our lives and continue on life's course. 
Catch The Year of Magical Thinking at the ACT Theater before August 11. 
Reach writer Tiasha Datta at arts@dailyuw.com. Twitter: @TiashaDatta2
Like what you're reading? Support high-quality student journalism by donating here.