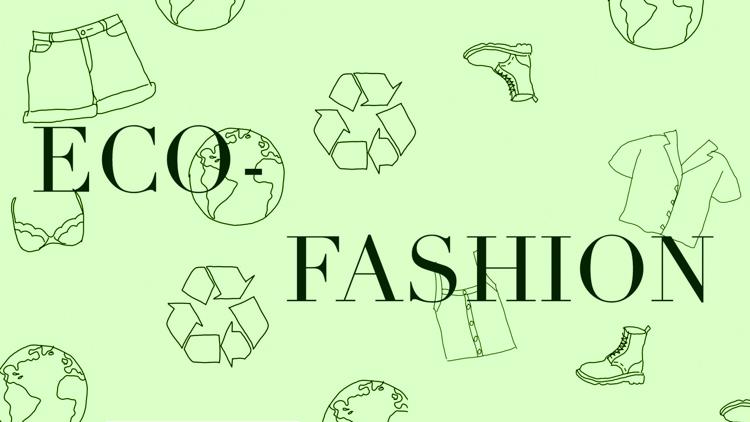 Author's Note: Eco-Fashion is a bi-weekly column that serves as a guide to sustainable fashion with thrift shop reviews, tips and tricks to get the most for your money, and reasons why changing how we consume clothes is so important. 
The movement to combat climate change has grown rapidly over the past few years. There have been school strikes, social media campaigns, and a push to embrace veganism or a zero plastic life. All of these are important, but sometimes reading the news it's hard not to feel discouraged, hopeless, and unsure of how to move forward. 
There are things everyone can do to help protect the environment and promote sustainability. Currently, most people get their clothes from stores that practice fast fashion, a term used to describe an approach to the design, creation, and marketing of clothing that emphasizes new trends and simple, cheap manufacturing. 
Fast fashion became the norm in the industry after the Industrial Revolution when textiles became easier to produce, but especially around the 1960s. Before the push for quick turnarounds on new style, there were just four fashion seasons. Now, there are 52 micro-seasons, and companies like H&M and Forever21 that get daily shipments of new styles and online shops can introduce hundreds of new looks every week. 
This rapid turnaround time leads customers to always want something new. Clothes are being bought and then only worn two or three times before being thrown away. The problem is that more than 60% of fabric is now synthetic and derived from fossil fuels. When these clothes end up in landfills, as about 85% of textile waste in the United States does, it doesn't decay. 
In total, the production of apparel and footwear currently accounts for 8.1% of global greenhouse emissions. If that percentage means little to you, it's about as much as the total climate impact of the European Union. This percentage is on track to grow another 5% annually.
However, there are actions individuals can take to ensure they buy and wear ethical and environmentally-friendly fashion. For one, research the brands of clothes you buy. Make sure the company uses sustainable fabric and pays their workers enough. There are multiple organizations that have compiled online lists of ethical fashion companies. 
Another action is to simply wear clothes for longer. It's environmentally and economically better to buy a couple of nice, more expensive pieces that will last. Clothes that are made of linen, wool, and silk are considered better for the environment. These simple choices help keep clothes out of landfills and pressures clothing companies to change their practices. Consumer pressure was the reason fast-fashion developed, and it's possible that consumer pressure will be what ends it as well.  
The most fun way to make sure your fashion choices are environmentally sustainable is to shift to thrift shopping. Eco-fashion is all about how and why you should thrift. Over the quarter, this column will feature and review thrift stores on the Ave, interview students on campus who are into second-hand shopping, and give tips on how to get the most out of your shopping trip. 
To be honest, 90% of the articles of clothes I own come from second-hand retail stores or are items I stole from my parents. The 20-year-old sweater I snatched from my mom is my number one most complimented article of clothing. Shopping second-hand in no way means giving up your personal style. 
Fashion has always been one of the most powerful tools for self-expression. This is why thrift shopping is so interesting; it's easy and cheap to completely change your style if you feel like you need to. It's possible to find unique vintage pieces, designer brands, or just a nice pair of already broken-in jeans.
Thrift shopping is a simple way to get new clothes, sell your less-worn items, and revamp your look for a low cost. As a bonus, you're shrinking your carbon footprint and playing your role in destroying the relationship between clothing and capitalism. To quote Mackelmore's iconic song "Thrift Shop," "one man's trash, that's another man's come up." 
Reach columnist Zoe Schenk at arts@dailyuw.com. Twitter: @schenk_zoe
Like what you're reading? Support high-quality student journalism by donating here.