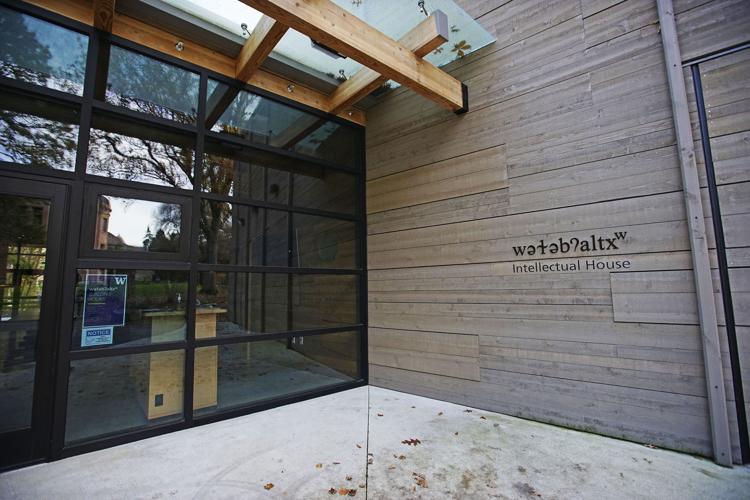 History tells the story of the victors; that's an established fact. But just because textbooks tend to gloss over the not-so-easy to read parts of history, that doesn't mean those not mentioned cease to exist.
Thursday, Nov. 21, the UW wǝɫǝbʔaltxʷ – Intellectual House continued its series of Sacred Breath events with a reading from award-winning writer Tommy Pico followed by a performance of the local Blackhawk Dancers.
The goal of this series, according to Kai Wise, academic counselor from the department of American Indian studies (AIS), was to bring together different communities including the local native, campus native, and Seattle literary communities.
For this event, Sacred Breath did this by combining the storytelling of Pico with the storytelling of the Blackhawks through dance and music. 
Pico's reading began with an introduction from Hailey Tayathy, a member of the Quileute Tribal Nation, who was wearing a T-shirt that read "Indigiqueer and Still Here." That idea of resilience became a theme for the night. 
Performing one of his long, epic-like poems made up of excerpts from a combination of his published works, Pico showed great emotion and emphasis that affected the audience. Pico is a member of the Kumeyaay Nation, and he draws on his Native American heritage in his work.
Pico described how he learned through writing about his history and culture that his impulse to be quiet was a "hangover from white supremacy and colonialism and racism and homophobia and misogyny and all kinds of things that want you to be a very quiet, very mannered, shell of yourself. It doesn't want you to be yourself because that threatens the power structure … and it's just like f--- that. Be loud."
After the reading, Pico explained that his name in the Kumeyaay language means "bird song." This name came from his father, who is a bird singer. These songs, which are a Kumeyaay Nation tradition, are typically long, sung from sundown to sunrise, and as Pico began to develop his writing and work on longer poems, he realized the connection between his own work and the bird songs from his native culture. Pico was continuing his own namesake in a way that he never expected.
"The most important thing for me is seeing that this way of life has not been erased," Miriam Zeghmi, a graduate student at the UW School of Social Work, said. "The narrative of the ancestors of this land continues despite colonization."
Not only did Pico demonstrate this idea in his writing, but it was also present in the performance of the Blackhawk Dancers. Just their existence proves that it isn't so easy to destroy cultures. They continue to survive and persevere. 
Once Pico finished his reading, the Blackhawk Dancers were presented. They are a group from the Lummi Nation dedicated to showcasing the talents of their culture. 
In their performance, the dancers used drums and their own voices to create music that resonated throughout the room. The sounds reverberated through the audience, and that feeling, combined with the dancers circling and surrounding the crowd, created a unique sense of spirit. 
"This building and that room was made for [the dancing]," Native American Certificate Program Manager Dawn Hardison-Stevens said. "You feel the spirit." 
The Blackhawk Dancers help to preserve their culture through their performances. Any witness to the power they create through their singing and dancing would understand how strong the Native American presence is and that it's not going away any time soon. 
"We're still here," Hardison-Stevens said. "The culture's still here. It didn't go away. It didn't go away with colonialism. It didn't go away with the mission schools. It didn't go away with the boarding schools."
Events like these that the Intellectual House hosts help people with similar backgrounds to connect and share their experiences while also teaching others who want to learn and celebrate different cultures. 
"[The stories aren't] meant for textbooks," Wise said. "They're relating stories and they're relating feelings, experiences that are still relevant, that people still experience." 
The AIS department is planning another Sacred Breath event set to take place in the spring.
Reach contributing writer Ali Heitmann at arts@dailyuw.com. Twitter: @aliheitmann
Like what you're reading? Support high quality student journalism by donating here.