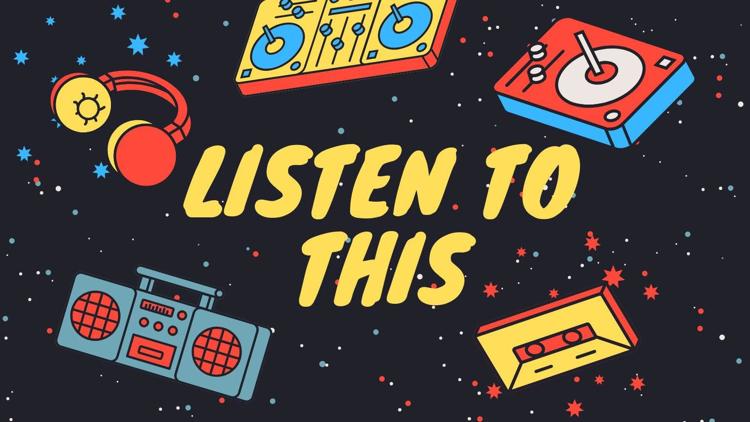 Author's Note: Listen to This is a biweekly column that serves as a listener's guide to the world of music, with recommendations, reviews, and music-related stories.
Oh, Seattle winter. Now that you're here, the air is dry as all hell and my knuckles are cracking, our weather apps say there will be snow but we all know that won't happen, and I honestly can't remember the last time I saw the sun. If seasonal affective disorder didn't set in last quarter, it definitely will now.
To help all my dear readers get through arguably the worst quarter of the year, I made a playlist full of comedic songs, satire, and meme tracks from the past couple of years. 
As a genre, comedy music holds a really strange place in my heart. Growing up, I remember looking up songs like "The Ultimate Showdown of Ultimate Destiny" by Lemon Demon, "Fat" by "Weird Al" Yankovic, and Epic Rap Battles of History on YouTube and jamming out with my friends while playing Minecraft.
I lost touch with the genre in middle school as I discarded my childish ways, but now that I'm an adult, back on my childish bullsh*t and play Minecraft again, I'm glad to see how far comedic music has come since I last listened to it. 
Let's start with my personal favorite song off the list, "Short Kings Anthem" by blackbear and Tiny Meat Gang. I'm a huge fan of both blackbear, an R&B/indie pop artist who I discovered in 2015, and Tiny Meat Gang, a comedy duo composed of former Viners Cody Ko and Noel Miller. As the title suggests, the song is an uplifting melody for "short kings," or men who are usually 5 feet, 9 inches or shorter. 
The song's instrumentation is composed of a classic clap, snap, and hi-hat filled trap beat with a simple staccato guitar line above it and features some amazing lines such as "Cut shorty off 'cause I'm short term" and "I could suck a titty while I'm standing up." 
While I'm not a short king myself, this song is absolutely hilarious and as much of a wild ride now as it was when I first heard it. 
The next song I want to take a look at is "Jesus Is The One (I Got Depression)" by Zack Fox and produced by Kenny Beats, or Kenneth Charles Blume III. This song comes from Blume's recurring YouTube series "The Cave" where he invites various rappers and artists to freestyle over beats he produces. 
Fox, a stand-up comedian and rapper, appeared on the show in April 2019 and asked Kenny Beats to produce a beat that sounds like "Runescape, mixed with Jodeci, mixed with almond milk" and wanted Blume to make "beat that sounds like [he] pissed on [him]self, but [he's] wearing corduroy so it's OK." While the instrumentation doesn't taste like almond milk or bring to mind Runescape, it definitely goes hard. The song opens with heavy bass drums and quickly shifts into a simple trap beat with claps and hi-hats and some extra synth ornamentation.
The freestyle, however, definitely reflects Fox's ridiculous, uncouth, and unfiltered sense of comedy. The track opens with Fox demanding that the listener praise God and how he "ain't playin' 'bout [his] lord and savior." The track also shouts out Betty White as if she was dead because Fox "know[s] it's comin' up." 
The final song that I wanted to give a quick mention to was "RUNNING IN THE 90'S" by Max Coveri. The song comes from the soundtrack from the 1998 anime "Initial D," a show that follows Takumi Fujiwara, a teenager who discovers his love for street racing after years of delivering tofu for his father's business. If you've ever seen a meme edit that involves running, drifting cars, Sonic the Hedgehog, or moving quickly in general, you've heard this song.
Whenever I listen to this song, even when I queue it up manually, it instantly instills me with a sense of fight or flight response. The rapid synth opening that alternates ears when you listen to it with headphones makes me feel like I'm being chased.
I wish all of you good luck with winter quarter. Make sure to drink lots of water and take breaks often to avoid burning out. I'm glad to be back as your resident playlist maker and music recommender.
Reach writer Kyle Bender at arts@dailyuw.com. Twitter: @ATOMICpandaBOMB 
Like what you're reading? Support high-quality student journalism by donating here.