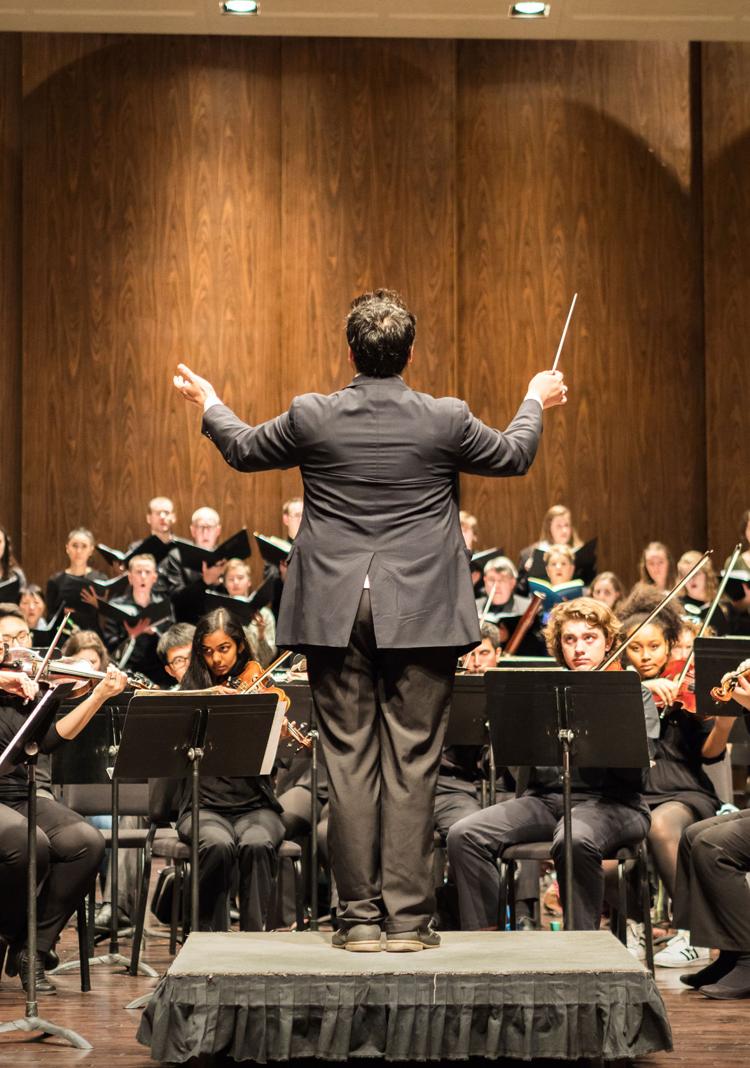 In the greenroom of Meany Hall, conducting students Gabriela Garza Canales, Lorenzo Guggenheim, and Mario Torres sat in a moment of respite from the preparation for their upcoming concerts. Their bond is clear at first glance.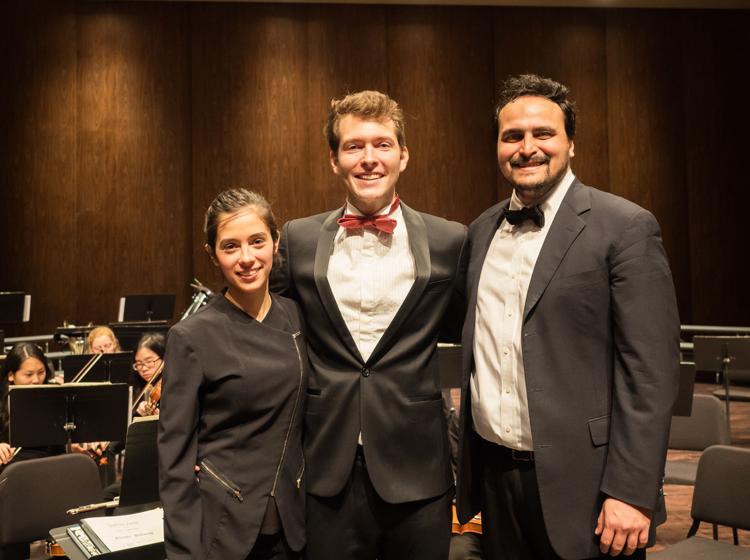 "There is one funny thing about this year," Guggenheim said. "We all three speak Spanish and we communicate so closely. We are kind of like a small family."
Guggenheim is one of the three UW students pursuing a degree in Orchestral Conducting under the mentorship of Dr. David Rahbee, the UW Director of Orchestral Activities, and Ludovic Morlot, the Music Director of the Seattle Symphony. This sense of family is not uncommon among studios, Guggenheim said, but it's a credit to the group that this program has assembled.
"I think it's special here," Guggenheim said.
The UW's conducting program allows its students to gain practical experience in front of an orchestra, while also supporting the university's Campus Philharmonia Orchestras.
For these three students, the appeal of the program originally manifested in different forms.
Garza, currently working on her doctoral studies, holds a Master of Music in Orchestral Conducting and a Bachelor in Music Performance from the University of New Mexico. She discovered the UW program through an online video about the campus orchestras.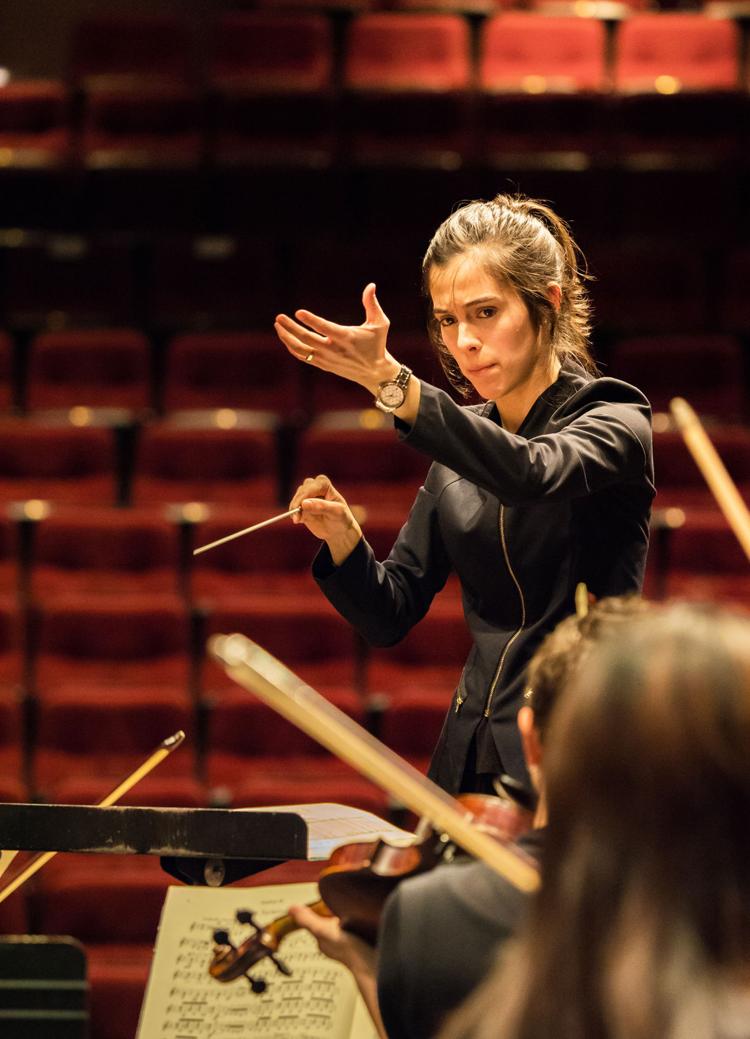 "I thought it was very inspiring," Garza said. "I wanted to apply."
Guggenheim came to the UW as a part of an exchange program with his university in Buenos Aires while finishing his undergraduate degree.
"I met Dr. Rahbee there," Guggenheim said. "Although I didn't have much of a chance at that moment to work with him, I was really inspired to try and come back here as a graduate student."
Torres, holding a Master of Music in Orchestral Conducting from Ithaca College, found himself drawn to the program by Rahbee after working together at a festival. 
"This program is unique in many ways to other programs in the U.S.," Torres said. "We as TAs are charged with two full orchestras on campus."
Being in front of an orchestra provides the conducting students with a collaborative environment where they give feedback on one another's work and receive the guidance of Rahbee, who is present in all rehearsals. The ensembles they lead are filled with non-music majors meeting around once a week, culminating in one concert per quarter. 
"Conducting is one of those things that you can only learn while you are doing it," Guggenheim said. "The two hours we get a week with the orchestra is precious."
The students also have a very close partnership with Morlot, and have access to all of his rehearsals while conducting the Seattle Symphony.
For these students, conducting is more than their focus of study. It is their passion.
"It's the opposite of something that you take for granted," Guggenheim said. "I couldn't imagine myself doing something else."
After starting their musical careers instrumentally, conducting allowed them to achieve a heightened musical experience.
"I never thought about it until i did it," Garza said. "Everyone has to take a beginning conducting class. Instead of being a scary experience, it was the best experience I ever had. I still love to play, but conducting became this huge passion and focus that I wanted to pursue."
"Many people see it as a powerful way to be in front of a group," Torres said. "But what I experienced was the opposite. It was a privilege to be in front of a group, and the words that we say in rehearsal can be used in a good way, so that the performers can have a good experience."
Conducting is a difficult skill to learn, but being in front of a group is a critical part of finding  the style and techniques that work.
"What we say has the power to lift up the students in a way that leads them to achieve greater musical experience," Torres said. "Nobody is an expert from the beginning, and you have to learn the hard way. All of that shapes you in a way where you have to be very insightful whenever you say something."
In addition to serving the instructional needs of the conducting students, the program also supports the musical activity of the campus' non-music majors.
At the time of Rahbee's arrival at the UW in 2013, the university had one orchestra, the UW Symphony Orchestra.
"It had about 65 people in it," Rahbee said. "I thought it was kind of strange that a school with 40,000 students only had one orchestra."
The UW Symphony Orchestra depends on the involvement of non-music majors in order to supplement the music students, but the large time commitment serves as a barrier, Rahbee said. Given that the UW's conducting students also needed practical experience, Rahbee started a once-a-week campus orchestra in 2014.
"The conducting students need to conduct weekly, as often as possible," Rahbee said. "So I decided that we should try to find some of those students that are here and want to play."
The group started out with around 30 members, but grew so much by its second quarter that they had to start another one, Rahbee said. 
"For the Campus Philharmonia Orchestra members it is also great that they are performing here, at the Meany Theater, once a quarter, and that's a real live experience in a huge hall," Guggenheim said.
The UW Campus Philharmonia Orchestras provide the opportunity for non-music students to continue musical pursuits at college, all while giving the conducting students direct practice. The group's next concert is on May 20 at 3 p.m..
"It is such a gratifying experience, the moment of being with the orchestra in concert and in rehearsals," Garza said. "You leave there with more energy than you came in with. And to share that is such an incredible experience."
Reach writer Ryan Phelan at arts@dailyuw.com. Twitter: @D_R_Phelan