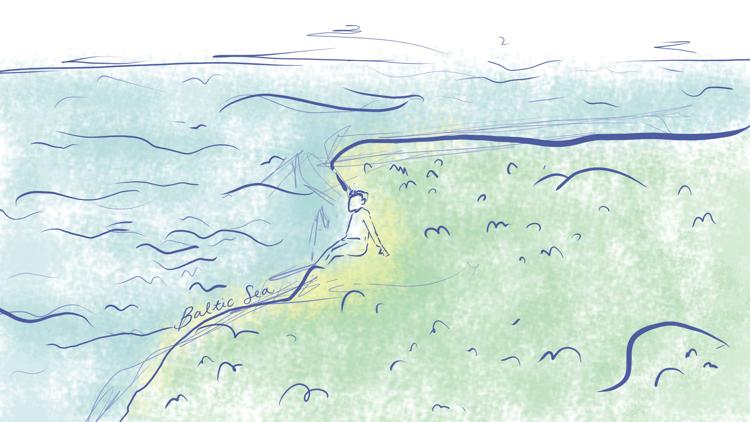 Author's note: The Overshadowed Arts is a three-part series taking a close look at obscure, overlooked, and underappreciated arts and leisure minors at the UW.
It's tragic and a little metaphysical how the most famous part of campus is also its most  underappreciated. Thousands of students stream through the Quad every day, headed to Foster or the South Campus science buildings, largely ignorant of what happens inside Smith or Raitt Halls. 
One conversation with any one of the brilliant departmental advisors who work in these buildings would completely transform your perception and value of the humanities at the UW. It might surprise and humble you to know that an entire section of campus is dedicated to igniting passions and interests that may have been repressed by the demands of a competitive, practical major, or that the UW has a language department so unique it has the power to attract U.S. ambassadors and foreign royalty (spoiler alert, that's the department we're talking about today).
So, if you've got a few credits to spare this year, listen to your non-STEM interests and check out the list of fascinating courses offered by the UW's smaller departments. 
Baltic studies minor
The Baltic studies minor, offered by the department of Scandinavian studies, is the only one of its kind in the United States. No other American university offers Estonian, Latvian, or Lithuanian language study nor courses on the region's politics, literature, film, and history. 
"The first impression I had was … a lot of culture shock," senior Taylor Tran, who recently finished the minor, said. "Lithuania is very far away from Seattle."
The three small countries, roughly totaling 6 million in population, are celebrated for their high-tech and music industries. Estonians wrote the code behind Skype, and Starship, an Estonian company, programmed self-driving robots to deliver food locally. According to associate professor Guntis Šmidchens, the region's singers and composers are among the best in the world. The UW choirs have made several trips to the Baltic countries in recent years.
"You go to this country you've never heard of, you find out there's millions of people there thinking about being countries, about being people," Šmidchens, head of the Baltic studies program, said. "You realize how limited you are knowing only one language."
The minor's 35 credits are met by studying one of the three languages through the first year, plus a few Scandinavian electives and at least one Baltic course. Šmidchens teaches nearly all of the topic coursework of the minor.
Tran, who formerly figure skated for Lithuania in European championships and the international circuit, found the Scandinavian department after transferring to the UW to seek a business degree. 
"At first I wasn't sure I was going to use this niche minor," Tran said. "But I've been doing some Lithuanian to English translations with a friend in Lithuania. I've been helping support her new business. That's been rewarding already."
Šmidchens and Tran both remarked on how learning languages is not the only goal of the minor.
"You're breaking down words and seeing how they relate to the history, the culture," Tran said. "I wouldn't say it's picking up a language and trying to be fluent in it. It's understanding the significance of the words and what comes out from that."
Šmidchens's former students have gone on to work in government or intelligence. 
"Knowing how to study one country is evidence you can study other languages and countries too," Šmidchens said. "Any company with global edge, they realize this is not the typical high-tech student." 
Scandinavian language minors
Besides their unmatched Baltic studies minor, Raitt Hall's cozy little Nordic department also offers minors in seven Scandinavian and Baltic languages, with Swedish being the most popular. 
Unlike Baltic studies, language minors are designed to elevate a student's fluency in the language for both academic and colloquial use. Thirty of the 35 credits are dedicated to a language through the second year.
Many students may have the misconception that language taught at the university level achieves the same mediocre proficiency of high school language courses. 
"I'm kind of shocked by it; you're essentially fluent in two years," Lela Cooper, who is the only current Danish minor at the UW, said. "I can pick up a Danish newspaper and understand 95% of it."
Departmental advisor Kim Kraft, who also teaches some of the second-year Swedish courses, explained that language classes are communicative in nature, with little writing and absolutely no pressure to outdo your peers. 
"Most students go through the same sequence together, taking risks together, being silly, role-playing, doing dialogues," Kraft said. "They chose these courses out of several they could be taking. It speaks to the students in the classes: they're highly motivated and genuinely interested."
To illustrate the practical uses of a language minor, Kraft referenced a recent Washington Post article in which economists emphasized the increasing value of an interdisciplinary education.
"'Compartmentalization of intellectual life is bad,'" Kraft, who minored in Swedish herself in college, said, reading from the article. "People in the workforce, if you ask them what they'd wish they did differently, they wish they took a language, any language. If you can tell the world what's happening in your company in a language that reaches a broad audience, then you're going to be really valuable."
Not only is a second language a resume-booster, taking that risk to learn a new language might uncover the specific area of a broad career that excites you.
"From my glaciology class I took, I was exposed to a study abroad program in Greenland and Denmark," Cooper, an environmental studies major, said. "I realized I couldn't really talk to a lot of people. I couldn't really get to experience everything. So, I came back and decided to enroll in first-year Danish."
Cooper is now planning on going back to Greenland, perhaps after law school, to work on environmental policy and the political tensions between the native Inuit and Denmark. 
"A lot of academics and policymakers go there, but they can't get on the personal level," Cooper said. The combination of taking classes on the Arctic in her major courses and her understanding of Danish language and history gives Cooper a unique perspective that she can contribute to her field.
In addition, U.S. ambassador to Denmark Carla Sands visited the department a few months back, and Cooper had the opportunity to ask her about the concerns in Greenland. 
The department of Scandinavian studies, though small (57 undergraduates in 2017), is a wonderful place to explore something you might not have acknowledged to be as legit as your major. From three-person classes to an advisor that once stood in students' shoes, the tight-knit Scandinavian department might just be one of the most memorable aspects of your college experience.
"The enrollments speak for themselves," Kraft said. "We have so many repeat students, once they see how many friendly faculty we have."
Reach writer Theresa Li at arts@dailyuw.com. Twitter: @lithere_sa
Like what you're reading? Support high-quality student journalism by donating here.