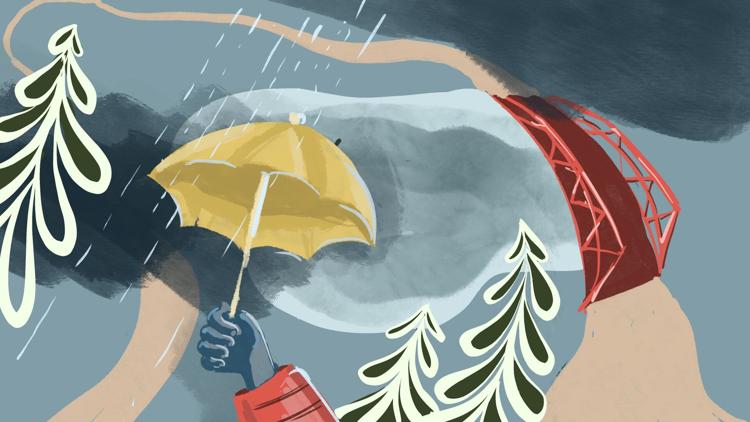 For those who were born and raised in the Seattle area, this may seem like an odd statement: Seattle is pretty otherworldly. If you fall within this group, grant me this brief indulgence by allowing me to suggest that this city, far-flung on the northwestern edge of the continent, has sights and scenes that are sufficiently removed from the norm of the American consciousness to be deemed "strange" from a national perspective.
Take a walk to North Passage Point Park — it's not far from campus and allows for plenty of social distancing, I promise — to get a clearer sense of what I'm saying here. 
I'll try not to hype it up too much in the synopsis to come; there is no spectacular vista nor floating bridge to inspire a swift return. However, allowing yourself to exist in the uniqueness of the space for a moment will inspire a sense of dissonant belonging in this city and may, for the born-and-raised Seattleites, perhaps even renew that same sense of strange wonder that's held you here beyond your high school years.
As quoted from "Enjoying Seattle's Parks" by Brandt Morgan on the city's own Parks and Recreation site, "Parks sprout up in the strangest places!" One thing I hope you'll discover by virtue of this column is that parks do seem to sprout up everywhere in Seattle — a fact that is inherently strange, but also beautiful. According to REI's Trust for Public Land, 96% of Seattleites live within a 10-minute walk of a park (compared to a national average of 55%), and there are a total of 508 parks within city limits .
North Passage Point might not make the list of top parks in Seattle, but it's a good starting point for the strange academic year ahead. The park itself consists simply of two small picnic tables on a meager lawn, accompanied by several benches along the water's edge. Completed in 1977, the park fits nicely between two pillars of the Ship Canal Bridge on the north side of the passage between Lake Union and Portage Bay.
The most magnetic aspect of this park is the allure of ships of all sizes sailing through this passage at all times of the day. It's remarkably peaceful, even with the hum of the freeway.
The freeway bridge overhead has some historically magnetic characteristics of its own, lending to the uniqueness of the city more broadly. According to the Federal Highway Administration's List of Nationally and Exceptionally Significant Features of the Federal Interstate Highway System, the towering 4,429-foot bridge was completed in the fall of 1961 — making it, at the time, the largest ever built in the Pacific Northwest. 
Just below this larger bridge is the smaller, older, and slightly more charming University Bridge. If you're able to stay at the park for an extended period of time, you'll likely be able to participate in the old-fashioned excitement that follows the opening and closing of this century-old drawbridge.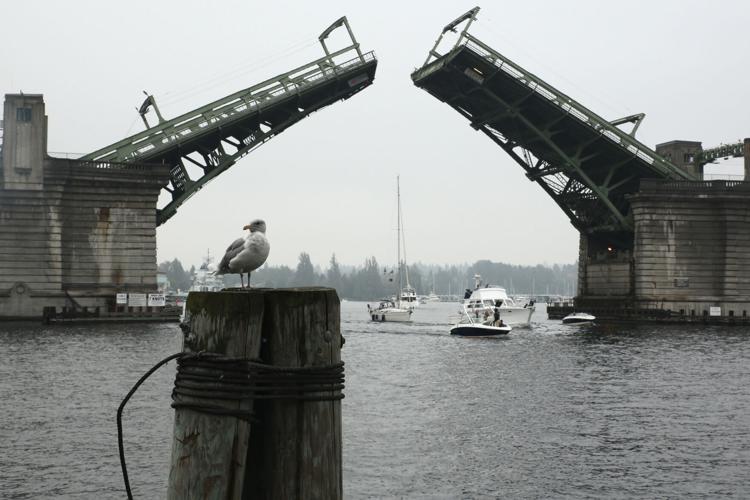 The park contains an additional tie to the city's history in the form of a propeller from a tug boat named the Arctic Bear; according to Seattle Parks and Recreation, this was donated at the request of a professor emeritus of the UW School of Architecture to honor "the tradition of working watercraft that plied Lake Union's waters for decades."
To be a momentarily passive participant in this tradition is something truly strange and uniquely Seattle. This park is an urban oasis on the waterfront, a cultural link, and an interesting (if not peaceful) place to host a picnic.
A shift in perspective allows the vibrant noise of freeway traffic above and passing ships below to wash over you in recognition that you are part of the greater whole that is this city in motion, regardless of how long you stand still in the uniqueness of this space.
Take time to wander this week and enjoy what beauty there is to be found along the way.
Reach writer Austin Van Der Veen at arts@dailyuw.com. Twitter: @avanderbean
Like what you're reading? Support high-quality student journalism by donating here.