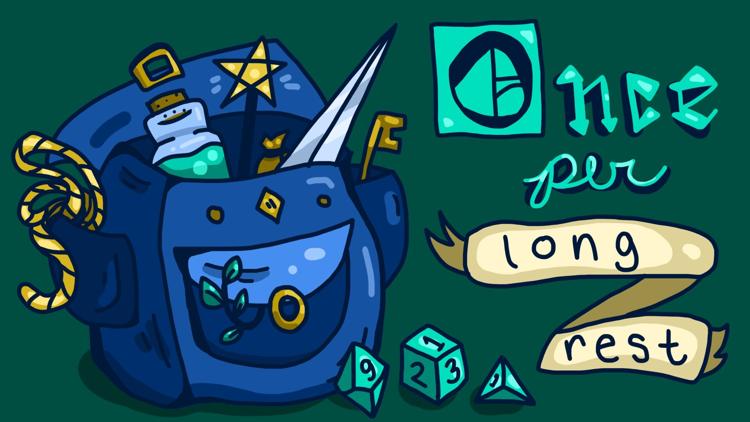 Editor's note: Once per Long Rest is a biweekly column chronicling the art of Tabletop Role Playing Games (TTRPGs) with reviews, recommendations, and coverage of anything nerd-related.
I don't think I'm ever going to watch TV again. I might indulge in the occasional anime, but for now I'm sticking with YouTube videos and Twitch streams — specifically, a Dungeons & Dragons (DnD) stream called "Critical Role." 
"Critical Role" is a web series where, as its intro would suggest, a bunch of "nerdy-ass voice actors sit around and play Dungeons & Dragons." The show began in 2015 and was originally streamed on Geek & Sundry's Twitch and YouTube channels. In 2018, the cast founded Critical Role Productions and developed their main show and others, publishing them on their own YouTube and Twitch channels. 
The show stars Matthew Mercer as the group's main Dungeon Master (DM), which is the person who creates the world, plays as a non-playable character (NPC) and presents challenges to the players: Travis Willingham, Marisha Ray, Taliesin Jaffe, Ashley Johnson, Sam Riegel, Liam O'Brien, and Laura Bailey. 
Since the show started, the group has completed one full weekly campaign, started another weekly campaign, and played 33 one-off games, totalling around 37 days' worth of gameplay content. While I haven't watched all of their one-off games, I have seen every episode of Campaign One and Campaign Two and would argue that it was worth every second. 
Campaign One follows the story of Vox Machina, a team of adventurers formerly known as the Super High-Intensity Team, or the S.H.I.T.s, and their adventures through Tal'Dorei, a continent on the world Exandria, all created by Mercer. 
Vox Machina started out as a group of mercenaries who eventually kill (or at least permanently banish) a god. In their first campaign, the cast of "Critical Role" played all the way from level 1 to level 20, a very rare occurrence for most role playing groups. According to D&D Beyond, the official online companion for DnD, most DnD characters exist between level 1 and level 10, well below the maximum level of 20. 
In Campaign One, I fell in love with Jaffe's character, Percival Fredrickstein von Musel Klossowski de Rolo III, a.k.a. Percy, as the party's human fighter. His wit, mechanical intellect, and lack of magical ability made him extremely unique within Vox Machina, and Jaffe's weird, quirky performance never fails to amaze me.
Campaign Two tells the story of The Mighty Nein and their adventures throughout Wildemount, another continent within Exandria, also created by Mercer. Campaign Two is still in progress and currently on episode 114, their Halloween episode. 
Personally, I am more of a fan of Campaign Two. Mercer's overall world-building and plot hooks in this campaign feel significantly more nuanced than they were in Campaign One.
I'm a huge fan of Willingham's character, Fjord, the half-orc magical sword wielder and face of The Mighty Nein. Fjord is simultaneously the most charismatic and socially nervous character within the party, and Willingham's roleplaying of him is consistently hilarious.
Overall, the characterization and storytelling in "Critical Role" is brilliant. Every episode, I find myself absolutely hooked during the high-intensity combat scenes and crying from laughter or sadness when they roleplay and talk in character, or just as friends.
Either way, I highly recommend you check out the show. You don't need to watch Campaign One before Campaign Two, and what better way to avoid the end of society than with some cool and unique content?
Reach Development Editor Kyle Bender at arts@dailyuw.com. Twitter: @avatar_kyle 
Like what you're reading? Support high-quality student journalism by donating here.