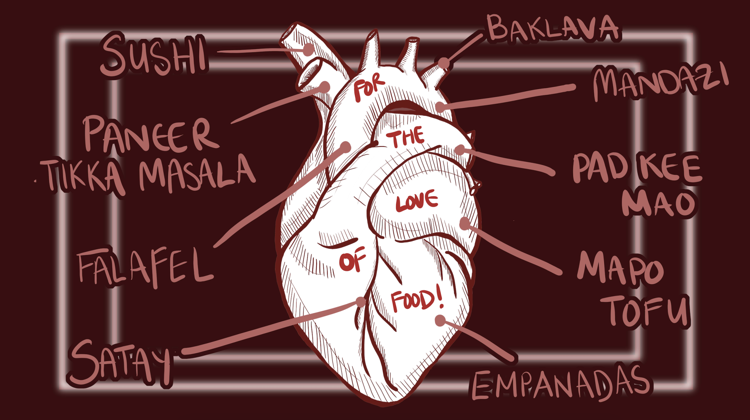 Editor's note: This article contains explicit references to disordered eating, restrictive eating, and weight and may be triggering to some readers.
Our relationship with food can be a complicated one. I often grapple with the fact that although food is a source of enormous joy in my life, it has also been the cause of some pain. 
Living with a mental illness can corrupt the way you view yourself and turn food from a benign necessity to a burden. I often struggle to get out of bed, let alone feed myself. Months spent in quarantine with little to do except stare at myself in the mirror has not helped. In part, my experience with food during quarantine motivated me to begin this column. I hoped that by listening to others talk about the joys of cooking and eating, I could rebuild my own relationship with food. 
This week, I spoke to Ruby Lunde, a junior studying biochemistry, who is also on a journey to heal her relationship with food. Lunde has struggled with an eating disorder, and she shared with me how cooking has become a coping mechanism. 
"It, at one point, had a lot of control over me," Lunde said. "But now it's something that, when I cook, I feel like I am in control again, which makes me feel really happy." 
Lunde and I discussed how easy it is for cooking to become a chore, rather than being seen as an opportunity to bond with others and to nurture yourself.
"Cooking becomes a sad thing, because you're not thinking about what would make it taste even better — you're thinking about how many calories are going into it," Lunde said.
Recently, however, Lunde has found solace and joy in cooking recipes she recalls from her childhood. Lunde's mother, who is Japanese, cooked all the time, and she recalls there always being food on the stove when she arrived home from school.
Lunde also remembers how her mother would make her food in the middle of the night when she couldn't sleep. Her mother would sit Lunde down at the counter and whip up porridge or even pancakes. She would then sit across from Lunde and watch her eat. Lunde always thought it was a bit over-the-top when she was younger, but she now realizes how rewarding it is to cook for someone and watch them enjoy the meal.
Connecting with her childhood memories and using cooking to comfort herself and show love to others has helped Lunde rebuild her relationship with food. This year, Lunde and her roommates have begun to share the responsibility of cooking. Lunde says that this has been a great way not only to save money, but also to bond with each other.
"I use it as a way to provide for my roommates, 'cause they're like my family in college," Lunde said. 
Lunde's favorite dish to cook is called takikomi gohan, or Japanese mixed rice. Her mother never cooked the dish growing up, but now it is Lunde's nephew's favorite dish and has become a family staple. The dish is comfort food and consists of rice, vegetables, tofu, and a sauce made from soy sauce, dashi, and mirin.  
This recipe inspired by Namiko Chen of Just One Cookbook requires a rice cooker and some specialty ingredients, but is otherwise fairly simple; even better, it makes very little mess. I modified the recipe Lunde uses to make it vegetarian, but this dish is flexible, and you can add whatever meat or vegetables you have on hand.
Takikomi gohan is a savory dish, with crispy bits of rice and tender vegetables, and it's the perfect inexpensive meal for weeknights.
As always, happy cooking and even happier eating. Please do not hesitate to share your food stories; I would love to hear from you. If you send a new recipe, believe me, I will be overjoyed.
One dish at a time, I am strengthening my relationship with food, but as with any relationship, it can be difficult. The resources below are free and there to support you if you are struggling.
You may contact the National Eating Disorders contact helpline; the National Association of Anorexia Nervosa and Associated Disorders helpline; and the National Suicide Prevention helpline.
Seattle Children's Hospital has many resources and provides an eating disorder recovery program. Additionally, the UW Counseling Center and Hall Health offer counseling for eating disorders and related mental illnesses.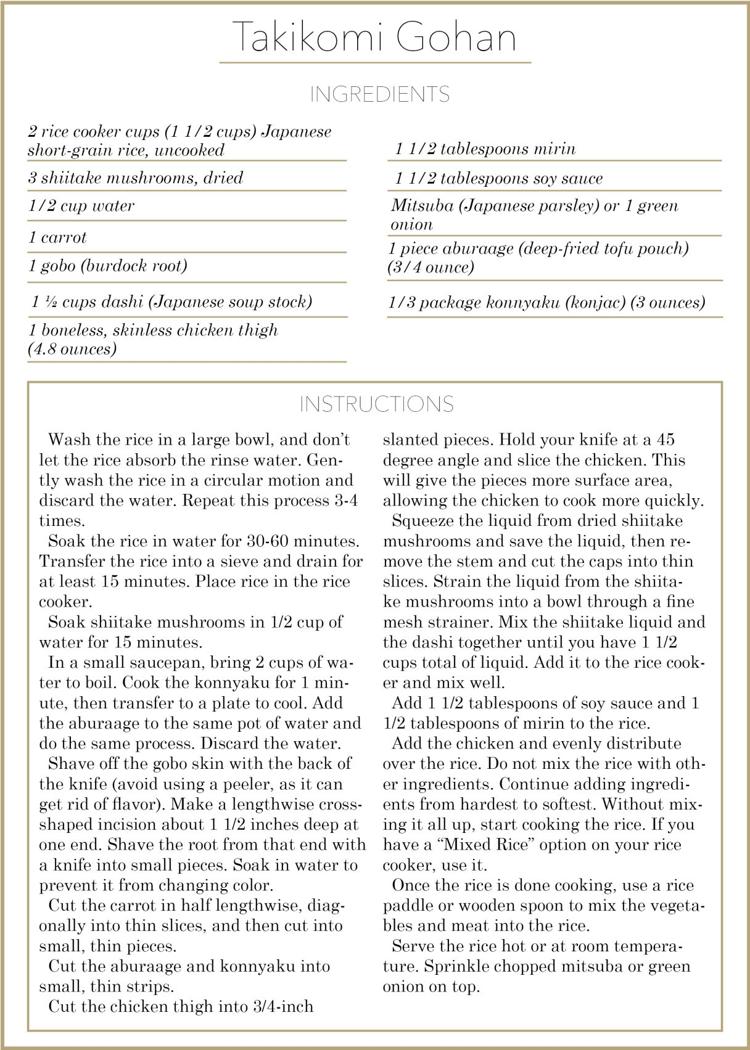 Reach columnist Zoe Luderman Miller at arts@dailyuw.com. Twitter: @zozozaira
Like what you're reading? Support high-quality student journalism by donating here.