One of the best birthday presents Dave Wainhouse ever got his son was a foam baseball and bat, signed by his former St. Louis Cardinals teammate Mark McGwire. The big first baseman quickly became the boy's favorite player. The gift didn't survive long. 
"I was a little kid so I used it and absolutely destroyed it," Joe Wainhouse said. "Which is really frustrating now, but that was my favorite memory from back in the day." 
Now a senior, Wainhouse looks a little like his childhood idol. Standing one inch taller than the slugger with a blond beard and hair to match, one would be forgiven for doing a double take after seeing him at a glance. However, Wainhouse has his own relaxed demeanor, exuding a cool, composed, collected vibe that is infectious. 
"[Joe's] a really calm, chill dude," sophomore pitcher Jordan Jones said. "When things get a little crazy in a game he really helps calm things down."
Perhaps Wainhouse is so calm on the field because he has baseball in his blood.  
His father, Dave, spent seven seasons in the MLB after he was drafted 19th overall by the Montreal Expos in 1988. A Mercer Island High School alum, the elder Wainhouse became Washington State University's highest draft pick ever. He enjoyed quite a bit of collegiate success during his three years with the Cougars but was never able to establish himself at the pro level. However, it was his goal to have his son grow up around the game. 
"I always wanted my kids to grow up in the clubhouse and around the game," Dave said. "I couldn't imagine a better memory for a baseball player to have than being on the field with their son, at a major league park."
One of Joe's earliest memories is hitting soft-toss with his dad in the batting cages of the Memphis Redbirds, the Cardinals' Triple-A affiliate. In fact, the family spent most of their son's youngest years travelling around the country as his dad bounced back-and-forth between Triple-A and the MLB. 
"We would go travel for a decent amount of time," Joe said. "I always remember we'd drive down to Spring Training in Florida every year. We'd move around: Florida, Memphis, the Northeast, all over. It was really fun. I remember going out to clubhouses with him when he was with the Cardinals and the Mariners and being around the game early. I just fell in love with it."
After the 2000 season, Dave hung up his spikes and the family settled in Kent. Joe grew up playing all kinds of sports including basketball, soccer, and of course, baseball. 
"My parents never really forced me," Joe said. "It was never a, 'Hey, you're going to play baseball.' It was always a, 'Do what you want, if you want to play, you want to play,' and of course I did. They really did it right."       
The younger Wainhouse started playing organized baseball when he was around 7 years old, and when he was about 12, his dad became his coach. Even though Dave spent his whole career as a pitcher, he always let his son choose his own position in the game, letting him play first base, third base, and even letting him spend some time behind the plate, where he was taller than some of the kids who were at bat while he was in the crouch. 
"They're both really funny people," assistant coach Donegal Fergus said. "His dad is dry and sarcastic, and Joe's the same way. They're sort of like an old married couple when they get together because they're rolling their eyes at each other all the time. When Joe would catch, his dad would stand behind the screen critiquing and making fun of how big he was. They would bicker and argue and make fun of each other all the time; it was non-stop laughter watching them."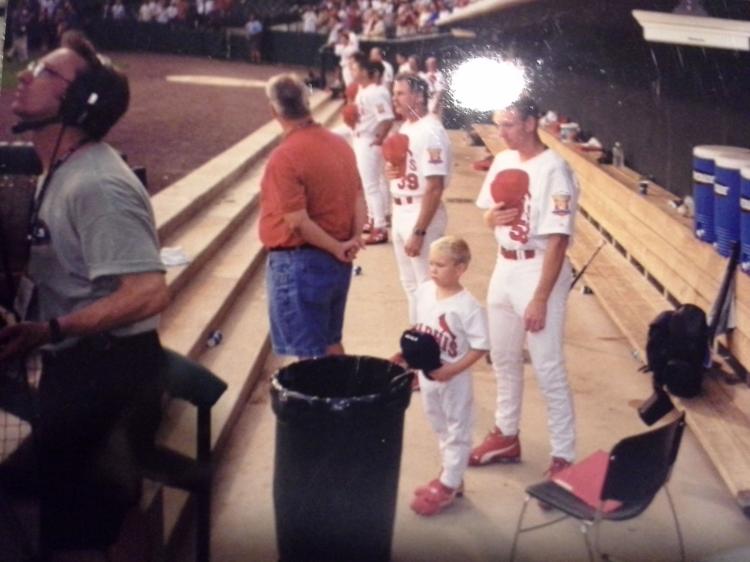 However, where Joe really excelled was at the plate, and the pair would frequently go hit at the local elementary school, or even in their own backyard.  
"We had some property, a big pasture, and we would hit out back behind the house," Dave recalled. "It was a couple acres, and I would throw batting practice to Joe all the time. We would hit for hours out in the yard, just having him smash balls down into the pasture. Those are some of my favorite memories of all time." 
Joe first caught the attention of scouts when he began playing at Kentridge High School. A four-year letter-winner in baseball, he still holds eight records at the school for home runs (season and career), RBIs, hits, runs, at-bats, walks, and doubles. He also played travel ball with scout teams, going to games and tournaments all across the state. 
"We were playing in a tournament at Gonzaga, and their field has some netting that goes pretty high up, somewhere between 60-70 ft around their whole outfield," Jones, who played summer ball with him, said. "This pitcher threw one pretty inside and almost hit Joe, kind of stared at him so Joe wasn't too happy about that. The very next pitch, Joe hits one over the net in right field, watched it until it went out and then made sure to stare down the pitcher before he started trotting around the bases. It was one of the coolest things ever."      
After his senior year, Wainhouse was ranked as a top-20 recruit in the state of Washington. He committed to attend Ole Miss, a program that had just reached the semifinals of the College World Series. However, his playing time for the Rebels was extremely limited, and he made just 19 appearances and three starts. He picked up three hits and four walks in 24 at-bats for a .125 average. 
"It was a cool spot, but it just wasn't the right fit completely," Wainhouse said. "In high school baseball, you're playing every day and then I went to Ole Miss in the SEC and it's like, 'Oh, I'm not playing a lot now,' and that was a kind of weird. It was a good experience, I just wanted to go somewhere else and find a new path." 
After deciding to transfer part way through his sophomore year, Wainhouse chose to return to the Pacific Northwest. He immediately knew he wanted to come to Washington, but per NCAA transfer rules, he would have had to sit out for a transition year. Instead, the Kent native went to Bellevue College to get regular playing time.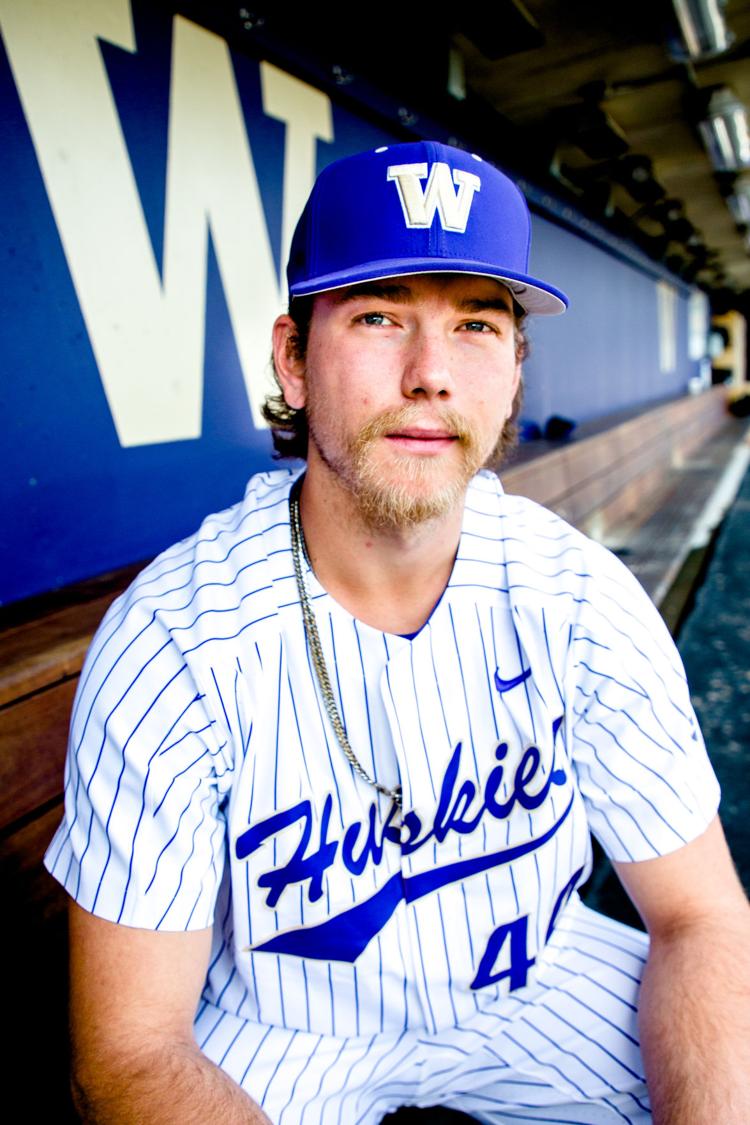 "My initial reaction was, 'there is a Santa Claus,' since word of Joe transferring here came in mid-December when he left Ole Miss," Bellevue head coach Mark Yoshino said. "He's the most intimidating guy with his huge 6' 6" frame and the look of a guy you don't want to have road rage against on I-5. But he is a great teammate and one of the nicest guys anyone will ever meet."
After avoiding the mound for most of his career, Wainhouse began taking an interest in pitching as a senior in high school. A rough year at the plate in the SEC, led many to suspect that his MLB potential was on the mound.  
"Joe transferred in with an opportunity to both pitch and hit here," Yoshino said. "One of his frustrations in college was not being able to do both, which he has the ability to do. He's one of those guys who I think plays better when he's involved on both ends." 
At Bellevue, Wainhouse hit .280, and lead the team in home runs (11), RBIs (38), slugging percentage (.561), OPS (.962), and doubles (11) in 48 games played. Though Wainhouse had returned to pursue pitching, an arm injury suffered pre-season limited him to just three appearances and 6.2 innings.
Wainhouse always knew he wanted his next step to be the UW, despite both his parents being ex-Cougars. He already had an established relationship with student manager DJ Lidyard, who coached his summer league team, and Fergus, who had worked with Dave when the two of them helped restart the Seattle University baseball program.
"It was not the normal recruiting process," Fergus said. "It was sort of late in his year back at Bellevue when he was really hitting well. He was pitching a little at the time too, and throwing really hard, and [the coaching staff] and I talked and we said, 'Why not?' It was sort of a conversation between people who already knew each other. It just sort of felt right at the time."
By complete coincidence, Wainhouse was given No. 44 when he arrived, the same number that his father wore throughout the majority of his MLB career. However, a lat strain suffered early in the season limited him to just four appearances in 2017, all on the hill. 
This season though, "Big House," as he is known to the Huskies, has been a revelation. The big lefty is hitting .293 and leads the team in home runs (6), RBIs (29), total bases (67), and slugging percentage (.429), with all of his starts coming as the designated hitter. While he hasn't had many opportunities on the mound, Wainhouse has also been a guiding influence in the clubhouse. 
"I think he's just got a calmness about him," Washington head coach Lindsay Meggs said. "He does a really good job slowing the game down, and that helps our young guys." 
Now that Wainhouse is closer to home, his dad comes up to as many games as he can. He says he loves coming out to the ballpark and watching Joe play, although he admitted that while he completely trusts Joe's approach at the plate, watching him pitch is terrifying. 
"That's the hardest part for me, watching him pitch, being a pitcher," Dave said. "When he's pitching, I get more nerve-wracked because I've been through those innings. I've been through the little things that can bother you; the dropped ball, the error, you leave a hanger and the guy runs one off the wall, but he's always been pretty strong. He's extremely confident in his abilities. He's very accountable for his actions, and he'll push through anything. I've always been pretty proud of that."
As the end of the season approaches, all eyes will turn to the draft in early June as Joe continues to pursue his MLB dreams. And like always, he'll go through the process with his mentor, his coach, his biggest fan: his father.
"There's a lot that gets tough over the year, it's a grind," Joe said. "But when I talk to him about what he got to do, and how lucky he was to play at the highest level, it always keeps me going in the right direction. At the end of the day, that's where I want to be."
Reach reporter Andy Yamashita at sports@dailyuw.com. Twitter: @ANYamashita