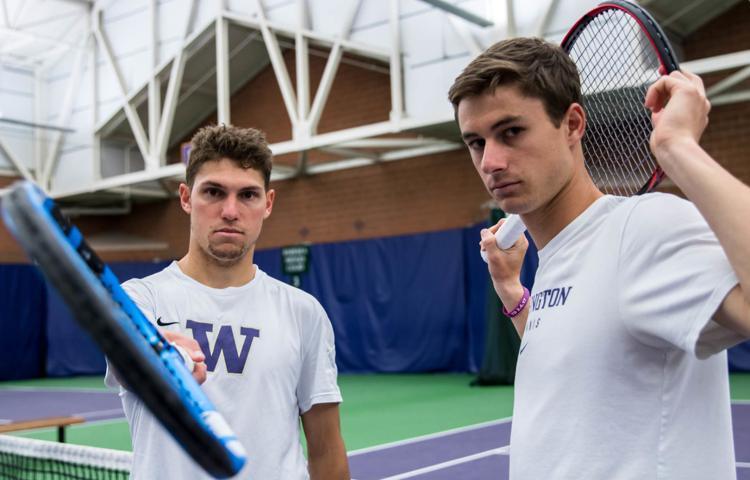 "Life-changing." 
That is how senior Jake Douglas described his time playing tennis at the University of Washington. 
With Senior Day coming up Sunday, it's been an emotional week for Douglas and fellow senior Mitch Stewart. The duo has been an integral part of Washington tennis for the past four years, and the fact that they are approaching the end of the road at Washington is surreal for both players. 
"It feels a little nostalgic," Stewart said. "When I was a freshman I didn't think this moment would ever come. It feels like a midlife crisis type of thing going on, just not being able to compete again would be devastating. I definitely want to pursue tennis afterward, but there's nothing like playing for the University of Washington on a team with my best friends. It'll definitely be an emotional day. I just want to go play my heart out one last time here."
The emotions will not end with the players, as head coach Matt Anger has gone through this process year after year for more than 20 years here in Montlake. 
"Senior day is always a special day; I think it is in every sport," Anger said. "For me, personally, the reason why it is so special is that in collegiate athletics you only get four chances and the clock is ticking. I think when people are a freshman they feel like they have forever and when they're seniors, it pulls on your heart that it's coming to an end. Jake and Mitch have been starters for us throughout and playing high in the lineup. They bleed purple, so every day with them is special, and Sunday will be extra special."
The duo came to Washington in a difficult period for the program. In 2014, the Huskies missed the postseason for the first time under Anger after their first losing season since 1994. Although Douglas and Stewart didn't make it to the NCAA tournament in their first year, they were vital in helping the program get back on track and finish with a winning record. 
"There have been several moments here, but that's just the one that I'm thinking of right now," Douglas said. "That freshman year, right when I get here, everyone is yelling and screaming in the locker room because they had a rough year before. It was fun for me and Mitch to experience that right off the bat." 
The pairing has often been at the top of the lineup in the past four years, but it has not been all smooth sailing in Montlake. Stewart dealt with hip issues his junior and was forced to miss a sizable chunk of action in 2016-2017. The challenges made Stewart a better player on and off the court as he had to navigate through it all. 
"The injury was definitely a big challenge," Stewart said. "Just hiccups along the road, I've had several different injuries but the hip was the biggest. Another hiccup is the struggle mentally trying to stay on track and manage school, social, and athletic life. It's definitely a bumpy road, it's never smooth, for me it wasn't smooth at all, but I learned how to manage myself and grow up." 
The absence of Stewart forced other players to step up, and that is precisely what Douglas did. With Stewart sidelined for all but one dual doubles match, Douglas and his multiple partners  worked their way up from the third spot in the doubles lineup at the start of the season all the way up to the top spot by the end of the season. In singles, Douglas provided a crucial spark, making the All-Pac 12 second team.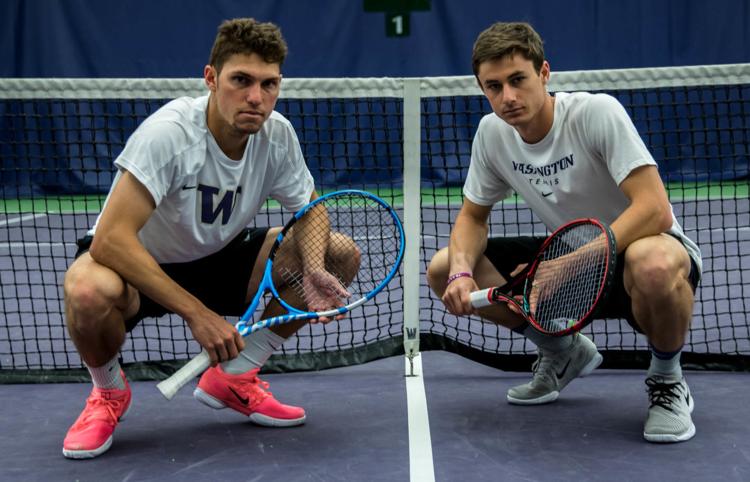 This season has been an impressive one for the two seniors, as Douglas is 12-4 in singles while Stewart is 11-3. With the two of them often alternating between first and second position, they consistently get the other team's best every single match. They have learned to push through everything and remain in top form through years of hard work to stay ready for that level of competition. 
"I don't like to say it's challenging because I love what I do and I love the sport," Douglas said. "I would say just the consistency of days and working hard every single day. if it's the weight room or if it's a drill that you don't really like but you have to get done then you just have to find a way to make it fun." 
The Huskies are currently 10-9 and on the wrong side of the top-50. They have a tough battle to make another trip to the NCAA tournament, but the seniors are fighting and doing everything they can to reach that point one final time. 
"Any postseason moment, like playing in the NCAA tournament was awesome," Stewart said. "Playing in purple and gold and playing out here in front of my friends and family has been a journey. Hopefully, the best moment is still to come."
Now approaching the end of the road, Douglas and Stewart have a chance to look back at what they have learned over the long journey and give advice for those they are leaving behind and those that hope to follow in their footsteps someday.
"If you look back on wasted days, you kick yourself when you are a senior like I am now," Douglas said. "Fortunately I didn't have too many of those, but the days that just go by and you just go through the motions, you have a little bit of regret with them. To everybody coming in to play for this program or who still has eligibility left, I would say make sure you appreciate everything."
The lessons they learned as Huskies extend far beyond the tennis court and the classroom; it is a way of living that they can take with them wherever they go from here. 
"Nothing lasts forever," Stewart said. "The key is just to enjoy everything you have, you don't want to be unhappy, and you want to have fun. I think through competing, everything can get feisty, but at the end of the day you realize you're doing it because you love it."
Reach reporter Kyle Gehler at sports@dailyuw.com. Twitter: @KyleGehler