It was a beautiful, chilly day at Sail Sand Point in Magnuson Park, where two sailboats were led out onto Lake Washington to practice in anticipation of the UW sailing team's next regatta. One boat was accompanied by sophomore co-captain Connor Hughes, an experienced member of the team who hopes to take a big step forward this year with the UW.
In Hughes' first year with the team, he was a part of Washington's trip to the national championships. The UW qualified for all three events — co-ed fleet racing, women's fleet racing, and team racing — but lacked wind in its sails, missing its chance at a title.
"We definitely want to be back at nationals this year, ideally for all three nationals events again," Hughes said. "I think we have a pretty good shot at that as it's looking at this point."
Hughes began sailing when he joined a youth team at Sand Point in junior high and has been competing on the water ever since.
"It was a great experience for me, I learned a ton," Hughes said. "I kind of fell in love with it, so it made a lot of sense to continue with it in college, and I was really excited to be able to do that here."
As for being a first-time co-captain, Hughes has particular goals to improve himself as a sailor and is determined to motivate and help the team reach their goals through his leadership.
"A big part of what I'm trying to do this year is to work to push everyone else's sailing as much as I can," Hughes said. "One of my main goals is to see a lot of people that are new to the team develop into their potential competitively through the spring season."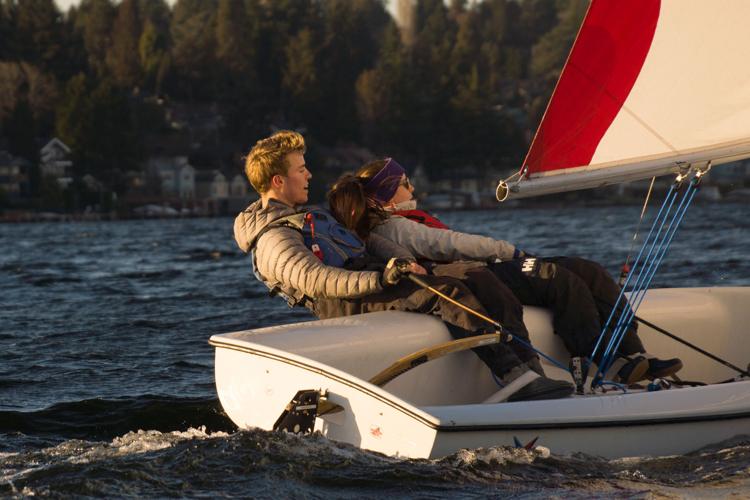 It is common for members with no sailing experience whatsoever to join the team and contribute right away, as was the case for current team member Athina Ebert.
Ebert joined as a freshmen with no prior experience, and has been to nationals three consecutive times. She hopes to make this year her fourth.
"When I came to college, I was looking for a sport that I could do that didn't require having any experience, and my dad has always had a boat, and I've always loved being out on the water, so it sounded perfect," Ebert said.
The sailing team welcomes any newcomers, experienced or not, who can expect to be out on the water for competitions fairly early on in their sailing career, which makes it unique compared to other clubs on campus.
"Anybody is welcome to join if they are interested," Hughes said. "As valuable as it is to have people join the team with racing experience, some of our most dedicated, most talented members are people that joined the team never having sailed before."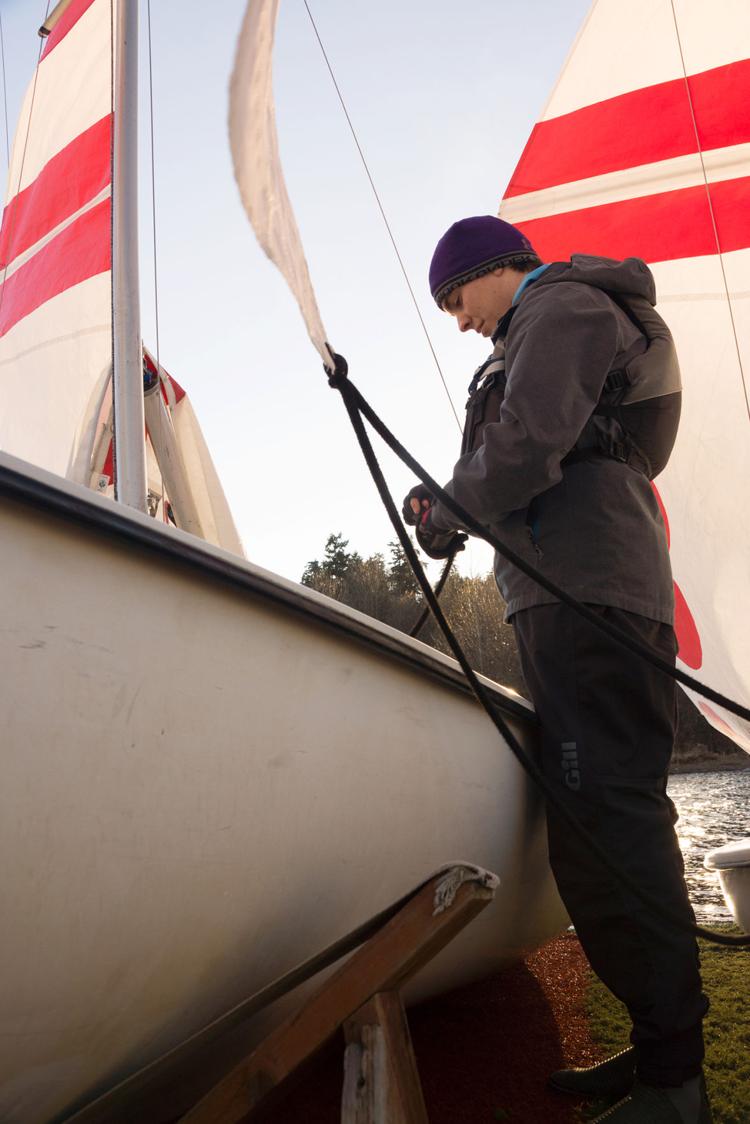 To make sure that the inexperienced sailors are ready for the national stage, the team has to make sure they are making the most out of their practices, which consist of a quick meeting, followed by drills, and ends with a simulated race. At this time of year there is a limited amount of daylight, cutting practice time short.
"This time of year we are pretty sunlight dependant, we kinda have to get out of here before we want to," Hughes said.
Another obstacle the team has to hurdle over is the number of boats: there are only two currently available. Normally well equipped, new boats for this season are taking longer than usual to process, so the team can only send two pairs onto the water at a time during practice.
But for now, the team is focusing on being as efficient as possible, and that starts with a well-planned practice schedule that targets skills they need to develop before competition.
Before getting onto the water, the sailors have a meeting to discuss specific drills and goals for that particular day. Once on the lake, they work on targeted sailing techniques that focus on and test certain aspects of their racing skills.
It is toward the latter half of practice when the real fun begins, and the sailors are able to run a few races to simulate what an actual regatta might look like. Due to the talent of seasoned sailors and depth of the team's line, these simulations can be beneficial when preparing for a race.
"Having that number of competitive sailors on the team really helps with practice," Hughes said. "Because when we do run practice races we get really good competitive races that are similar to what you'd see at an actual regatta."
With fall season and a few weeks of practice under their belt, the team looks forward to their next regatta at the University of British Columbia on Feb. 18-19. In the next few weeks, the team hopes to lay the groundwork for what should be a fantastic year for UW sailing yet again.
"Getting there will involve a lot of progression of everybody's sailing, and that always seems to happen," Hughes said. "I think at least last year it really felt like the team sailing kind of came together in the spring and people really improved a lot. I'm looking forward to seeing that same process happening this year, especially with all the new talent that we have."
The standard is set high at Sail Sand Point, as there is really one expectation the team has given their opponents of the Northwest division in recent years.
"Come May, we'll be back at nationals again," Hughes said. "That's the goal."
Reach contributing writer Alec Dietz at development@dailyuw.com. Twitter: @AlecCDietz