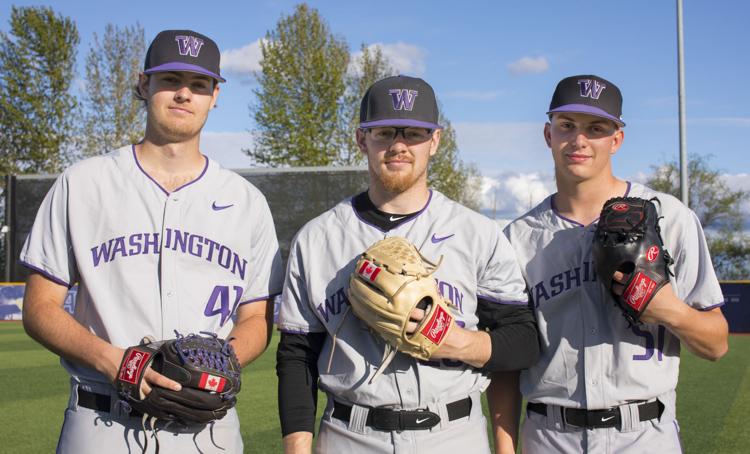 Baseball — it's as American as apple pie, Chevrolet, and hot dogs on the Fourth of July.
Or, maybe it's not. At least not on the Diamond on Montlake.
This season, the Washington baseball team features three players from the Great White North: Sophomores Josh Burgmann and Jack DeCooman, and freshman David Rhodes.
The Huskies' have three of the four Canadians currently playing in the Pac-12, and that's not where the similarities end. All three are pitchers, and hail from right across the border in British Columbia.
"There's great baseball players up there," Washington pitching coach Jason Kelly said. "It's convenient for them. We're not too far away from their hometowns, and we're the closest school to most of those guys. They're actually closer to us than a lot of the guys on our roster from the states."
Burgmann, DeCooman, and Rhodes are part of a new generation of Canadian baseball players who have convinced scouts and colleges alike to look north for new talent, paving the way for future prospects to show off their abilities against high levels of competition in the United States.
The first time Kelly saw DeCooman in action was actually in Arizona, about 1,400 miles away from Seattle and even farther from the left-handed pitcher's home in North Vancouver, B.C. DeCooman, then a sophomore in high school, was playing in a prestigious showcase with his travel ball team, and after the event Kelly got in touch.
"More Canadian kids are starting to get recruited now," DeCooman said. "And a lot of them are starting to commit to U.S. schools which is really cool to see because in the past that hadn't really happened. So I think that's good for the culture of Canadian baseball, just getting kids down to the U.S."
Traditionally, Canadian prospects who didn't go straight into the farm system from high school had to travel the junior college route. Four-time MLB All-Star Russell Martin, for example, spent two years at Chipola College in Florida before being selected by the Los Angeles Dodgers in 2002.
The other option, especially for Western Canadian prospects, was to attend the University of British Columbia, which competes in the National Association of Intercollegiate Athletics. However DeCooman, who moved to Vancouver from Connecticut when he was 10, always had his eyes set on the NCAA and Division I baseball.
"In the past, I don't think people really knew about [playing in the NCAA]," DeCooman said. "Now that guys like me and Burgmann and Rhodes have shown the ability to do this, kids are seeing they can do it too, and college recruiters are starting to notice."
He wasn't alone. Burgmann, a third-year sophomore, was already committed to the UW when DeCooman signed on, and arrived a year ahead of his Canadian compatriot in 2016.
"It was really exciting for me, knowing that I wasn't going to be the only Canadian," Burgmann said.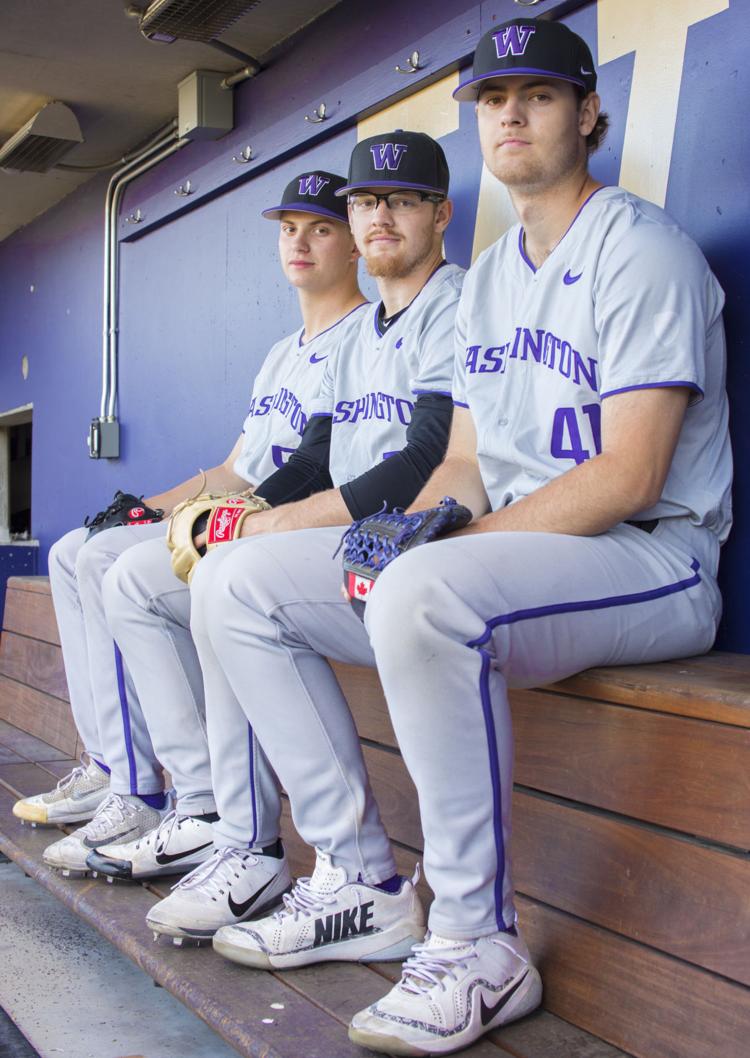 Though the pair didn't know each other well before they committed to Washington, they soon found themselves on the same pitching staff when DeCooman joined the U18 Canadian National Team during Burgmann's senior year of high school.
Traveling around the United States, Burgmann and DeCooman had the opportunity to play elite American travel ball teams, baseball academies in the Dominican Republic, and minor league squads — from High-A to Triple-A.
"It was an unbelievable experience," Burgmann said. "It's tough, and the national trips were a lot of fun, but at the same time they were a grind. But overall my experience with the national team was amazing and I would love to go back and do it again."
The numbers back up the rise of Canadian prospects. In 2016, the year before Burgmann was a freshman at Washington, there were 102 Canadians in Division I NCAA baseball. Two years later, in DeCooman's freshman year, there were 109. This season, the number has jumped all the way to 130 with the addition of Rhodes' class.
As Canada begins to produce a larger pool of top-level players, Washington has found itself perfectly placed to offer prospects — particularly those from British Columbia — a landing spot close to home where they can prove themselves in one of the most competitive collegiate baseball conferences in the country. And it helps that B.C. is one of the biggest hotbeds for talent in Canada.
"[B.C.] is one of the warmer provinces, so it's not winter six months of the year," Rhodes joked. "Guys can get out on the field and play more."
It's just about 142 miles from the UW to DeCooman's North Vancouver. Burgmann — whose hometown of Nanaimo is farther than either of his Canadian comrades — says it's still close enough that his parents come down to Seattle for every home series, including those when he was injured.
Then you have Rhodes. A White Rock native, he played most of his travel ball stateside, eschewing the national team setup to stay with his Seattle team. Once he made it to the UW, he found that the transition was almost nonexistent.
"The team is a family unit, and I've never felt lonely here," Rhodes said. "I'm not treated any different because I'm Canadian."
While no one can forecast what the future of baseball in the North will look like, Burgmann, DeCooman, and Rhodes hope to motivate the next generation of Canadians to come south and continue to grow the sport.
"All I know is as long as people keep getting better, the baseball will get better," Rhodes said. "As long as we can keep showing that Canadians can do this, I hope it inspires some other kids to play at a high level if they're willing to put the work in and if [scouts] are willing to come see them."
Reach reporter Andy Yamashita at sports@dailyuw.com. Twitter: @ANYamashita
Like what you're reading? Support high-quality student journalism by donating here.