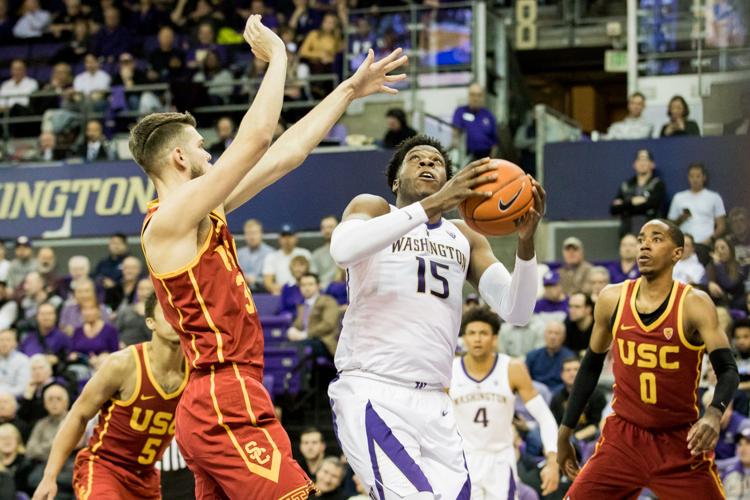 The Washington men's basketball team is less than a month away from potentially punching its first ticket to the NCAA Tournament in seven years. Their recent success can make it easy to forget about how bleak things looked not too long ago.
Expectations were high as the 2015-16 season was wrapping up. Key freshmen contributors Noah Dickerson, Matisse Thybulle, and four others were expected to return to the court and join forces with the highest rated recruit to step foot on Montlake: Markelle Fultz.
The surprise departures of Marquese Chriss and Dejounte Murray paired with an injury-riddled year for Fultz led to the fourth-worst winning percentage in the 118-year history of the UW, the firing of longtime coach Lorenzo Romar, and likely one of the worst seasons of basketball for everyone on the roster.
Dickerson considered transferring after the coach that he signed up to play for was let go. The Atlanta native was apprehensive to commit to a new coach right away. He showed interest in various East Coast programs and made a visit to LSU as well as scheduling visits for Miami and Florida.
Ultimately though, an incoming Mike Hopkins impressed Dickerson right away with a full-court press and the forward decided to stay in Seattle.
Dickerson acknowledged that the extra year of school that comes with a transfer played a role in his decision, but at the end of the day, it ultimately came down to why he stepped on campus that first day as a freshman.
"I just wanted to finish what I started," Dickerson said. "I really did like living up here and staying up here."
His ability to get to the other side of a rough patch and his decision to recommit to Washington set the tone for the younger players on the team that he is mentoring.
"We've gone through alright years to terrible years so it does feel great to be able to have the year that we're having and come into our own," Dickerson said. "This is only the stepping stone because Coach Hop is only getting started."
Dickerson had a breakout junior year under Hopkins, putting up a career high in points, rebounds, assists, blocks, field goal attempts, and shooting percentage on his way to being named to the All-Pac-12 first team.  
This season, Dickerson's individual numbers are down a bit, averaging 13 points per game as opposed to the 15.5 he put up last year on two extra attempts per game and hauling in nearly 1.5 fewer rebounds per game, but he is looking at the team record much more than his personal numbers.
"The only big number that matters is wins," Dickerson said. "I used to think that everybody cared about these big stats, but that's not even the case. All people really care about is winning at the end of the day."
After his tremendous season last year, Dickerson became the focus of opposing defenses, and has had to learn how to take a bit of a backseat so others around him can thrive.
"Everybody had to make sacrifices," Dickerson said. "Dom [Green] could have been a starter, but he's cool coming off the bench and doing his thing. For me, I had to give up a couple shot attempts per game to get other guys open for us to win these games and I'm OK with that."
The increased attention in the paint has also resulted in considerably more trips to the free throw line this year for Dickerson. He is currently leading the country in both fouls drawn per 40 minutes and free throw rate.
"The one way I can keep my rhythm going throughout the game is by getting fouled and going to the line," Dickerson said. "It's some way to keep me more into the game, and it helps my team out in the long run because it helps get us to the bonus faster."
That increased attention comes and goes depending on how the game is going and whether Dickerson is able to get loose and dominate like he did last season, which he has done multiple times. The most recent dominant performance came against USC on Jan. 30, with 21 points and 14 rebounds.
"It's all based on how teams are defending," Hopkins said. "When he is confident and has that look in his eye, he is a tough guard."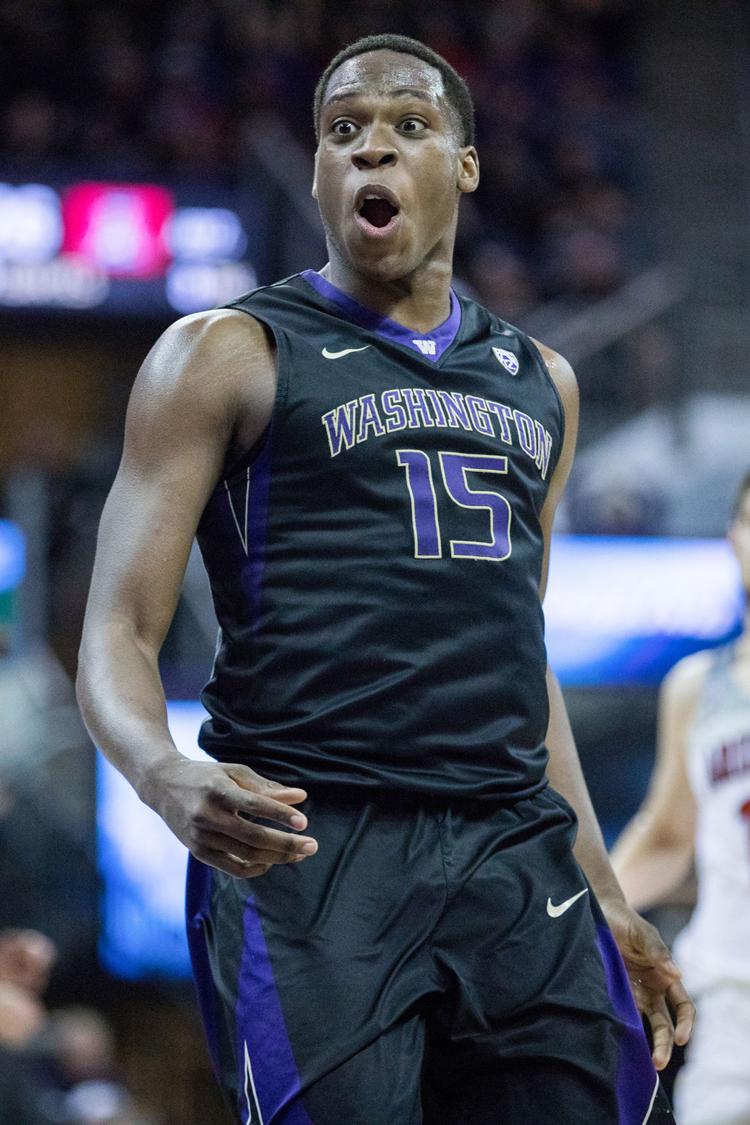 As his senior season winds down, Dickerson has taken on the role of mentor to those hoping to learn from him.
"I'm just in their ears trying to tell them, 'I want you guys to be better than I was,'" Dickerson said. "I felt like I was a pretty good player here, but my goal is to make sure the upcoming guys are better than me. I'm just here to kickstart how Coach wants this program to be, so I want them to help me be a stepping stone as well to get this program off to where it should be."
Those lessons that Dickerson, and the rest of the senior class, are passing down have been instrumental in helping the younger players on this team.
"It has been everything," sophomore Nahziah Carter said. "Just to have all that in front of me and to talk to them during the game, after the game, or before the game is just huge, I think for me and for everybody else learning and coming up."
To have those veteran leaders on the court to mentor the underclassmen is another way for Hopkins and the rest of the coaching staff to build the type of culture they are striving for.
"It is great," Hopkins said. "Those guys lead a lot by example so to have those guys showing them how to be successful in our system is a great thing."
Dickerson is using many tools to teach the younger players. One of them has been the book "The Four Agreements" by Don Miguel Ruiz.
"You have to do everything to the best of your ability," Dickerson said. "When it comes to school, eating right, basketball, studying, everything in general, you have to do it all at a high level and do it all to the best of your ability ... you can't try more than your best because then it's setting you up for failure."
Helping those younger than himself goes well beyond the guys currently on the roster, it also extends to future generations that are potentially thinking about coming to the UW. For Dickerson, and the rest of the senior class, it is all about creating a winning culture that will be around long after they are gone. That is done, first and foremost, by their on-court performance and playing together.
"One thing that we pride ourselves on, and in a lot of our wins, is getting 15-20 assists per game, that's just playing for each other," Dickerson said. "I could have a good shot but one more pass and then there's a great shot. That's why dudes are shooting so high percentage-wise."
The idea of one more pass has been a focus this season and could attract future fans and players in the future.
"Just making sure that people see us on the court and Coach preaches it so in the long run, kids see us on TV, recruits thinking about coming here can see how we play offensively," Dickerson said. "Even defensively because we pride ourselves on defense and that wins games."
As this group of players marches toward their first March Madness appearance, they also recognize that this could just be the tip of the iceberg for things to come in the future.
"They have a chance to really do big things next year, so we just want to help jumpstart that," Dickerson said. "I want to get the whole city of Seattle excited for the Washington Huskies for the next 20 years."
Reach reporter Kyle Gehler at sports@dailyuw.com. Twitter: @KyleGehler
Like what you're reading? Support high-quality student journalism by donating here.