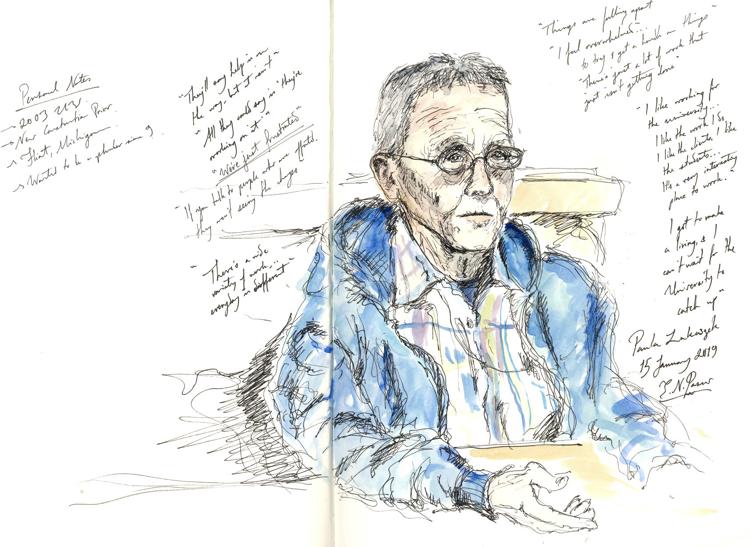 This quarter I am challenging myself. I want to write more personal and relatable stories, have more interactions with people within the UW community, and improve on something I've promised myself countless times: get better at drawing people. And the only way to get better at figure and portrait drawing is to draw more figures and portraits. 
Each article and sketch will focus on an individual in the UW community. I will sit down with them, draw their portrait, ask them to tell their story, and listen. For my first portrait and article, I decided to sit down with Paula Lukaszek, a plumber here at the UW who was kind enough to divulge in my odd method of interviewing.
Since the age of nine, Lukaszek has wanted to be a plumber. She remembers helping her dad fix the pipes around the house and loving to learn about how things work.
Lukaszek has been working as a plumber for the university since 2003. In addition to her years of service, she is also president of her union, WFSE Local 1488. She moved to Seattle in 1973 from Flint, Michigan, where she grew up and worked as a plumber in new private sector construction. Her journey to becoming a plumber wasn't easy; she's had to overcome sexism and harassment in the workplace, and still remains one of the few women in her field.
I started off by asking how Lukaszek's day was. She said that for the last four months, her days have been hectic. "I feel overwhelmed … I try and get a handle on things, there's just a lot of work that isn't getting done," she said.
She is the only plumber in the northeast zone of the university which encompasses 98 buildings. The northeast zone is made up of the entire sports complex, the humanities buildings, everything along Skagit Lane, and the business school. The university is made up of five zones: health science, the southwest zone, central zone, northeast zone, and the outside zone, which is everything exterior maintenance.
Her lead plumber has been out on medical leave since Oct. 1 of last year, and the other two plumber positions who are usually on her team have been vacant for the past year and a half. Every morning, she and her supervisor go over all the work orders they've received and have to prioritize based on two criteria: active leaks and faulty ADA toilets. Anything else is considered not as important and has to be put off. As long as a building has at least one functioning toilet, any other issue has to be diverted to the bottom of her constantly growing list. Lukaszek said that with the current state of things, "All you can do is prioritize."
She mentioned that the Communications Building placed a work order for no heat back in December and that she had only just gotten around to it because of how far behind she was.
Lukaszek emphasized how the university isn't taking preventative measures regarding the maintenance of both old and new buildings. The old buildings are crumbling from water damage and the new buildings don't have the workers and tradespeople necessary for the standards expected of a highly renowned university like the UW.
She mentioned that the university never seems to have the funds to hire tradespeople internally or keep them. Whenever a utilities or structural problem has gotten so bad it can't be ignored, the university has hired a private contractor to fix the problem for double the cost. Another issue is that the university pays half of what tradespeople make in the private sector. While the university has vacant spots that it continues to interview for, no one qualified enough wants to work here, so the spots remain vacant.
Two days after I did the portrait, Lukaszek took me on a tour of some of the locations on campus where there have been issues relating with the plumbing, heating, or drainage. As of that morning, she said she had 91 leftover work requests and 185 new requests, making for 276 total.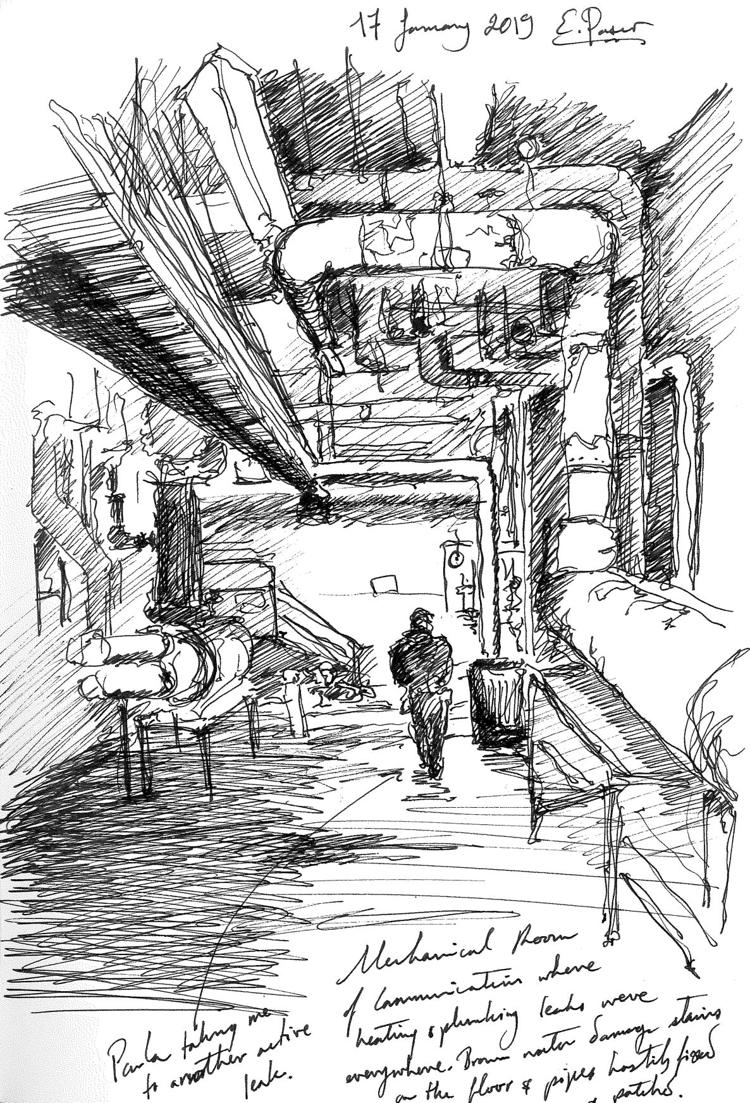 The first place she showed me was the mechanical room of Communications, where the boiler for the heating is located. There was plastic diverting leaks to drains to make sure water wasn't getting into electrical wires, pipes being bypassed, and water diverted instead of properly repaired or replaced, brown water stains on the floor, and even an active leak from a pipe on the ceiling Lukaszek has had to deal with for the past year.
She then showed me the various spots where drywall in the basement of Smith Hall was water damaged. Patches were exposed from previous attempts to hide the larger issue: water drainage from the quad seeping into the walls of Smith, causing the structure to crumble from moisture damage. On the exterior of the art building, there are hoses connected to three sump pumps on the roof to keep it from flooding because the proper gutter and drainage system is blocked and broken.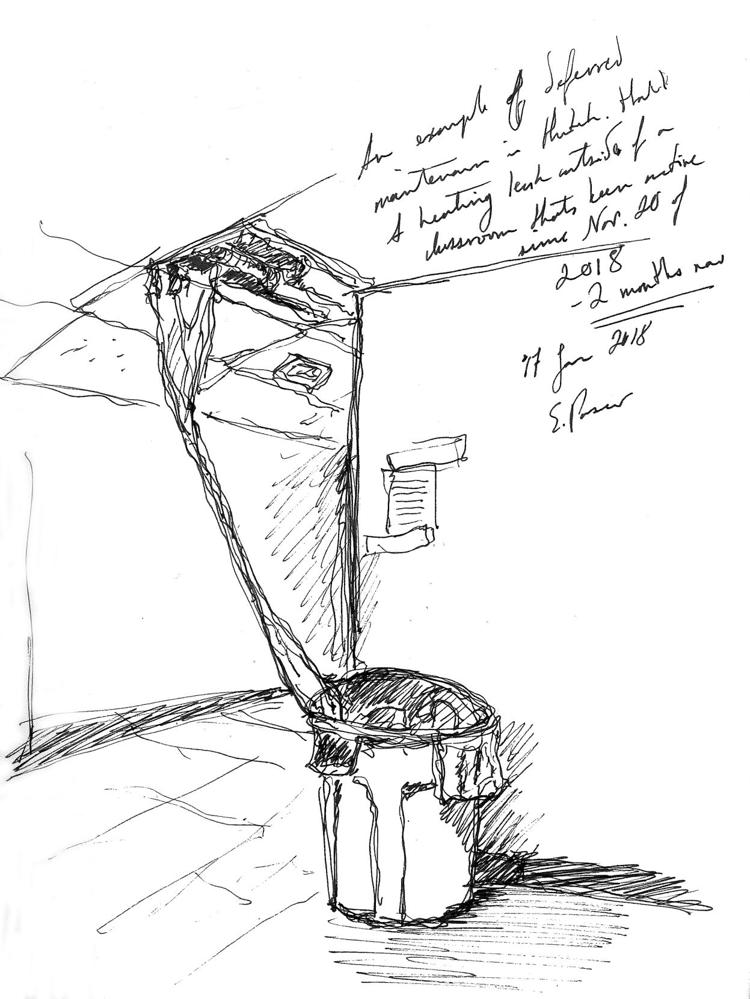 There has been a heating pipe leak on the ground floor of Hutchinson for the past two months. Simply a plastic sheet diverting water into a garbage can is the solution because there is no time for it to be properly sealed and fixed. "We're putting band-aids on things … and the morale is getting lower and lower [among trades workers and custodians] because they feel like nobody cares," she said.
Lukaszek loves her work and the diversity of people she gets to work with. Getting to work at a university means interacting with a multitude of students and professors from different majors and departments. When she worked in the central zone, she remembered speaking with professors and TA's about various experiments and tests they were working on. We took a walk through the art building and she remarked about always loving to see the sculptures, photographs, paintings, and drawings on display. Not to mention, the art building is one of the buildings in her zone that is constantly having maintenance issues.
She wants to be proud of the work that she does and wants to deliver quality service to all of her clients. "When we have to tell [students and faculty] you've got one working toilet, so we have to go on to someplace else, or we're going to have to shut your water off for the evening … that's not good, not for a prestigious university." It is difficult for her to deliver quality service and do a thorough job when she has to spend her time diverting leaks and fixing toilets day in and day out, and not have any time to take preventative action.
She also mentioned that it's not just plumbers that are facing these problems of deferred maintenance. In the central zone, according to Lukaszek, carpenters and sheet metal workers have empty positions and are still trying to find people, but have stopped interviewing due to a lack of applicants.
This is just the surface of an issue that has been growing over the past several years. The Daily and even The Seattle Times has reported on this subject. Now it has gotten to a point where things have to change.
Something as simple as a working plumbing affects everyone. I feel that with the tuition students pay, we should at least have decent facilities that are being maintained and work is being done to make sure problems don't stack one on top of the other. Buildings need to be clean, toilets and sinks need to work, and structures need to be maintained. Problems have been building up to this point, and many in the UW community are being affected. And while the newer Life Science and Computer Science buildings are clean, structurally sound, and environment friendly, they won't be for long if proper action isn't taken to maintain them.
I'll be honest, when I first decided to do this project, I had no idea what lay in store for me. I initially went in thinking this would be a straight-forward article that would tell the story of the day to day life of a maintenance worker at the UW. While I was somewhat aware of the lack of preventative maintenance around campus, I had no idea of how bad it was, and how much it was impacting the various trades workers the university employs. This was certainly an eye-opener and another wake up call.
Until the next sketch,
Reach the Campus Sketcher Eli Pasco at: illustrations@dailyuw.com. Instagram: @the_campus_sketcher