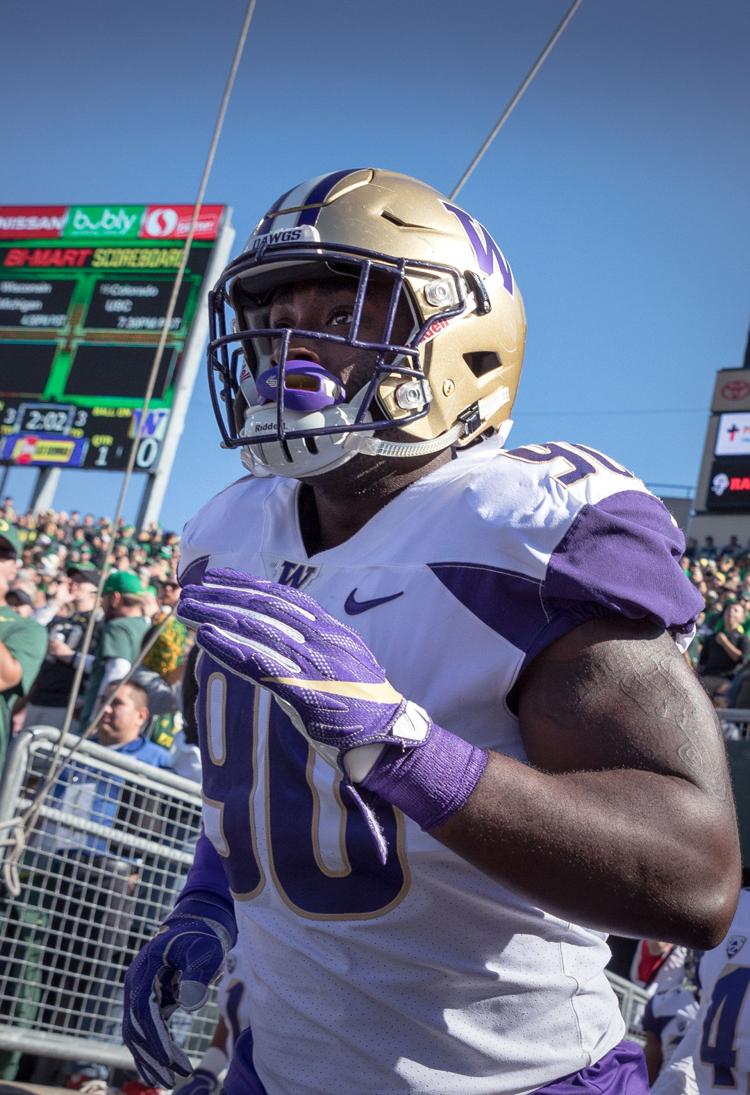 When the Huskies' defensive line lost Shane Bowman to a broken foot before Washington played BYU, junior Josiah Bronson stepped into the spot he left. In that game he had three tackles, one more than he'd had so far in his career.  
"With Shane Bowman being out for the last few weeks he's provided a lot of depth for us," defensive coordinator Jimmy Lake said. "He played some quality reps for us this last game against Oregon. That's probably going to build his confidence and for the weeks to come he's going to be playing a lot more for us."
Bronson had two solo tackles against Oregon, his third game in a row with two or more tackles, a streak that began against BYU.
It's been a long road to college football for Bronson, who is seeing the field outside of practice for the first time in his junior season, at the second school in his career.
Bronson's college career suffered a setback when it had hardly begun — in his first intrasquad scrimmage at Temple in 2015. He left midway through with a broken ankle that ended up taking him out for the whole season. He didn't play at all the next season as a redshirt freshman either, and when then-Temple head coach Matt Rhule left for Baylor, Bronson transferred to Washington.
His first season with the Huskies was an adjustment period for Bronson.
"It took him all year to really adapt from where he came from; it's a different defense, a different style of defense," defensive line coach Ikaika Malloe said. "He's added to his game, he's kind of put more tools in his belt, so to speak, and now he's ready for success."
Bronson took that season to learn everything he could from the UW defensive line veterans.
"I had a chance last year to really watch Vita [Vea] and all the older guys last year," Bronson said.
While adjusting took time, it seems well worth it now. Bronson has added a couple tackles every game since he took on a bigger role on the defensive line.
"He's definitely improved his game a lot," senior defensive lineman Greg Gaines said. "Last year he was just learning everything. It takes a while. D-Line is a lot of instinct stuff so he's been developing those instincts, developing reactions, stuff like that."
Bronson is the third in his family to play college football. His brother John played tight end at Penn State and had an NFL stint with Arizona in 2006. His other brother Demitrius had a successful two years at Eastern Washington and was on two different NFL practice squads, but before that he spent two years with the Huskies.
With the connection to his brother, and his family just down I-5 instead of a cross-country flight away, the transfer to Washington has been a homecoming for Bronson.
"It's two different programs, I would say, but this one feels like home," he said. "It just feels like home to be here."
And with a year to adjust to life in the Pacific Northwest, he's been able to grow, both as a player and within the UW system.
"He's built a lot of confidence in himself, and he knows that he fits in," Malloe said.
It's been a long road to Washington's defensive line for Bronson, but he finally has the opportunity to leave everything he's learned out on the field.
"Whatever they need on the field, whether it's on punt, kickoff, everything they need, when they call my name, I'll be ready," Bronson said.
Reach Social Media Editor Hailey Robinson at sports@dailyuw.com. Twitter: @haileyarobin