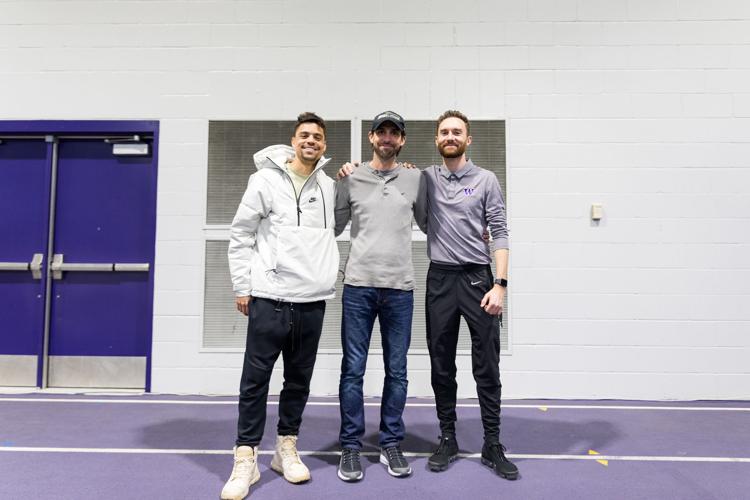 Matthew Centrowitz didn't want to talk to anybody following his race at the 2008 Oregon Twilight, let alone his coach. After placing 16th out of 25 runners in the 1,500 meters, the freshman stormed off the track, broke down in tears, and ultimately found himself in the dorm room of his best friend.
All he wanted to do was punish his body with as much ice cream as he could eat.
"I was — dead serious — just bawling," Centrowitz said. "It was probably one of the three times that I can recall where I was just crying. It was an all-time low for me at that point in my career."
Chris Kwiatkowski hadn't raced that day, so when his phone rang, both he and Centrowitz knew who it was from — and who it was for.
"I knew they would be together," Andy Powell said. "They had to be."
Powell, their distance coach at Oregon, had already called Centrowitz, worried that he had simply disappeared from the meet. The freshman ignored him again and again. Powell was getting anxious when he realized that there was only one person Centrowitz would have gone to after such a bad day.
Back in the dorm, a plan was quickly devised while the phone rang: Kwiatkowski would lie and tell Powell that Centrowitz wasn't there. But when he answered the phone, he was met by an immediate "Chris, put Matthew on the phone."
He folded immediately.
"Everything Chris had told me he would say went right out the door as soon as he heard Andy had his stern voice on," Centrowitz said. "Andy didn't even give him a chance to get into the lie or say no."
Even with Centrowitz vigorously shaking his head and making frantic throat-slash gestures, Kwiatkowski wordlessly and without eye contact passed the phone to his friend. However, what Centrowitz found was a coach who was simply worried about his well-being.
"I was extremely immature," Centrowitz said. "But I'd like to think that I've grown into some bigger shoes at this juncture in my life, and I definitely credit a lot of that to Andy making me grow up a little earlier than I wanted to.
"Over 10 years later now, it's kind of funny to look back on that."
Then he quickly amended his statement.
"Well, I'm sure it's funny for those guys, not so much for me."
Almost 12 years since their introduction to each other at Oregon, the trio has arrived for their first season at the University of Washington with Powell as the men's head coach, Kwiatkowski as the distance assistant, and Centrowitz working part-time as a volunteer assistant.
How they've reached this point though is a testament to the strength of their relationship. It's one that has spanned time and distance, and has ultimately brought them all back together in the Pacific Northwest.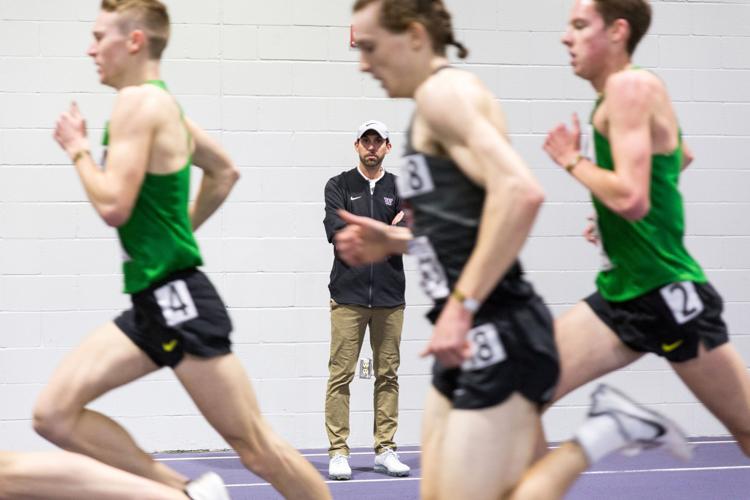 Kwiatkowski grew up in Bellingham and though he had some options about where he wanted to run in college, two schools stuck out: Washington and Oregon.
The Huskies were closer to home; the Ducks had Andy Powell.  
"I felt at ease and connected with Andy right away," Kwiatkowski said. "When you meet Andy, you just feel like you can trust him immediately and he's got your best interests at heart."
Centrowitz chose Oregon for the same reason. Despite his father, Matt Centrowitz Sr. being a famous alumni for the Ducks, it was his connection with Powell that convinced the future gold medalist to swap Maryland for Eugene.   
Centrowitz and Kwiatkowski clicked immediately. Their first interaction came via Facebook Messenger, and at preseason camp they bonded over the recent summer blockbuster "Superbad." They also found out their dorm rooms were just two doors down from each other.
"They were pretty much inseparable from the very first time they came in," Powell said. "They both like to have a lot of fun and joke around, but I couldn't have imagined that they would be as close as they are. But that's the cool thing about cross country teams. You go through four or five years running thousands of miles with them in workouts, and those end up being some of your closest friends."  
Since the beginning, video games have been a crucial part of Kwiatkowski and Centrowitz's friendship. Every night, the pair would make their way to a local Circle K or 7-Eleven to buy what they called game fuel: $10 worth of candy and sweets that they would finish in about an hour before staying up all night to play Halo on Xbox.
Any leftovers — Reese's Peanut Butter Cups in particular — were added to oatmeal the next morning as what Centrowitz considered "a protein supplement."  
"I don't know how we were able to run as well as we did in college with the candy intake that we had," he said. "It was a fun time, it was great to be young. I can't get away with any of that stuff now. The candy intake is down to a pack of M&M's a night, but not much has changed in our personalities and the way we are together."
____
Despite the hype and expectations surrounding the duo, both of them had difficult freshman seasons for the Ducks. Kwiatkowski redshirted the cross country season, and in his first collegiate meet, the 2008 UW Indoor Preview, he fractured his arm after being pushed, effectively ending his season.
Centrowitz ran twice during cross country and even managed a Top-30 finish at the Pac-12 Championships, but the coaches decided he would redshirt both the indoor and outdoor track seasons.
"They both struggled their first year," Powell said. "I guess you could say they were just a little on the immature side coming in, just trying to figure out what it means to balance running and academics, and being away from home, so there was a lot of growing up. I remember riding them on basic things like, 'What time did you guys go to bed?'"
As their freshman year came to an end, Centrowitz seriously considered transferring back to the East Coast to be closer to home. However, Powell was once again the reason he decided to stay, and it turned out to be the right choice. Centrowitz had a breakout season and over the next few years, both he and Kwiatkowski brought records, All-American honors, and NCAA titles to Eugene. 
"In track and field, not every season, not every year is going to be great year," Centrowitz said. "But Andy is going to treat you the same as the top guys who are running for national titles. I think that's what makes Andy so great. He is the same guy from the day you sign your letter of intent to run for him to years after you graduate and go on to a different career path."
Centrowitz and Kwiatkowski also began rooming together, which they would do for the rest of their time at Oregon along with a non-athlete named Ignatius Gambee. And after Centrowitz visited Bellingham the summer after their freshman year, Kwiatkowski returned the favor, spending the two off seasons after their junior and senior years in Maryland where they worked cross country camps and trained.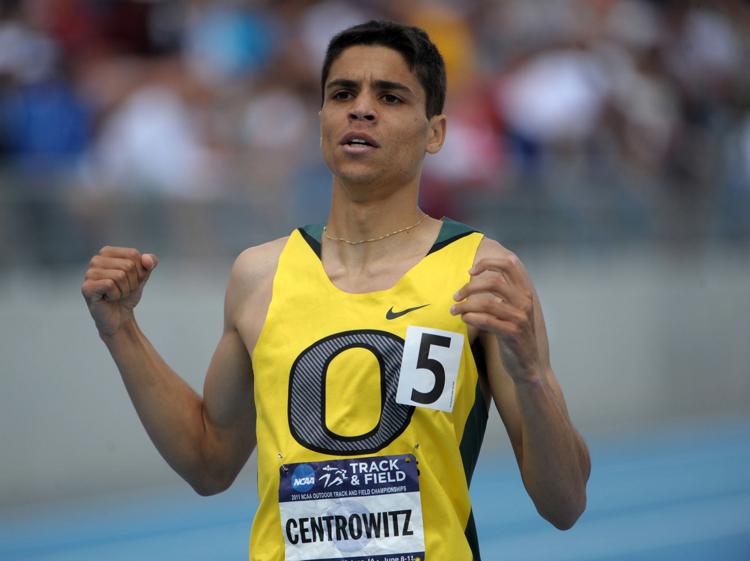 Centrowitz left Oregon in 2011 as a bonafide superstar in the track world, winning three Pac-12 titles and the 2011 NCAA title in the 1,500 meters. Kwiatkowski stayed for a fifth season after battling through multiple injuries and became an All-American in the 5,000 meters.
From there the trio split up. Centrowitz continued to compete professionally around the world, and represented the United States at the 2012 London Olympics where he missed the podium by 0.04 seconds. Kwiatkowski also ran competitively and picked up a job as a volunteer assistant at American University under Centrowitz's father, whom he'd met on his trips back east during college.
"Chris has been a very inspiring and motivating thing for me to see," Centrowitz said. "For Chris to go from a volunteer coach at AU to assistant coach to full time to now an assistant at a big Power Five program. He's worked his tail off like no one I've seen in this sport. He's someone in my corner that I credit a lot of my success to."  
They did manage to stay in touch though. To this day, Kwiatkowski and Centrowitz continue to use video games to keep up to date on each others lives, though the game has changed from Halo to PubG.
"It's like any sibling relationship," Kwiatkowski said. "There's days and maybe even weeks where you don't really get in touch, but you can pick right up where you left off and it can be like there wasn't even a minute between that gap."
And no matter where in the world Kwiatkowski and Centrowitz were, every summer they would get a phone call from Powell, who was still overseeing the distance program at Oregon, asking about their lives and letting them know what he was doing. It's what he calls the "big picture life stuff."
"There's a lot of good coaches out there, and I think I do fine with writing up the workouts," Powell said. "But I really try to do a good job connecting with the athletes and understanding other parts of their lives."
During the summer of 2016 in Rio de Janeiro, Centrowitz became the first American in over a century to win a gold medal in the 1,500 meters. And thousands of miles away, Powell and Kwiatkowski watched along with the rest of the world.
Powell was vacationing on the Oregon coast with his two sons when the race happened. Centrowitz has been around the boys since they were little and is their self-proclaimed godparent, something Powell vehemently denies but still laughs about.  
"My kids aren't into running, but they're into Matthew," Powell said. "I've been to the Olympics, I've seen him run, and it's cool being there. But it was really cool being there with just my sons, only the three of us watching."
You can actually watch Kwiatkowski's reaction, because someone recorded the small gathering of family and mutual friends during the historic final lap. He's in the middle of the frame for the almost the entire 35-second video screaming his heart out at the small TV. He's wearing a blue T-shirt (not the guy in the tank top) and shorts, he spends the first few seconds jumping up and down yelling, "You've gotta go!" as if he were there.
"It went by like a blur but I still remember it like it was yesterday," Kwiatkowski said. "Just how exciting and almost hair raising it was. Not just because it's your best friend, but because of the accomplishment really."
As Centrowitz gets closer to the finish line and the volume in the room continues to rise, Kwiatkowski gets down on his knees like he's about to start praying. And once Centrowitz crosses the finish line, an explosion of emotion is released.
"I thought Chris was going to punch a wall at one point after the race," Centrowitz said.
The sound in the room is deafening, and all while the little girl in the background plugs her ears, seemingly oblivious to what has just happened.
Eventually, the video made its way to Centrowitz, who posted it on his Instagram. (There is also a very powerful karaoke performance of Usher's "Let it Burn" by Kwiatkowski and Centrowitz that I would highly recommend.)
"I've heard from so many people that they watched from bars or that they cried," Centrowitz said. "But to see that video and see those guys be so ecstatic, that's one thing I remember more than just texting or anything like that."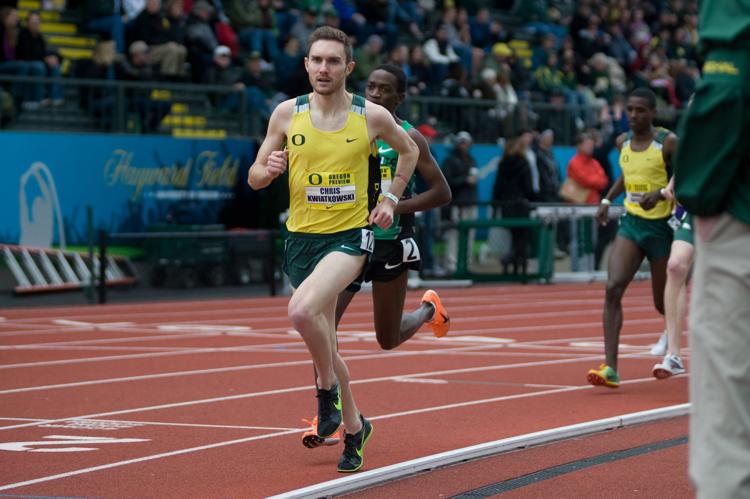 When Powell called Kwiatkowski for their annual talk after the 2017-18 season, the younger coach could tell things might be about to change. The pair had discussed working together ever since Kwiatkowski graduated, and this time it seemed like that chance might finally come around.
"I got the call this last summer, but it sounded a little different," Kwiatkowski said. "I think he was gauging where I was in my life, whether I was ready for a big change. He was trying to allude to the fact that there might be a move, and he wasn't sure where but he was thinking about it. I just stopped him and said, 'Wherever you go, I'm with you.'"
That move also brought Centrowitz, who wasn't sure where he was going after his parents both left the Maryland area. As soon as he heard Kwiatkowski was reuniting with Powell in Seattle, he simply asked if he could come too.
Their relationship isn't quite the same as it was at Oregon. When asked what has changed, all three immediately answered that they are equals now. They're peers rather than athletes with a coach, which allows them to be even more honest and open about training, tactics, and life, though it's not like they weren't already.  
"All three of us know if we can come together and hash something out, we're going to come up with something great," Centrowitz said. "And any time Andy asks me about a workout, I feel super humbled and honored that he trusts my instincts, judgement, and running IQ enough that he wants to bounce ideas off me or ask me those kind of questions."  
In the end though, what it really comes down to is the bond they have built over the last 12 years. It's what brought Kwiatkowski and Centrowitz to Oregon in the first place; what has given them support as they have pursued their own life goals; and what will continue to connect them in the future, even if they aren't always at Washington.
"Those are the people who have probably had the biggest impact and influence on my life and my personal development," Kwiatkowski said. "These are people, who regardless of where we are 10, 15, 20 years from now, are still going to be the closest people in my life. You just treat them how you would any family member that you love."  
Reach reporter Andy Yamashita at sports@dailyuw.com. Twitter: @ANYamashita
Like what you're reading? Support high-quality student journalism by donating here.