There's a good thing going in the defensive backs room on Montlake. UW defensive coordinator Jimmy Lake's crew of DBs over the past few years has turned into one of the premier units in the country, and the current wave of secondary stars for the Huskies has been one of the best yet.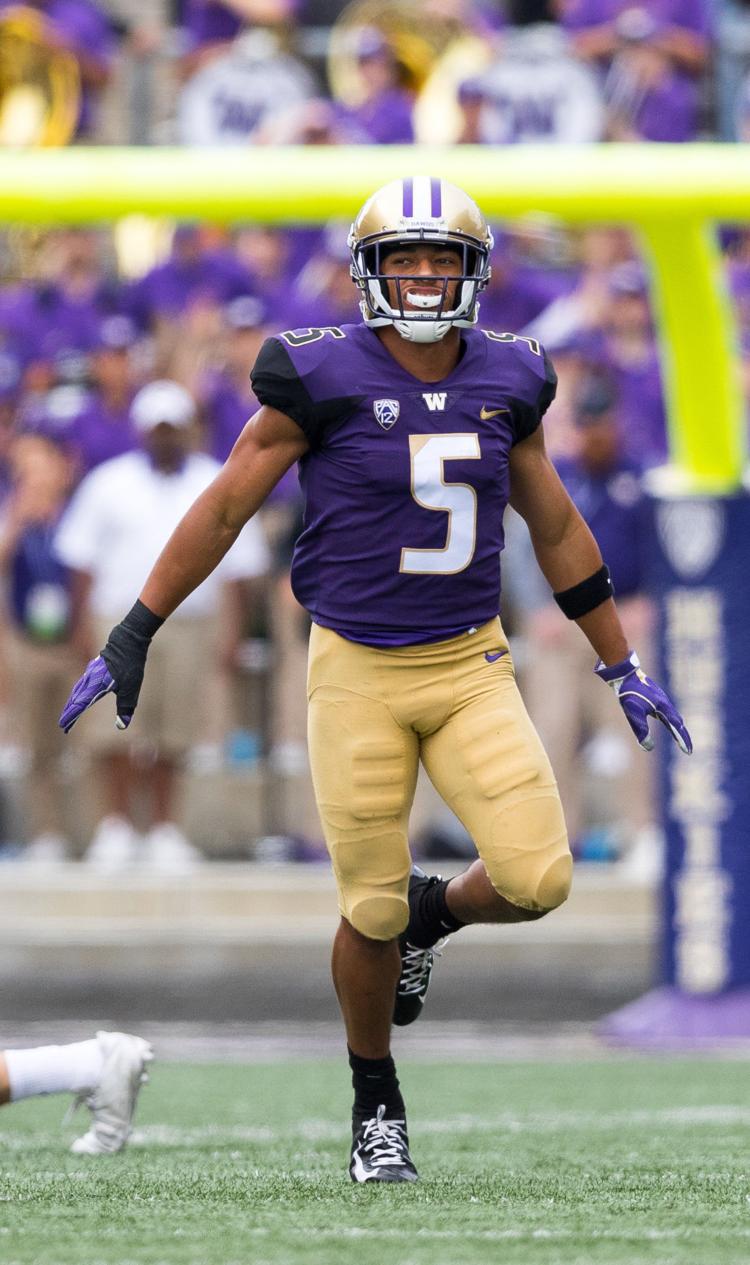 Myles Bryant — The Film Scholar
Jimmy Lake remembers how he used to study film as a defensive back when he was a player.
"Back in my time, you'd have to go into the office, sit there, and watch a projector," Lake said. "Now it's way different."
Safe to say, technology has changed the preparation game, and perhaps nobody in the defensive backs room has taken advantage more than Myles Bryant
Like most UW students, Bryant has an iPad to study on. For the junior out of Pasadena, California though, studying is football related — tape both of himself and upcoming opponents
"You have to have a balance," Bryant said. "Definitely fixing what you have to fix yourself technically, but then you also have to know what the opponent is doing. I'd say I [split it] about 60/40, leaning toward the opponent.
And like for any student trying to memorizing names, dates, and formulas, it's not a case of watching a game one time over. By the time Saturday rolls around, Bryant has watched enough film to know his opponent's offense inside and out
"It's sort of like shooting free throws," Bryant said. "You just keep repping and repping and repping until you figure out what the offense is going to do. Then you go out there, and you're confident with what you see. You put it out on the field, and you can go out there and make plays."
Bryant wouldn't say exactly how much time he speds on a given day watching film, but Jordan Miller jokingly described him as a "headcase" when it came to studying film. Headcase or no, the preparation paid off last season for the man tasked with replacing Budda Baker
In 2017, Bryant logged 33 tackles, hauled in a pick-six against Colorado, and led the Huskies with eight passes defended. Through three games this season, he leads the secondary with 19 tackles, and a lot of it comes back to all of those hours during the week on his iPad.
"The best players that we've had here have watched a ton of tape, whether it's on their own or coming into my office, extra film time," Lake said. "That's what he does, and that's what our best players have done for years. It's awesome for the young guys to watch a guy prepare that well, and they see the dividends that it's going to bring."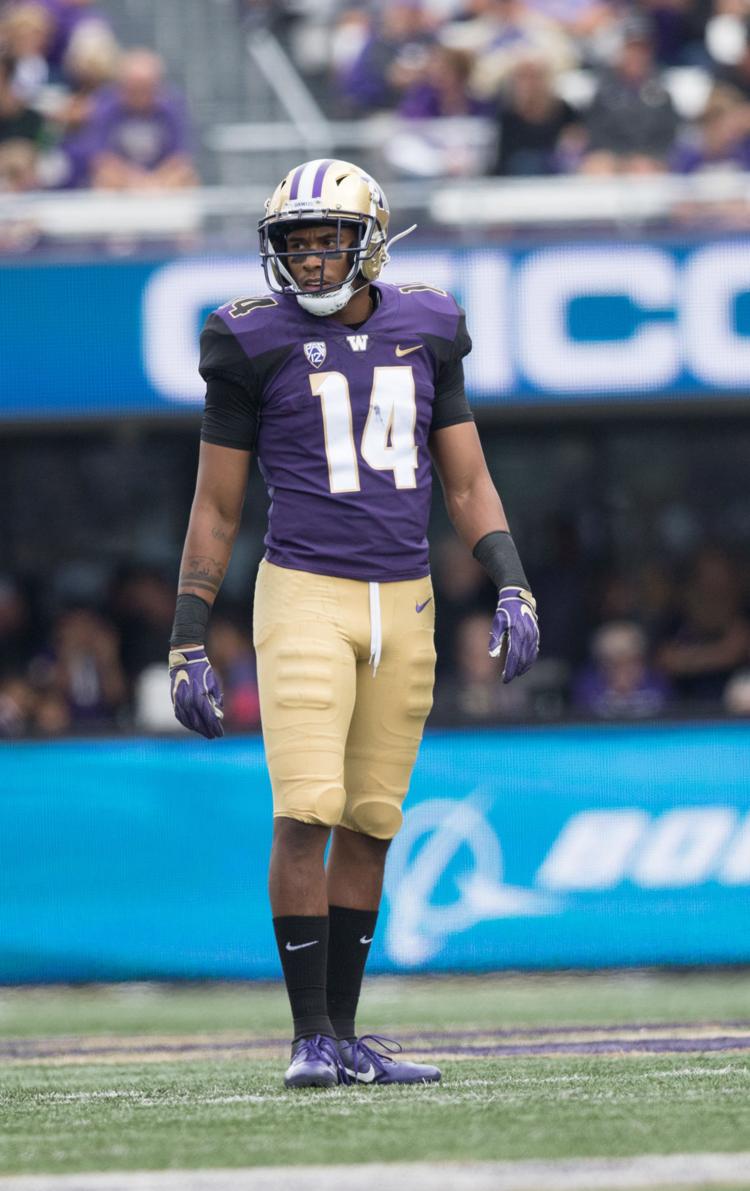 JoJo McIntosh — The Boom
According to the UW coaches, the key to tackling and hitting hard lies not in strength or ability, but in the mental side of things.
"Hitting people is more of a mindset," JoJo McIntosh said. "If you think you can hit somebody and you think you can hit them hard, then you will. Coach Lake says that tackling is 80 percent mental and 20 percent talent, so it's just a mindset."
Apparently, McIntosh really, really believes he can hit people.
With Ezekiel Turner graduating after last season, Washington lost half of its "Smash Brothers" at safety, but McIntosh is back for his senior season, carrying the flag — or rather, the hammer — for his friend.
So far this season, McIntosh has seen his role change a bit with a move from strong to free safety, patrolling the middle of the field over the top and playing deep zone instead of stepping up to hit receivers over the middle. Not that he has much of a problem with that.
"It's what's been working, and that's how we've been running," McIntosh said.
But McIntosh has still had plenty of chances to lower the boom. In Washington's season opener against Auburn, the Californian came through with seven tackles, the most since his sophomore season.
When the Huskies played Utah in Seattle last season, McIntosh went a bit too far, putting the crown of his helmet into Troy McCormick Jr. in a huge hit that was ruled to be targeting.
In the rematch in Salt Lake City last Saturday, McIntosh doled out more than his fair share of punishment, laying the lumber on multiple times to break up passes. This time, everything was clean — but just as physical.
"That's the way we play," Lake said after the game. "We play physical. When we drop off into zones and they try to fit footballs into tight windows, that's what's going to happen. It's going to be a big collision, and if we do it cleanly, it's going to work out for us."
Taylor Rapp - The Swiss Army Knife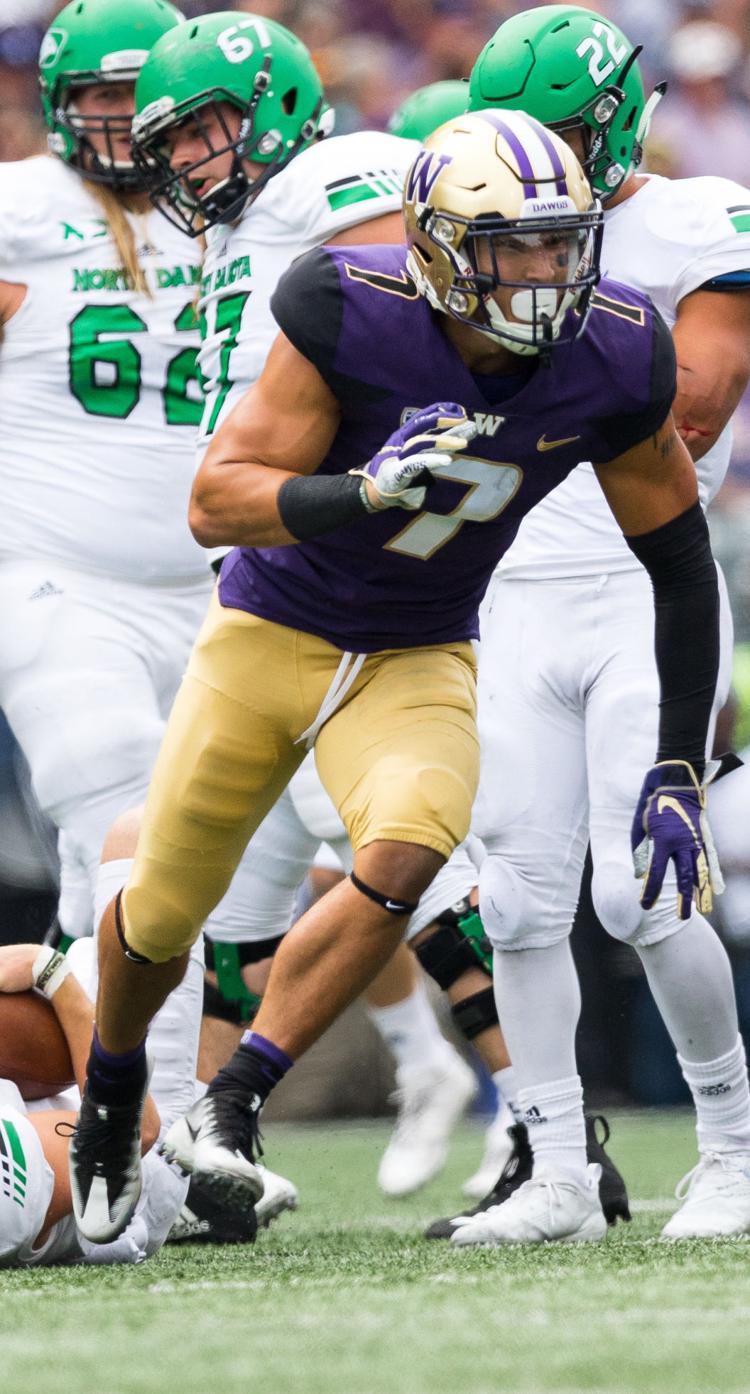 After starting as a true freshman in 2016, Taylor Rapp has most of the skills necessary to play safety mastered. In his freshman season, he played free safety almost exclusively, honing his skills next to Budda Baker, Sidney Jones, and Kevin King. As a sophomore, Rapp moved around a little more. But this season, he has played free safety, strong safety, nickelback, and the latest development has been his ability to get to the passer off the edge.
"This offseason there was a big emphasis on learning pass rush moves and we love coming off the edge and blitzing," Rapp said.
And so far, when defensive coordinator Jimmy Lake has called blitzes for No. 7, it's been effective. In his last two games, Rapp had three sacks. In 2016 and 2017 combined, Rapp totaled just two sacks, and despite not getting the passer down against Utah, the Huskies sent Rapp several times to pressure Tyler Huntley and force errant throws.
"We're going to continue to move him around and do different stuff with him," Lake said. "We have to utilize one of our better players to get to the quarterback and then in coverage play man and shut guys down."
When the Huskies send a blitz, the clock starts to tick in Rapp's head; he knows that Washington is sacrificing some coverage when it sends one of its touted defensive backs. But he trusts his coach to make the right defensive calls, and he has the luxury to trust guys like Byron Murphy, Jordan Miller and JoJo McIntosh to cover for him if he doesn't get to the quarterback quickly.
"Whenever we send a DB, the ball is going to be out quick," Rapp said. "The blitz has to hit home, and get to the quarterback fast."
The junior safety has been one of Washington's stars for three years now, and with strong coverage skills, and run support ability from the defensive backfield, Rapp has only added another element that makes him one of the top safeties in the country this season.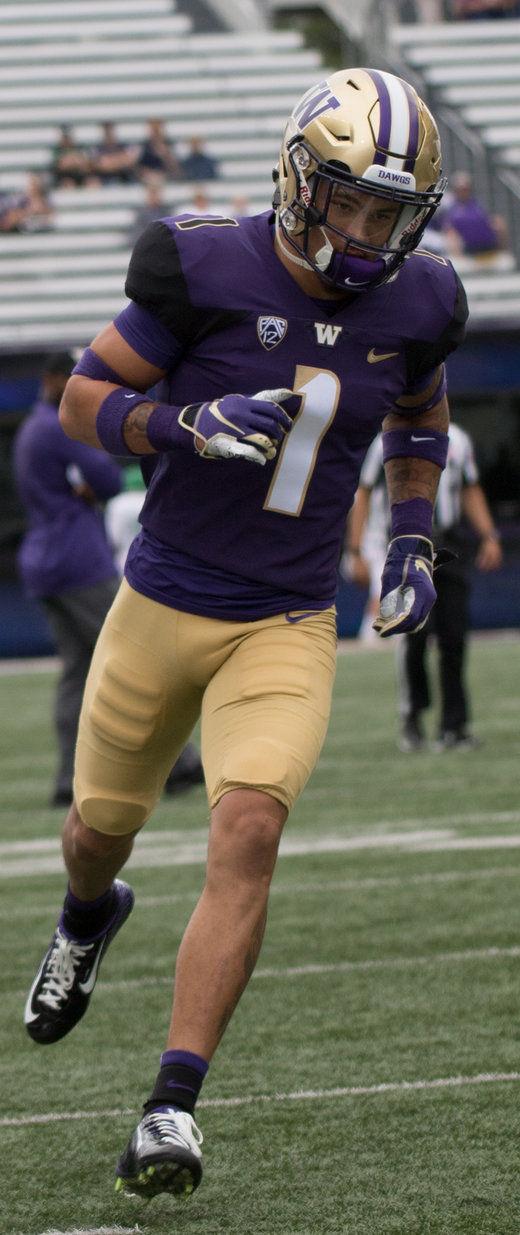 Jordan Miller and Byron Murphy - The Brothers on the Outside
Byron Murphy was first. In the week leading up to last season's matchup with Colorado, it was announced that the young defensive back would miss significant time with a foot injury. Then, against Arizona State a few games later, Jordan Miller was lost for the season due to a broken ankle.
Murphy would come back late in the season and play three games for the Huskies, but missed over half of his first season in purple and gold.
"It was hard for me because the injury was something that put me down at first," Murphy said. "So I had to learn how to stay positive, stay with the trainers and keep working hard and getting back on the field."
Murphy first met Miller on his official visit to the UW before he enrolled, and said that Miller helped him understand the culture and the way things were run back in 2016, his redshirt year in Seattle. It would have been easy for Murphy to get down on himself after waiting a whole year to start with the Huskies, and then coming down with an injury just three games into the season. But with Miller's help, Murphy got through the injury and came back later in the season.
"That helped me a lot, we got really close," Murphy said. "You know Jordan, he always talks, he always texts, he is always really positive about our situation. Injuries are going to happen in football, you just have to make sure you stay positive and control what you can control."
Then, four weeks later, Miller came down with an ankle injury of his own. He and Murphy had already been close up to that point, but as both battled through injuries, they grew even closer than they were before.
"I would definitely say that brought us closer together," Miller said. "We had some good conversations about the injuries and our mindset and stuff like that. When he went down I told him you are going to be back soon, it's going to be quick, and the same thing happened when I went down."
Both went through injury pains, both in their rehab and in their competitive spirit, watching from the sidelines. Murphy, who just started his career, was sitting out just three games into his season, and Miller was missing time during his first chance to start for the Huskies.
"I had some humps along the way, it was a long road," Miller said. "After about a month I was good, but I had a lot of time to think about my ankle while I was out, you just have to make sure you stay positive."  
Both stressed positivity, and said that they helped each other get through and attack their rehab. On the field this season, expect the two to be chirping at each other too, as they are roommates on road trips to rival schools, and have developed one of the strongest relationships on the team.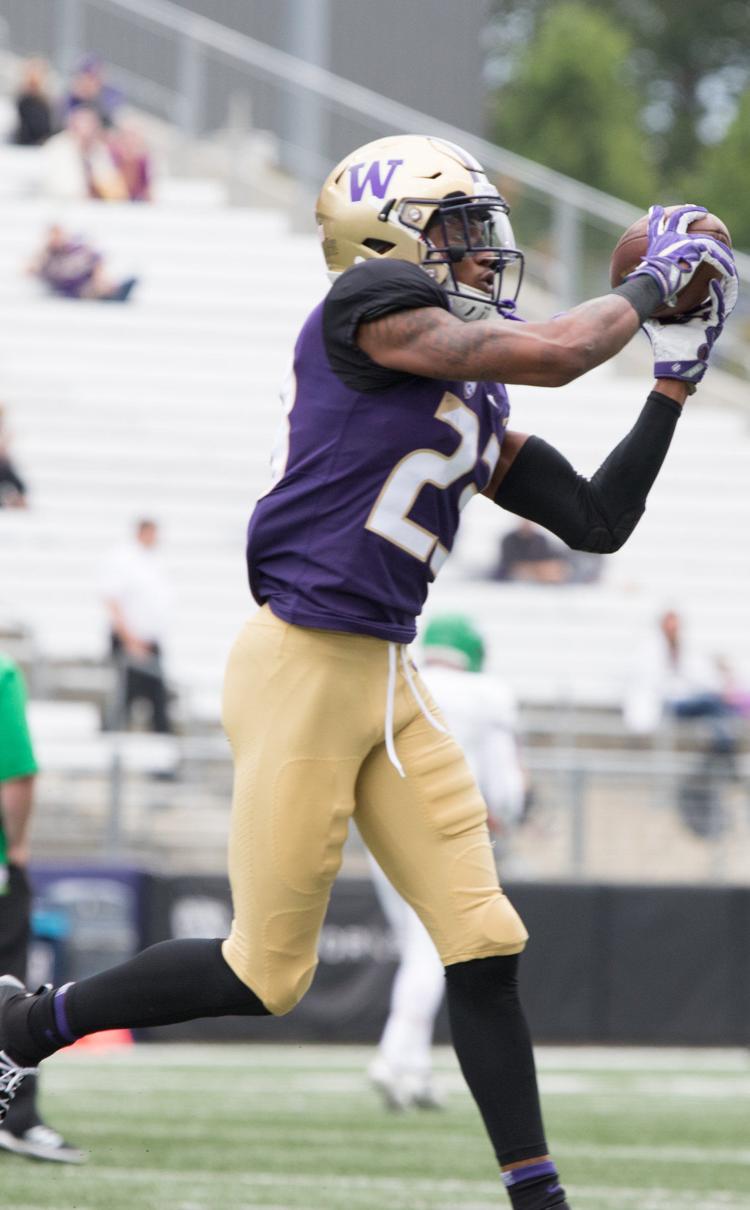 "That's my guy," Miller said. "As soon as he got here, he's always been someone I've been close to. He's been my roommate at road games and even home games at the hotel, it's always a guy I hang out with almost every other day. We feed off each other, we talk smack with each other, it's just how we are."
"J-Mill" and "B-Murph," as coaches and teammates call them, have already contributed greatly to the UW's defensive success as starting cornerbacks. Miller brought in Washington's first interception of the year last week against Utah, and Murphy was making hits that jarred the ball free from receivers who otherwise would have caught the ball.
"That's what he does," Miller said. "He's always around the ball making some kind of big play every game. I expect nothing less from him, honestly."
The two are close, but Miller says that it's all about the culture Chris Petersen and Jimmy Lake have created, as the fifth-year senior looks to end his career at the UW on a strong note this season.
"It's a family," Miller said. "It's so evident from top to bottom, freshman to senior, we all love each other, we all want each other to succeed. It's kind of always been like that, but I feel like it's grown as I've been here longer."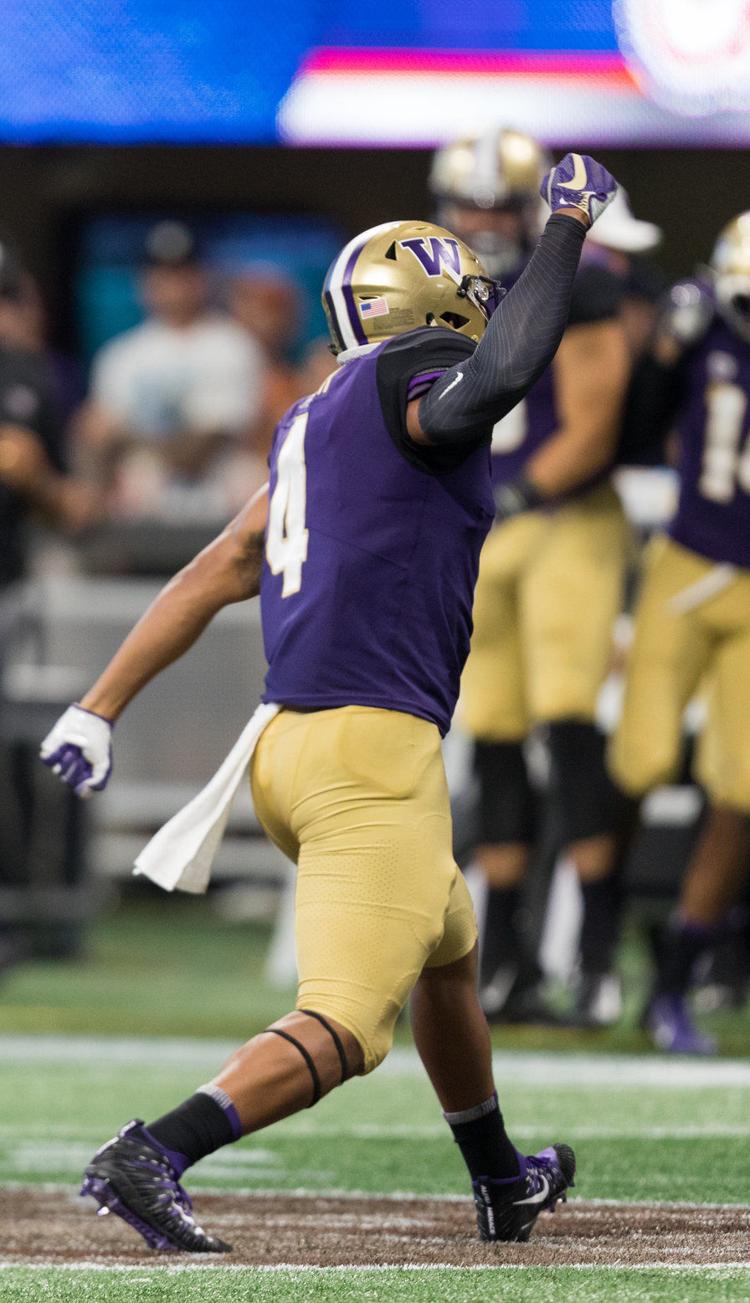 Austin Joyner — The Wildcard
In a position group so deep, there has to be one odd man out at any time. In the starting five for the Huskies so far, it's been Austin Joyner. But that doesn't mean he hasn't been seeing the field in droves.
Far from it. Jimmy Lake needs his wildcard.
Last season, Joyner lost out on a starting job at cornerback to Miller and Murphy, but stepped up immediately as soon as Murphy went down.
For the rest of the season, Joyner more than held his own on the outside, leading the secondary with eight tackles for loss.
With both corners returning healthy this season and Ezekiel Turner's graduation, Joyner switched to safety, stepping up as the most dangerous man off the bench in the Pac-12.
"I've seen Austin be able to pick up the defense real fast at every position," Myles Bryant said. "He's been here for awhile, so he knows the ins and outs of every position, and he's able to play each position technically well. We can put him anywhere and he'll fit right in and make the play."
And with Joyner providing the depth, Lake has taken the opportunity to push the envelope with even more DBs on the field at any time, moving the senior out of Marysville all around.
"He played four or five different positions [today]," Lake said after the North Dakota game. "That was pretty cool."
In the Huskies' win over Utah, Joyner played a huge role factoring into the six- and seven-DB sets, ranging from free safety to rushing off the edge like an outside linebacker.
"Offenses don't like that," Lake said. "They'd rather those guys go back, stay back, and cover, and just worry about the guys with their hand in the ground. I think the more deception we can do, the more guys coming off of the edge and blitzing inside, causes the offenses to work on a lot of things and hopefully open up pass rush lanes for other guys as well."
And with Joyner's size, speed, and experience all over the field, he's become a star at doing things offenses don't like.
Reach Sports Editor Josh Kirshenbaum and Assistant Sports Editor Alec Dietz at sports@dailyuw.com. Twitter: @J_Kirshenbaum, @AlecCDietz