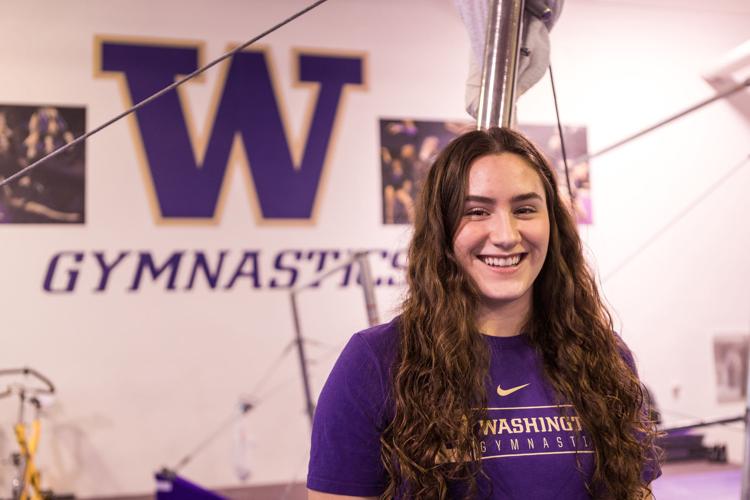 Last year, the Washington gymnastics team made it to the national stage for the first time in 19 years, before sophomore Madison Copiak was even born. But for Copiak, the big stage was familiar. 
The summer before joining the Huskies, Copiak was named an alternate to the Canadian Olympic team. While she didn't travel to Rio in 2016, her experiences with Team Canada go far beyond the Olympic trials. 
Copiak first competed as a senior gymnast on the international stage at the 2014 Pan-American gymnastics championships. The next year, at the Pan-Am games in Toronto, she was part of the Canadian team that won a silver medal in team all-around. 
"Pan-Am games [were] a lot of fun because it was a big team," Copiak said. "It was kind of like a college meet, because you get to be with your team, your team is supporting you, and you're doing it for your team."
Leading up to the Olympic games, Copiak competed for Canada at the Gymnastics World Cup in Glasgow, as well as just up I-5 from the UW at the Pacific Rim Championships in Everett. There, she came in fourth on the uneven bars behind American Olympic alternate Ashton Locklear, who won gold, and Canadian teammate Brittany Rogers, who won bronze. 
Copiak's skill on bars made her a strong contender for the Olympic team, and after nerve-wracking trials, she was named as an alternate for Team Canada.
"I was happy being an alternate, because that's still an important role," Copiak said. "I still went to the training camp, I still pushed people, and pushed lineups. I showed up and that made everyone else push themselves."
Copiak joined the Huskies as a member of the beam lineup, and was added on bars to success later in the season. At the tail end of the season, away at Oregon State, she scored a season high 9.900 to win the bars title. Her bars performance at the National Championship, a 9.850, was enough to be named a Second Team All-American on the event. 
While Copiak has traveled across the Atlantic to compete for her national team, and competed in front of a home crowd in Toronto in the 16 years she's been doing gymnastics, going to the National Championship as a Husky is one of the most exciting memories of her career. 
"It was such an effort for the whole team," Copiak said. "Everyone bought in, and then when we finally reached the goal, it was so satisfying. It just reaffirmed all the hard work we put in."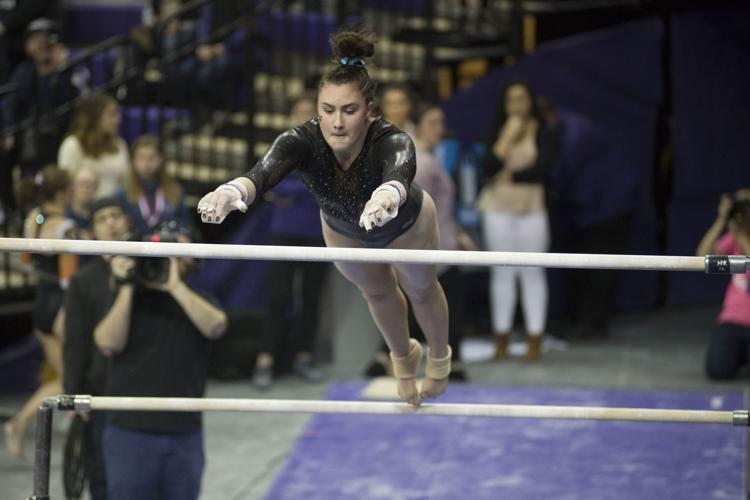 This year, Copiak hit her career high score on bars again in the first week of the season, at Elevate the Stage. She set a new career high against Oregon State again, this time on beam with another 9.900. 
Copiak now competes on three events, after adding beam to her repertoire of vault and bars this season, but bars is still her favorite. 
"When I'm at the chalk, I always have my back to the bar set so I can kind of focus and not see anyone, or the person who's going before me," Copiak said. "I'm just kind of talking to myself, and then I always look at a teammate and kind of nod to reaffirm my abilities and capabilities."
Copiak emphasizes the mental discipline as the most important aspect of her gymnastics, something that has been echoed by her teammates this season. 
"You learn to be very mentally tough, disciplined," Copiak said. "You learn to block out things, and don't let the little things distract you."
Copiak blames her tough Olympic trials on letting her nerves get to her, but those nerves are something she's learned to better control at the UW. It's also one of the things she hopes to take beyond gymnastics, which is a sport that rarely extends past college graduation. 
But for Copiak, graduation is still two years away, and she has a lot she hopes to accomplish as a gymnast. She's looking for perfect tens on bars and beam, and helping the team reach the national stage is a focus as well. 
"This season, the biggest goal is to go back to Nationals and make Super Six," Copiak said. "So we have a whole bunch of little goals that break it down throughout the year, we have a little roadmap. Right now it's really zoning into those little goals so we can get to that end goal."
Reach Managing Editor Hailey Robinson at sports@dailyuw.com. Twitter: @haileyarobin