I've never been much of an outdoors person, but there's nothing I wish I could be doing more than sitting in the Quad enjoying the afternoon sun. Since the only time I leave my 600 square foot apartment is to head to the grocery store, I decided to document my brief quarantine walks and focus from the ground up. There are so many new things you notice just by changing your perspective. 
From the spring blooms along the sidewalk, to jumping into muddy puddles, to precariously setting my camera at the edge of University Bridge (twice), here's a brief look at my last few weeks in quarantine. It's the beauty in the small things that helps me stay sane during this strange and scary time.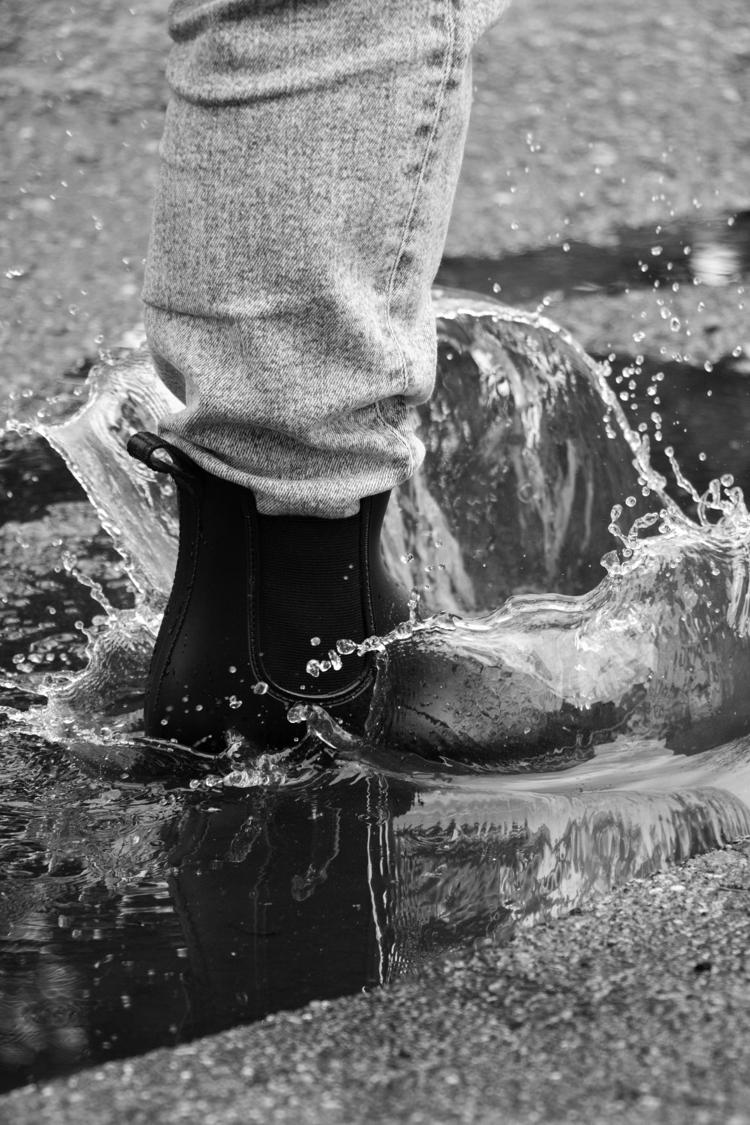 On my way to work, I often have to walk through a large puddle just outside my apartment. As of April 20, 2020, this has been Seattle's driest April since recording its weather. Previously, the driest April was 1939, with just 0.16 inches of rain.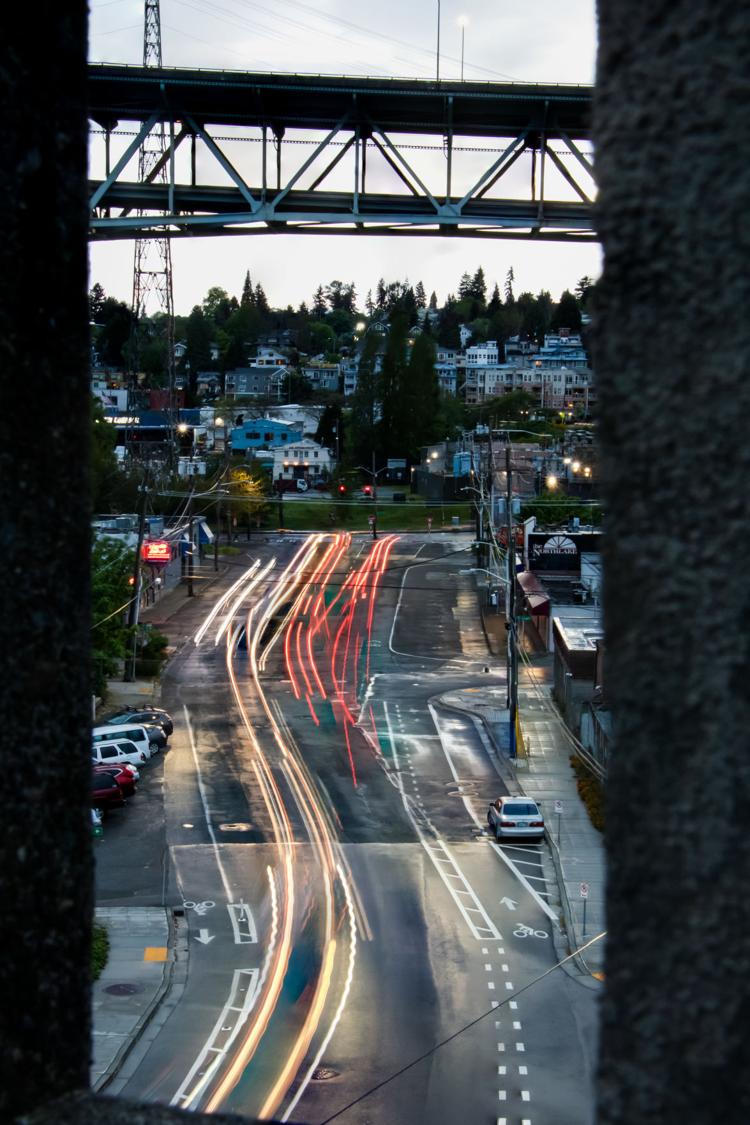 Cars drive on NE Northlake Way, photographed through the guardrail of the University Bridge just after sunset on April 29, 2020. In the distance, stand Wallingford apartments and the Ship Canal Bridge.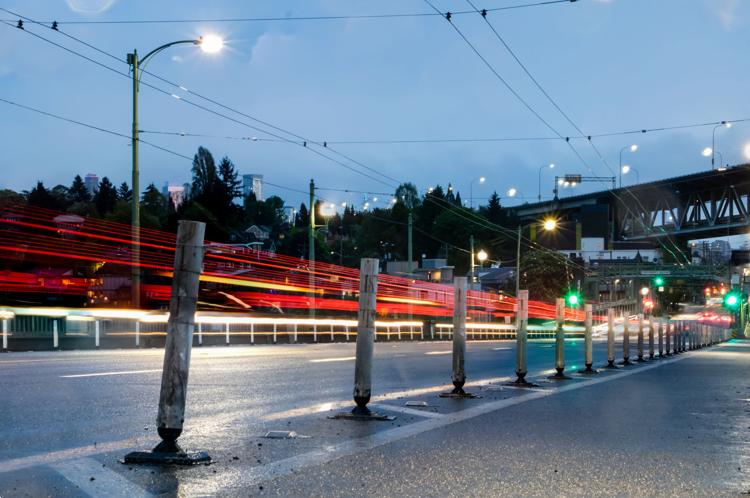 Cars drive over University Bridge just after sunset on April 29, 2020. The bridge, which opened on July 1, 1919 (and was reconstructed from 1932-1933), connects the University District and Eastlake.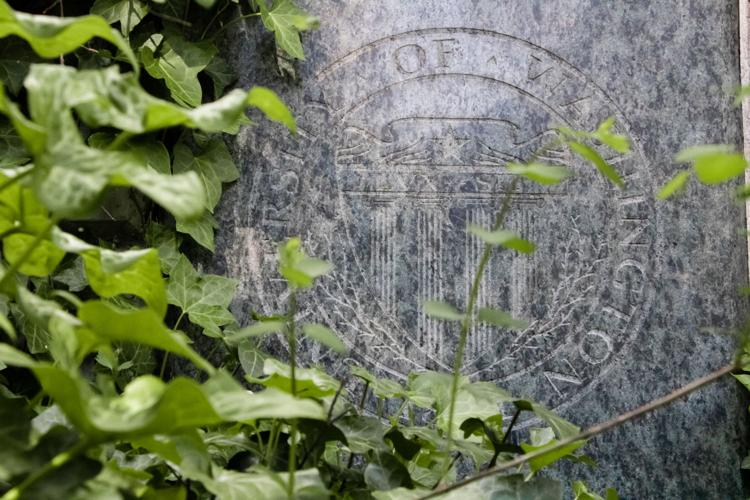 Foliage surrounds a stone engraving of the university seal near Sylvan Grove. In-person classes have not occurred since March 9, 2020. All Spring and Summer quarter study abroad programs have been cancelled, and commencement for the class of 2020 will be held virtually.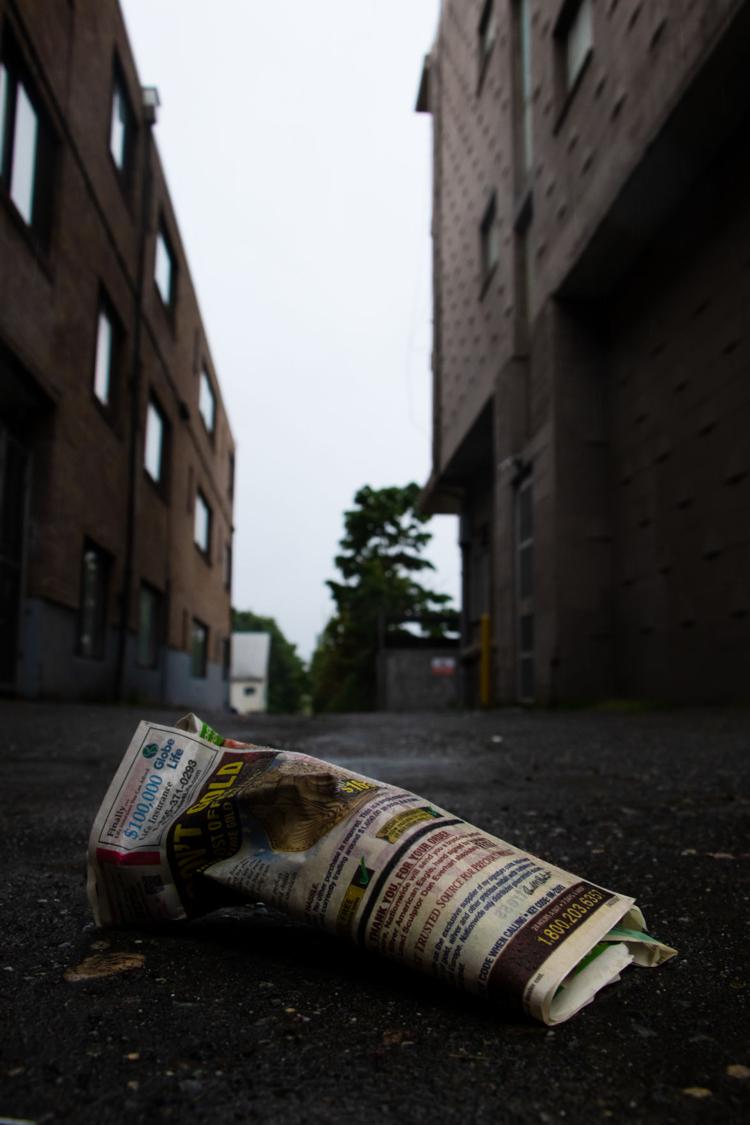 An abandoned newspaper lies in the alley behind Portage Bay Cafe on April 29, 2020.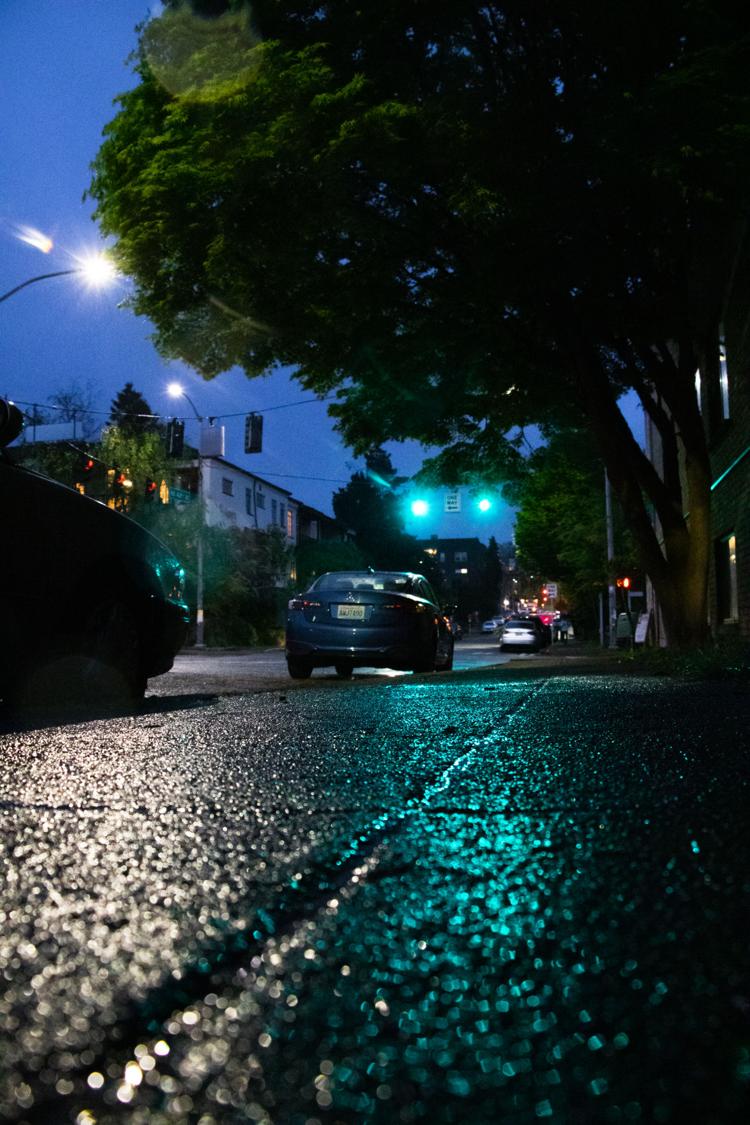 An evening shower on April 29, 2020 leaves the pavement along 42nd street wet, reflecting the green glow of a traffic light.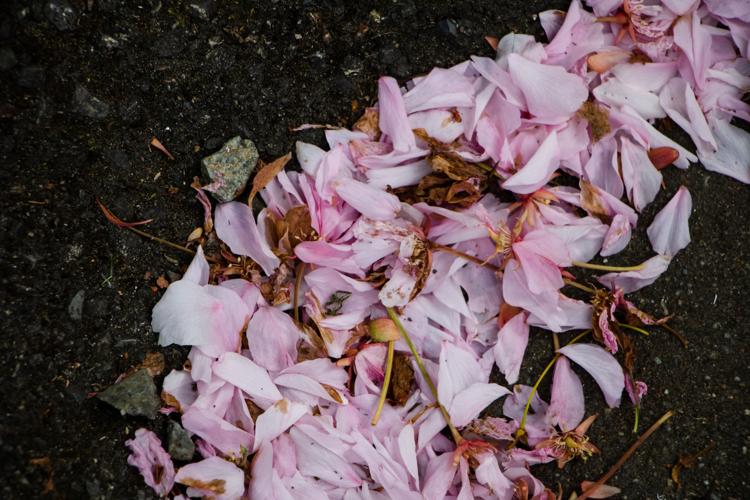 Fallen cherry blossom petals lay clustered on the pavement on 12th Ave on April 29, 2020.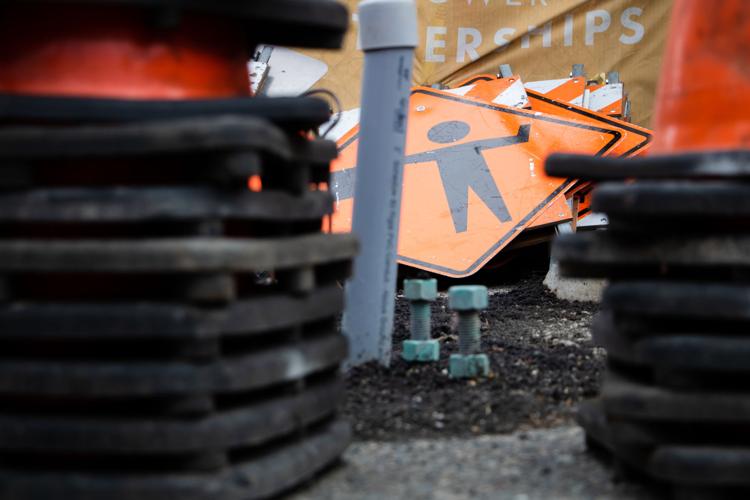 All is quiet at a construction site near University Village. At a press conference on April 29, Gov. Jay Inslee said low-risk construction projects could soon resume, as long as safety measures are in place.
A Link passenger takes the escalator at UW Station on April 19, 2020. Service has been reduced (trains will now run every 30 minutes) due to "fluctuating staffing availability" and "and 87 percent system-wide reduction in ridership," according a statement on the Sound Transit website.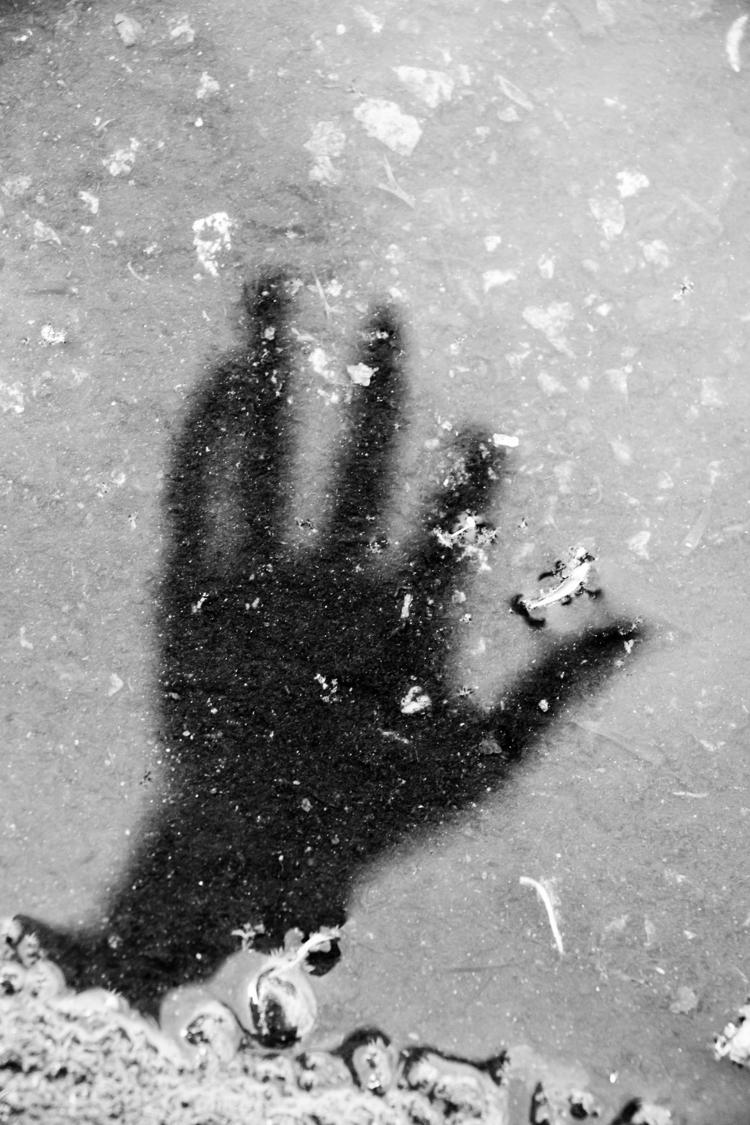 I captured my hand's reflection in a puddle outside my apartment in the University District. As a junior, I faced the stress of taking some of my most difficult major requirements online. I've often turned to my friends and family to relieve the mental stress the unprecedented adjustment to online classes has caused.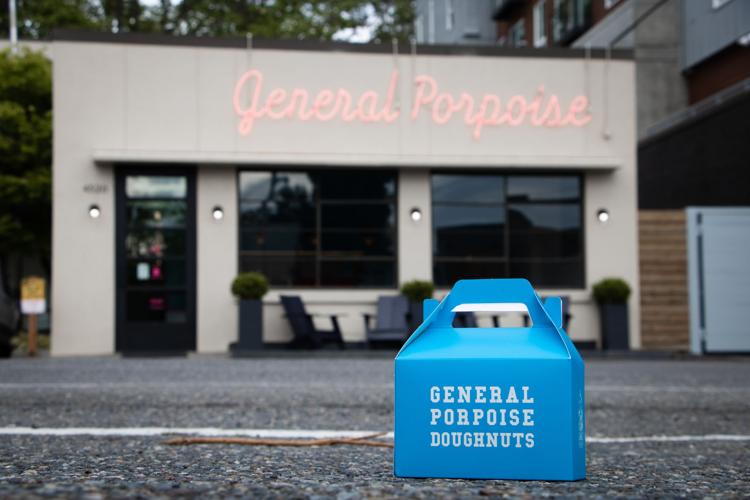 An empty takeout box sits in front of the General Porpoise storefront on April 28, 2020. The doughnut shop has four locations (Capitol Hill, Laurelhurst, Pioneer Square, and the Amazon Spheres), but due to COVID-19, only its Capitol Hill and Laurelhurst locations are open.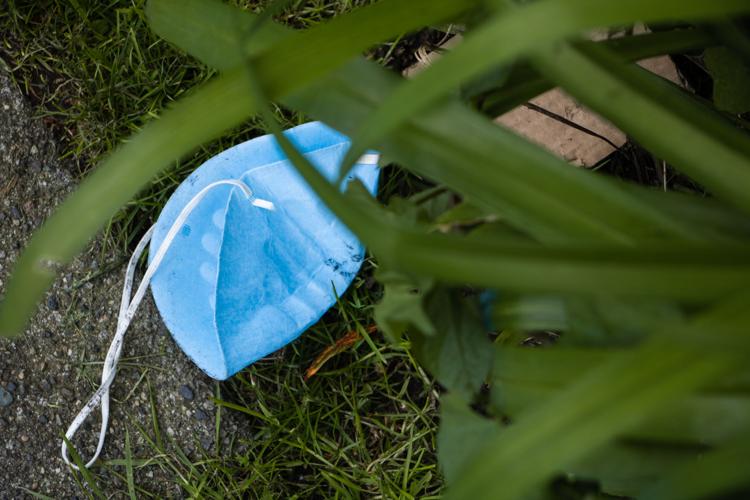 A discarded face mask lays on the sidewalk on 42nd street. Various state and national guidelines recommend wearing face masks in public to prevent the spread of COVID-19.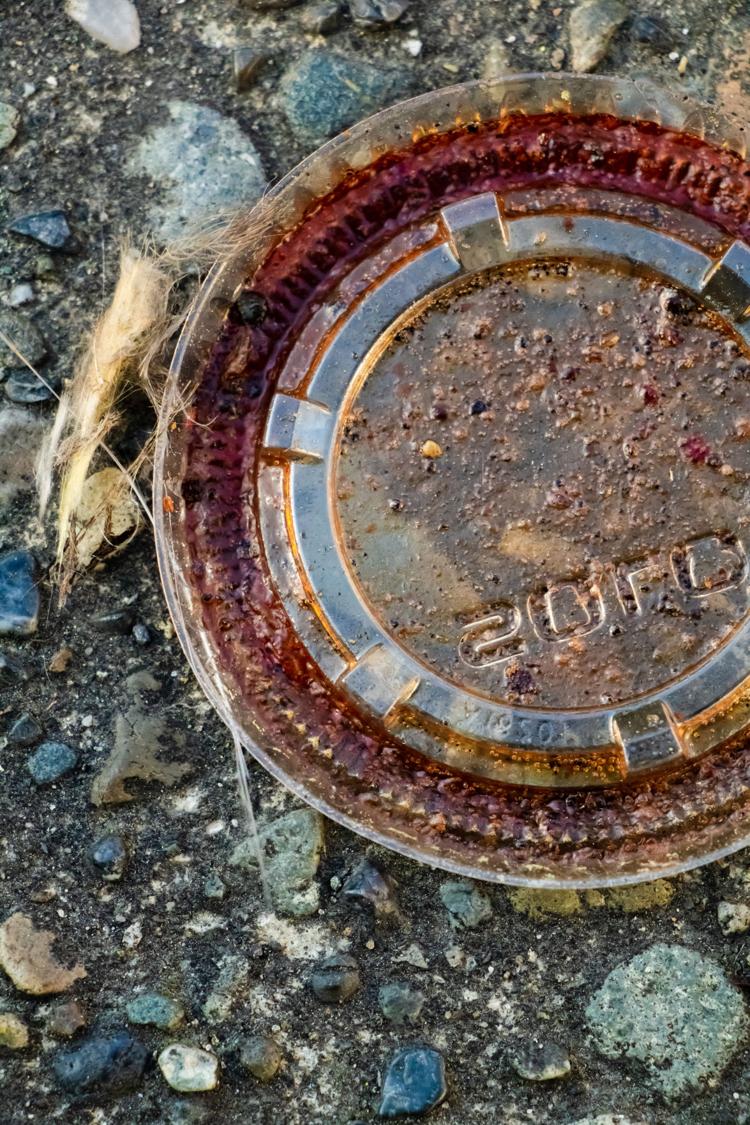 A discarded sauce container lid lies on the pavement near West Campus on April 19, 2020.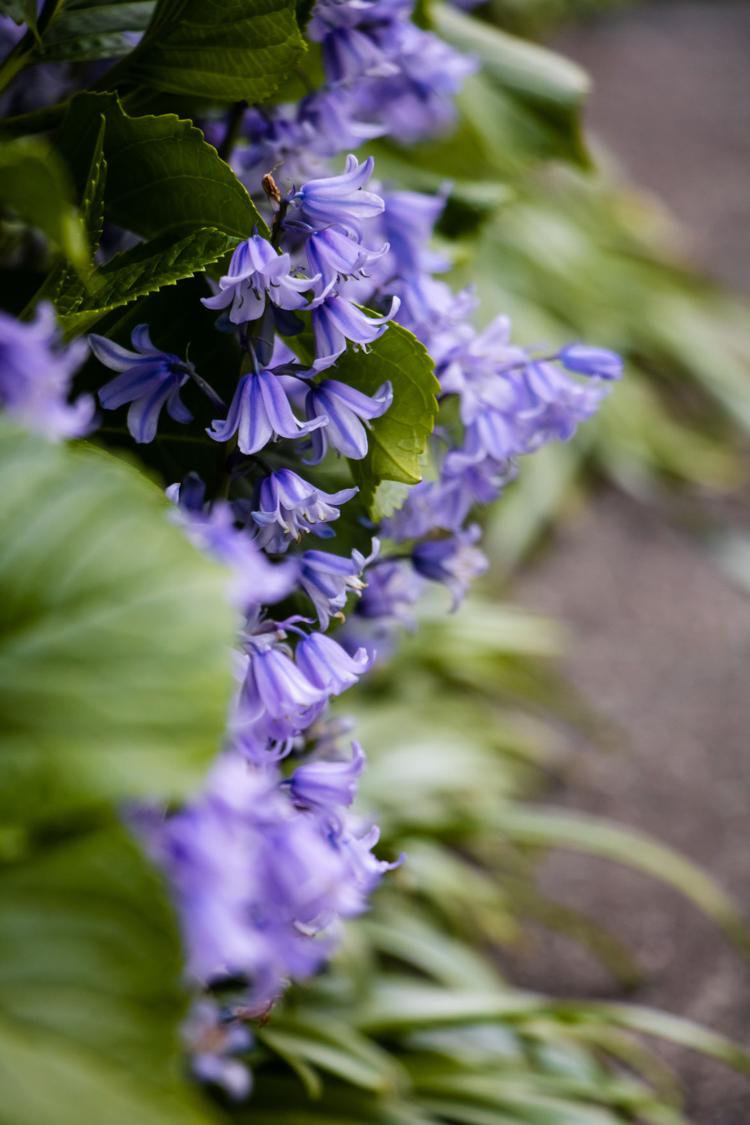 Clusters of bluebells line the pavement on 12th Ave. With restrictions on many public places, one of the few places people can freely enjoy is the outdoors.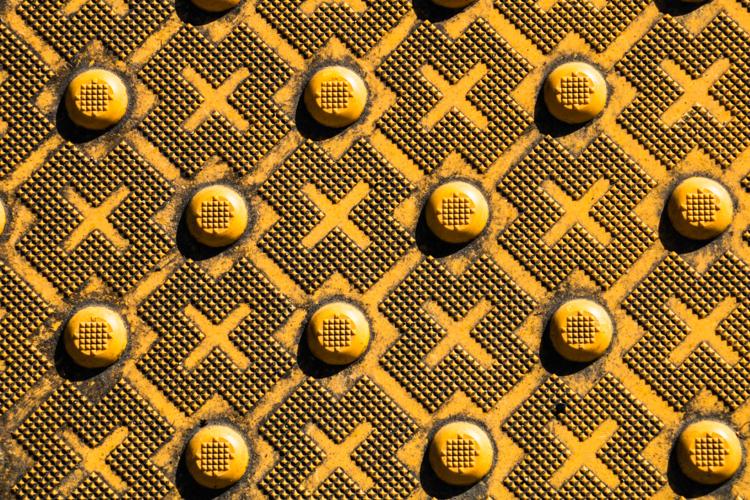 Yellow bumps on the sidewalk serve as tactile paving (paving that can be felt). It helps visually impaired pedestrians detect when they are about to move from the sidewalk to the street.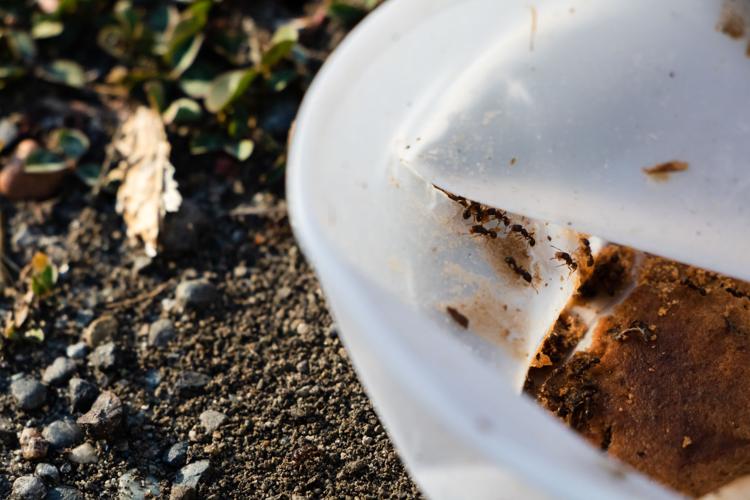 Ants feed on the contents of a discarded sauce container near West Campus.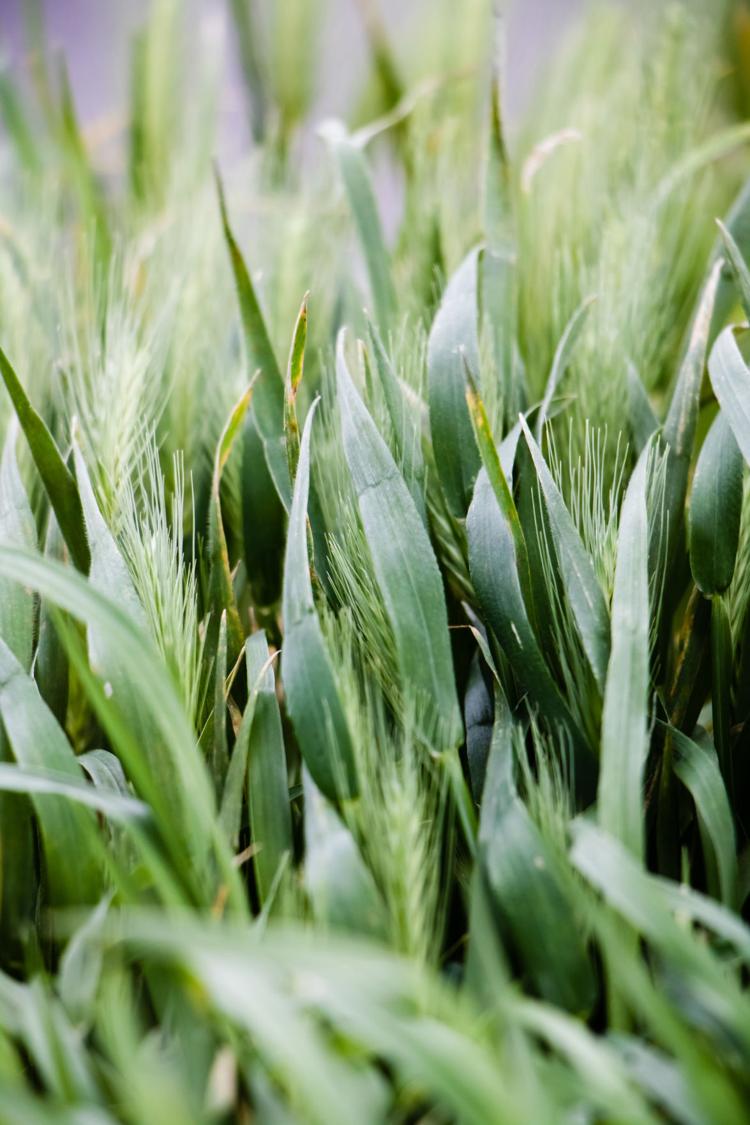 Passing traffic ruffles a grassy patch on the sidewalk of 45th street.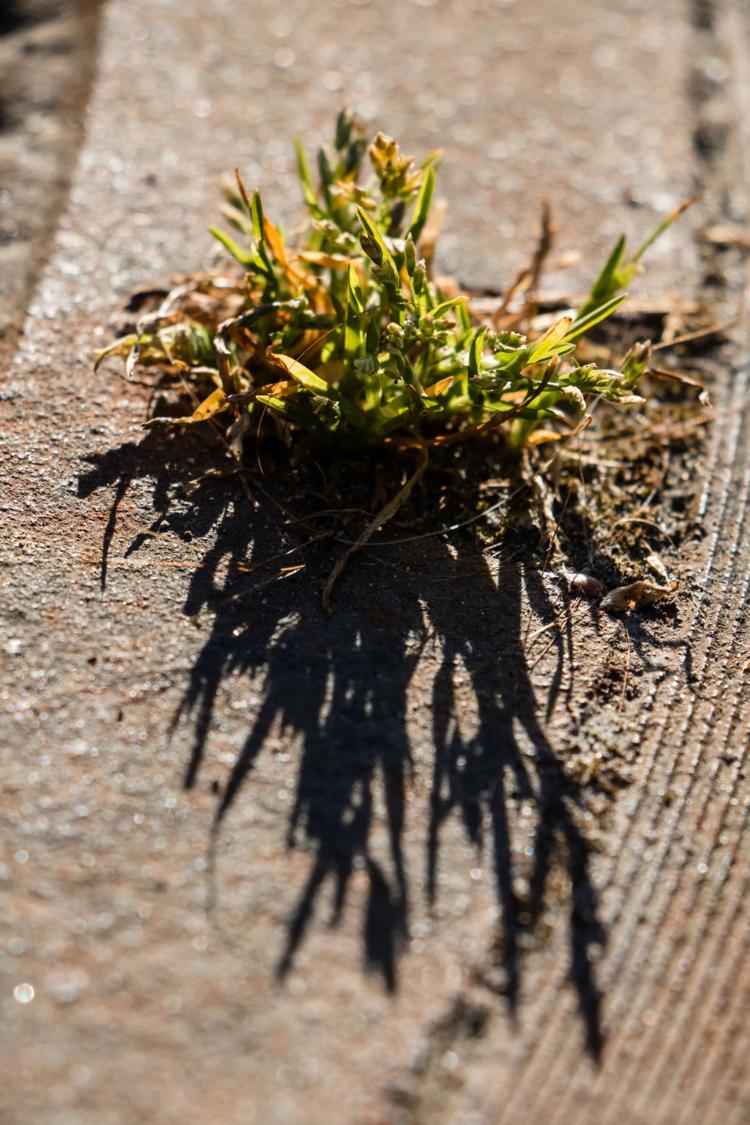 The afternoon sun casts a shadow on a patch of grass peeking through the sidewalk in West Campus.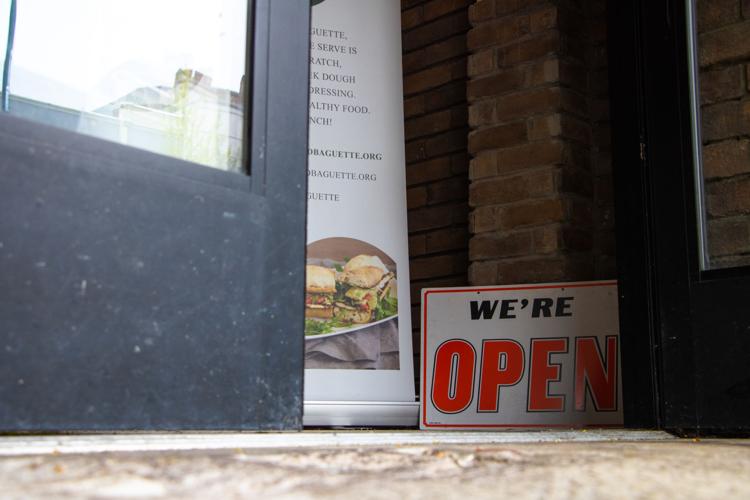 An open sign lies at entrance of Byrek and Baguette on the Ave. Due to Governor Inslee's stay at home order, many restaurants only offer delivery and take-out options.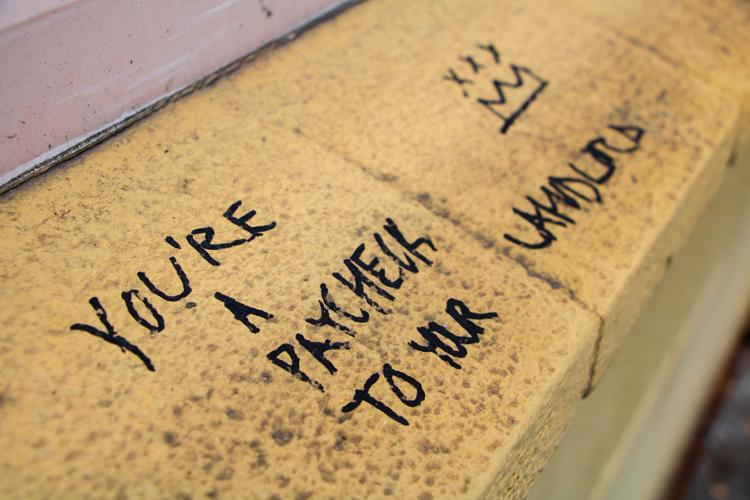 A cryptic message reading "You're a paycheck to your landlord" marks a building on 12th Ave on April 29, 2020. UW students who had job shifts cancelled due to COVID-19 are now scrambling to pay rent.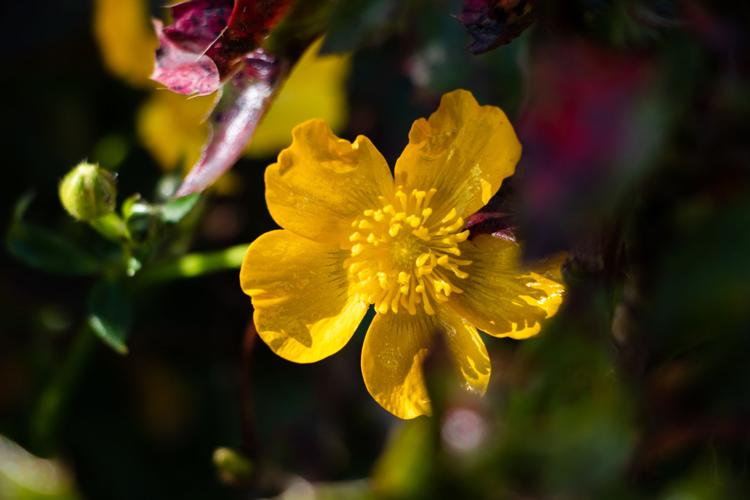 Left: A buttercup lines the pavement across from Husky Stadium. The uncertainty of COVID-19 has kept decisions about the upcoming fall football season in flux.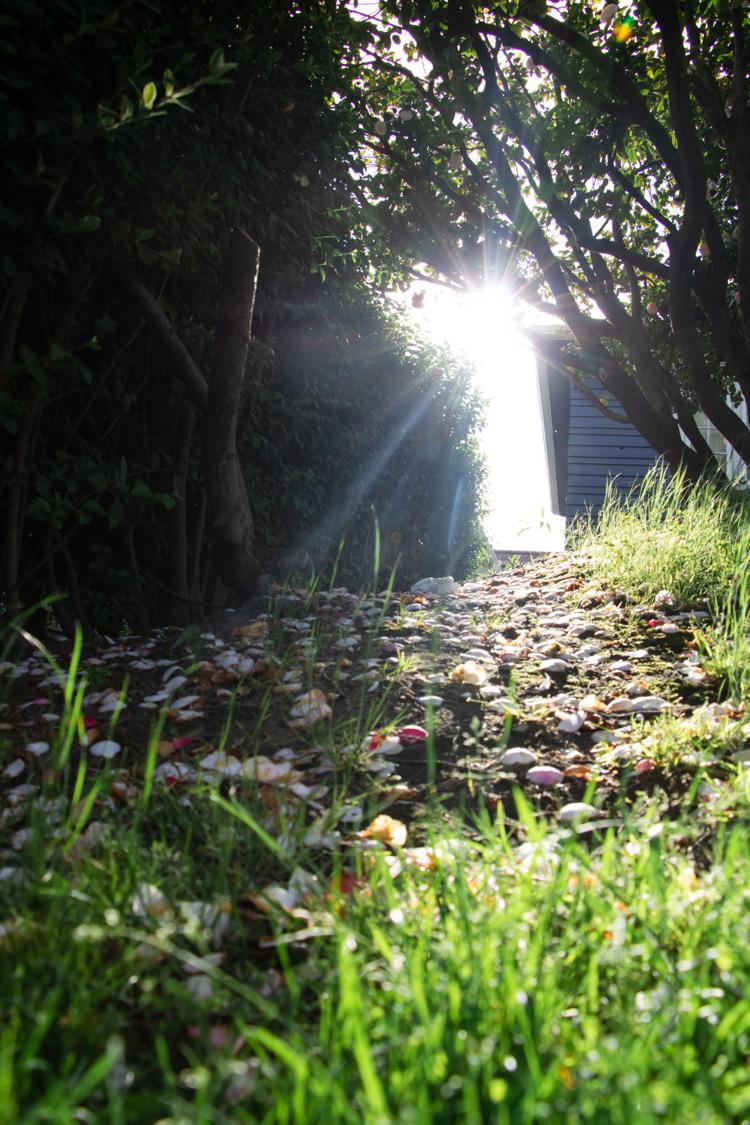 Below: Broken glass litters the pavement of Pike Place Market. One of Seattle's most popular tourist destinations, the 103-year-old farmers market was nearly empty due to COVID-19.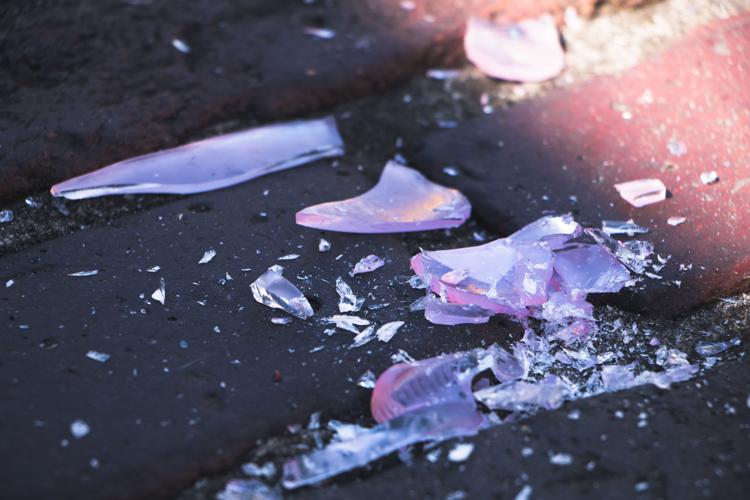 Above: Sunlight streams through overhead branches to illuminate a house lawn on 12th Ave.