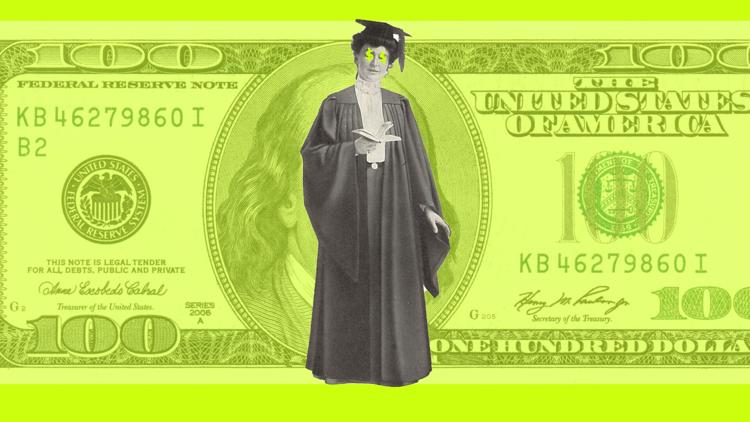 The graduation gown: overpriced. A one-time purchase. Something only worn once or twice in its short lifetime. Yet, almost everyone who's completed higher education is required by their university to don some sort of multicolored regalia. At least, until now. 
The coronavirus pandemic has forced most universities in America, including the UW, to reschedule or cancel in-person graduations completely. As a result, many of the expenses associated with finishing a degree have been made optional.
Students are encouraged but not required to purchase gown sets. They're unisex, with tassels and stoles representing different achievements. There's cultural heritage, academic merit, extracurricular activities, and even themed gear for all us LGBTQ+ and queer folks.
I chose to buy a gown, because it feels good to have something tangible that represents my achievements over the past four years. I battled depression and sometimes horrible grades, but I made it through. Wearing my cap for a photo op or just to hug my parents and girlfriend helps me feel like my time has been worth something, even when it felt like it wasn't worth it at all.
But for others, the decision to shimmy on a thin opaque robe representing academia might not be so obvious. Academic regalia is a longstanding symbol of privilege that, according to Columbia University, dates back centuries. Gowns were first used to keep scholars warm in big, brooding, unheated academic libraries. But as times changed, so did the meaning of these uniforms. 
Wearing a gown is a perennial status symbol. Access to education is inherently a privilege because it costs money, time, and social acceptance to get an education. By slipping on a gown graduates are acknowledging this, whether they recognize it or not. And even so, academia is notorious for its narrow view of what a scholar should be. White, writing a paper — god forbid the project gets creative — and preferably male. While this view on scholarship is rapidly changing, it should have changed faster and a long time ago.
When students choose to purchase UW graduation regalia, they slap the symbol of their institution on their chests, literally. Students pay to wear regalia and show what the institution represents. In modern times that means posting on social media, parties, and often passing on the legacy of their school to get a job or encourage family to attend.
But the UW has been criticized for its response to social issues in the past, so why should we celebrate a university that prioritizes a certain type of person?
Black Americans have fought to attend school for centuries. The UW doesn't remember when the first black student graduated and the Black Student Union (BSU) acknowledges members were fed up with a civil rights movement in Seattle that saw progress at a snail's pace. At the same time, historically black colleges have adopted academic regalia as standard practice of celebration.
So is wearing a graduation gown a symbol of accomplishment? Or is its meaning deeply intertwined with our perceptions of academia as a status symbol? I'd argue both. Graduation gowns have come a long way in their standardization over the past centuries. Gendered colors are being removed, and there's regalia for people of all walks of life to celebrate who they are and have become.
Now isn't the appropriate time to lament about graduation being cancelled at the UW, but its complete physical absence represents the failure of a large research institute to read a room, and that is indicative of a larger problem.
I still say that buying a graduation gown, or finding one second hand if you can't afford to pay — they're unreasonably expensive for a flimsy piece of fabric, and I have one if you need it — may be a good way to represent your journey through school, even if it's not the best one.
Whether it's reclaiming a space that has stonewalled communities in a racist society, or celebrating challenges you've overcome on your path to a degree, you deserve to take pictures and celebrate your accomplishments. You graduated during a global pandemic and a worldwide protest against racist police brutality. You can riot and protest and preach while also celebrating all that you've achieved.
Reach writer Sammi Bushman at opinion@dailyuw.com Twitter: @sammi_bushman
Like what you're reading? Support high-quality student journalism by donating here.