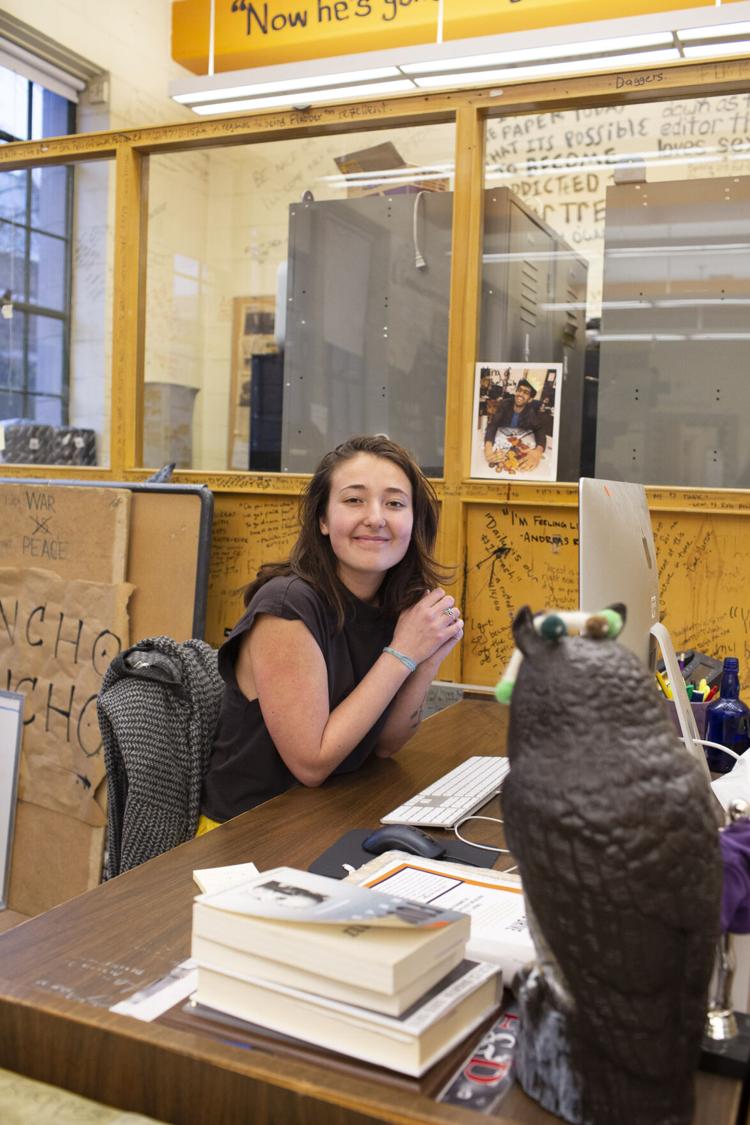 When I was only a young dev kid, I don't think I could have conceived how transformative these last four years at The Daily would be. The Daily has been a place to dive into the deep end and learn to swim. When I picked up my first articles, I had to pretend I knew how to confidently ask professors interview questions until one day, I realized it wasn't as scary as I thought. When I became the wellness editor as a sophomore, I had to pretend I knew how to do a lot of things: edit articles, lead meetings, practice work/life balance, etc. By spring quarter, I realized I was no longer pretending — except maybe with the work/life balance, still working on that one. This year has been pretty much 12 months of leaping into the unknown and giving it all I've got. Now, as the year comes to a close, I feel confident in trusting my own judgement and the support of The Daily community in ways that I couldn't have imagined. 
Summer, fall, and winter had their challenges —  learning how to build community in the newsroom, managing the logistical side of the newspaper, and taking a full course load did, at points, feel impossible — but the impact of the coronavirus on every facet of our lives as students, journalists, and social beings was slightly jarring at the beginning of spring quarter. But with the pandemic, I also observed the resilience of everyone working at The Daily and, though I missed the newsroom, I found myself astounded by what could be achieved from afar. I am so proud of how everyone has adjusted to this quarter, and I hope that it isn't long before the newsroom can be a community space for you all to hang out again. 
To the people who have made my time at The Daily what it has been, I feel deeply grateful. It's been delightful to share time and space with all of you over the past four years. 
To Josh, thank you for being a stabilizing force this year. Your support made the harder days easier, and going from being the youngest to the oldest in the newsroom with you has been a blast. 
To editors graduating this year — Armon, Lydia, Mo, Hailey, Alec — it's been awesome spending time working and hanging out with you. Although looking ahead is somewhat hazy, you all inspire me in different ways, and I'm excited to see what you all do. 
To our copy chiefs — Sam and Trevor — thank you both for the calm and grounding presence you bring to the newsroom. I always felt like I could trust y'all to be the last eyes on articles and to be thoughtful in the decisions you make. 
To the Pacific Wave team — Charlotte, Chamidae, Jenna — working with y'all was one of my favorite parts of the year. Thank you for your creativity, playfulness, and care. I'm excited to see where Pacific Wave goes! To Jenna, thank you for stepping up this quarter to dive into multimedia projects — when we were working on a project together, it felt like anything was possible. 
To rising juniors and seniors — Rachel, Jake, Ash, Kyle, Hannah, Dylan, Billie, Eli, Alex, Soraya, Abby — The Daily is in the best hands I can imagine. It's been inspiring to see each of you become strong leaders, and I can't wait to see what you will continue to do with the paper. 
To past EICs — Rebecca and Andreas — y'all are some of my best friends, and I appreciate both of your support this year. To Mac, I am so proud of you for leaping into the role of EIC despite the craziness of this moment. I am confident that you have all that you need to do a great job leading The Daily next year, and I will always be a phone call away. 
To everyone else who has had an impact on my time at The Daily — Shahbaz, Leslie, Niva, Tim, Monica, Conor, Peyton, Sierra, Claudia, Madelaine — I appreciate you and the times we've spent together. 
I could keep going, but I guess what I am realizing as I write this senior goodbye is that the opportunities to grow, to build community, to mess up, and to form relationships at The Daily are endless, and I wouldn't be the person I am today without them. 
I LOVE YOU ALL VERY MUCH! 
Mira Petrillo
Editor-in-Chief Summer 2019 - Spring 2020
Managing Editor Winter 2019 - Spring 2019
Health and Wellness Editor Fall 2017 - Spring 2018
The Daily Fall 2016 - Spring 2020