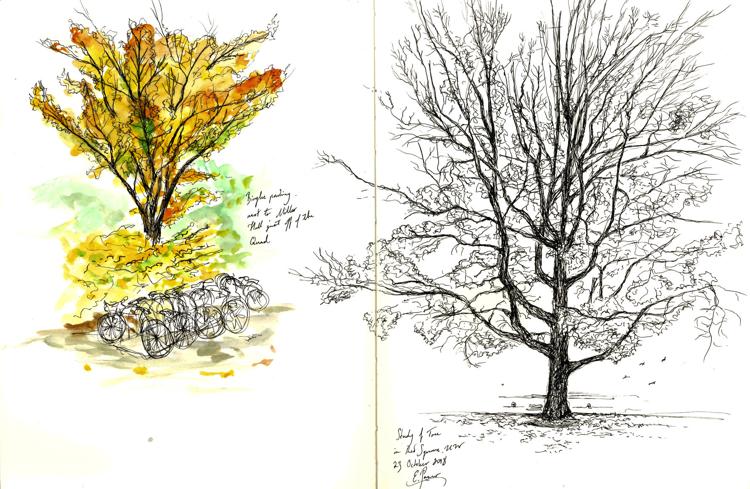 I think it is safe to say that autumn has arrived on campus. The changing color of the leaves has brought vibrant oranges, yellows, and reds to not just the trees but also my sketches. Summer was dominated by light blues and greens; and winter and spring by blues and greys. Autumn is the one time of year artists in Seattle take advantage of the warmer spectrum of their color palettes.    
As a native Seattleite, the three most used colors in my watercolor palette are dark blue, dark green, and gray. My reds, oranges, and yellows are seldom used except when coloring in the occasional traffic cone or rare brightly colored raincoat/umbrella. However, when mid-October rolls around, the Seattle Urban Sketcher community explodes with sketches and paintings of changing trees.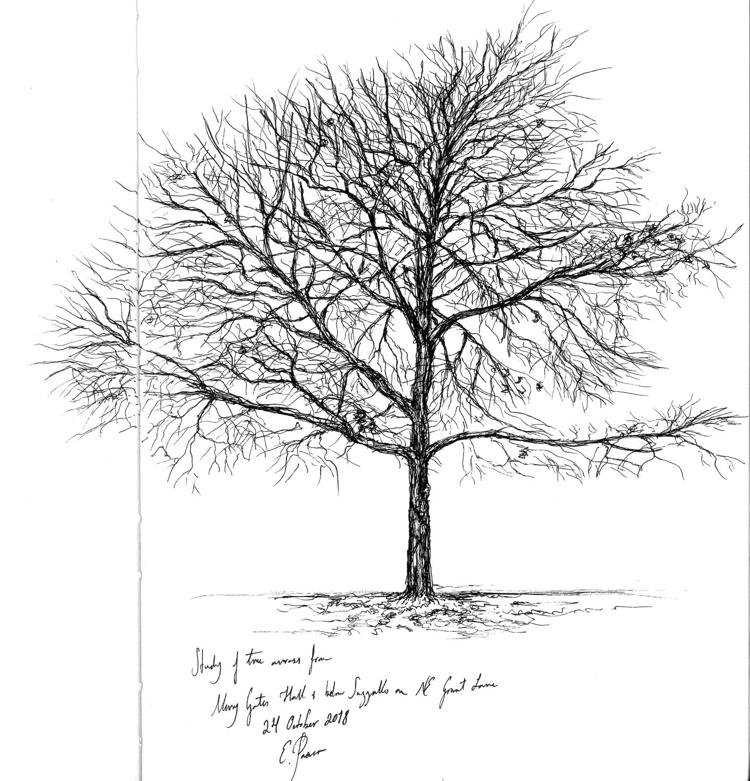 I decided to hop on the tree bandwagon and give it a shot. I will say, drawing trees is harder than it looks. Due to the fact that they are organic, they can be difficult to keep in proportion and portray accurately. While trees are organized, their form is very variable and only repetitive to a certain extent, whereas Gothic and Modern Architecture are very geometric and based in rules and proportions. Trees become especially difficult to portray when most if not all of their leaves are gone, the twisting and complex branches make for a painstakingly slow process. I will admit: it became rather boring when I had to add all the small branches with attention to their direction and length. However, the end result is very satisfying. Who knew that staring at and sketching a tree for an hour could yield such happy feelings.
So even if you are not a sketcher, I recommend you take some time to admire the changing leaves of autumn. There's something special in a thing that doesn't last long, and only comes once a year.
Until the next sketch,
Reach Eli Pasco The Campus Sketcher at illustrations@dailyuw.com
Instagram: @the_campus_sketcher