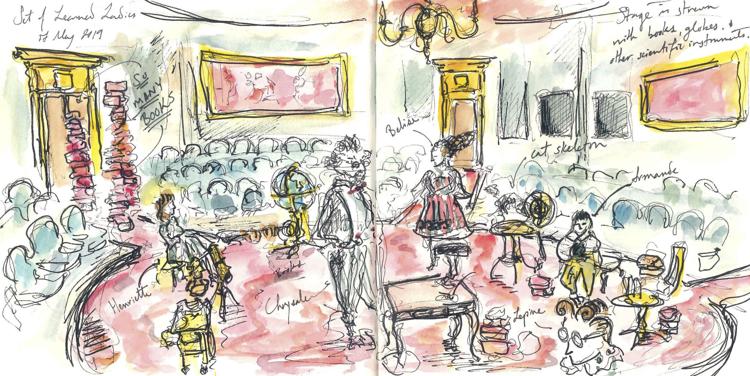 The last week I have been working on the last mainstage show for the School of Drama, "The Learned Ladies." A Moliere farce, this play is chock full of wacky characters, farcical humor, and lines that all end in rhyming couplets. This is the second time I've drawn a set in the Penthouse Theatre, and I will admit, drawing a theater in the round is quite a challenge. A set that has multiple viewpoints and angles makes it difficult to find the best viewing of the set and the characters that populate it.
Being on wardrobe and running crew, my responsibilities involve checking in costumes, helping actors with hair and makeup (which are quite involved in this show), and during the show making sure actors are in their places and helping out with a couple gags and set additions. During one of our run throughs, I had a bit of down time to sketch the set and actors. This sketch is a combination of multiple scenes so I could fit as many actors as I could on the page and give more life to the space.
The set is chaotic and the epitome of academia and bourgeois living. Pink marble floors, brass globes and astronomical gadgets, and so many books populate the space. Books are everywhere; on the floor, on chairs, on tables, and one even reaches as high as six feet. The costumes are equally vibrant and bold. Bright, vibrant colors that both clash and harmonize perfectly with the set. The clothes are a pastiche from multiple eras of history. Some contemporary, some from the last century, and some inspired by the Renaissance era of which Moliere himself was a part.  
This show is funny. You will laugh out loud more times than you can count. As this quarter comes to a close I think having a good laugh is the best medicine for this stressful time of year. The performances are fantastic, each actor is comedic in their own right, and the plot is so ridiculous and at the same time relatable, which is what makes this show so brilliant. If you need a break from studying, or life in general, come see this show for a healthy dose of humor. Trust me, this is a comedy you don't want to miss.
The Learned Ladies runs 22-26 May and 29 May through 2 June. Tickets can be bought here.
Until the next sketch,
Reach The Campus Sketcher at illustrations@dailyuw.com
Instagram: @the_campus_sketcher
Like what you're reading? Support high-quality student journalism by donating here.