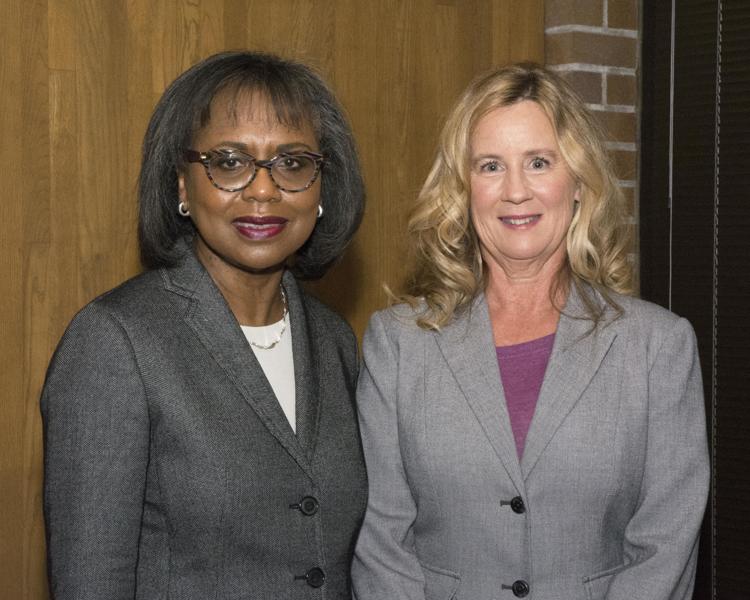 Lawyer, professor, and activist Anita Hill came onto the national stage in 1991 when she accused then-Supreme Court nominee Clarence Thomas of sexual harassment when he was her supervisor at both the U.S. Department of Education and the Equal Employment Opportunity Commission.
In her Nov. 6 lecture, hosted by the UW Graduate School, Hill explained how things were different during her testimony. When she first came forward with her accusations that year, she noted that pundits made it seem like she had invented the concept of sexual harassment.
Although several women brought forth sexual harassment accusations in the '70s, there was no government or academic research on workplace harassment until the '80s. It wasn't until 1986 that the Supreme Court first acknowledged that sexual harassment was against the Civil Rights Act of 1964.
Hill explained that she testified in front of "11 white men who had no appreciation for what I had gone through as a 25-year-old working for Clarence Thomas."
Hill was joined onstage by surprise guest Dr. Christine Blasey Ford, whose own experience, which parallels Hill's, begged the question: Have things really changed?
Almost three decades after Hill's testimony, Ford accused then-Supreme Court nominee Brett Kavanaugh of sexually assaulting her when they were both teenagers.
Just a year later, the Senate voted 50-48 to confirm Kavanaugh despite Ford's testimony accusing him of sexual assault and his infamously tumultuous hearing before the Senate Judiciary Committee. The confirmation was highly divisive. Conservative groups like the UW College Republicans celebrated the alleged perpetrator's confirmation and mocked survivors with "beers for Brett" events. 
Ford has made few public appearances since her testimony to the Senate Judiciary Committee just over a year ago. Just a week before the event at the UW, however, she accepted an Empowerment Award from the Silicon Valley chapter of the YWCA, revealing that Hill's own testimony inspired her to come forward in 2018.
"This work can be really hard and it can be really discouraging at times," Hill said of the fight for gender equity. "We will not ever turn back to the past without a fight."
Hill explained that many important sexual harassment cases were brought forward by black women, and judges often told them that these matters were personal and not something that the law should control. 
In recounting her own hearing, Hill lamented that it "could have sparked important conversation about how power is abused in so many different ways. But it didn't." 
Instead, Joe Biden, who was chair of the Senate Judiciary Committee at the time of Hill's testimony, infamously failed to call forward additional witnesses who could have backed up Hill's accusations and sat back while other senators grilled her on her accusations.
Just before his announcement of a presidential run, Biden called Hill to express his regret over how she was treated during her testimony, but Hill has said that an apology is not enough.
Hill concluded her lecture by listing a number of ways everyone can work to fight sexism.
"You cannot end abuse, bias, and discrimination without taking on diversity inclusion in an institution," Hill said. She explained that the one thing which has been found to decrease abuse in institutions is a diverse body, especially a diverse body of decision-makers.
She expressed disappointment in the perceived failure of Washington Referendum 88, which would repeal a ban on affirmative action in Washington. At the time of her speech, initial ballot counts indicated that the majority of Washington voters voted against affirmative action. Ballot drops later in the week have narrowed the margin.
Other recommendations Hill gave for fighting sexism included acknowledging microaggressions, embracing intersectionality, making institutional change, and including men in the conversation on sexual harassment and assault.
Hill also critiqued a number of 2020 presidential candidates, who so far haven't discussed plans to address gender violence and women's rights.
Hill encouraged everyone to think about the role of the leadership of the country who are responsible for selecting and confirming Supreme Court justices in the culture of gender violence. She explained that Supreme Court decisions can change not only laws, but also ways of thinking, and are therefore extremely important.
"If you want to do this work, find something or someone that inspires you," Hill said.
Reach reporter Emily Young at news@dailyuw.com. Twitter: @emilymyoung7
Like what you're reading? Support high-quality student journalism by donating here.