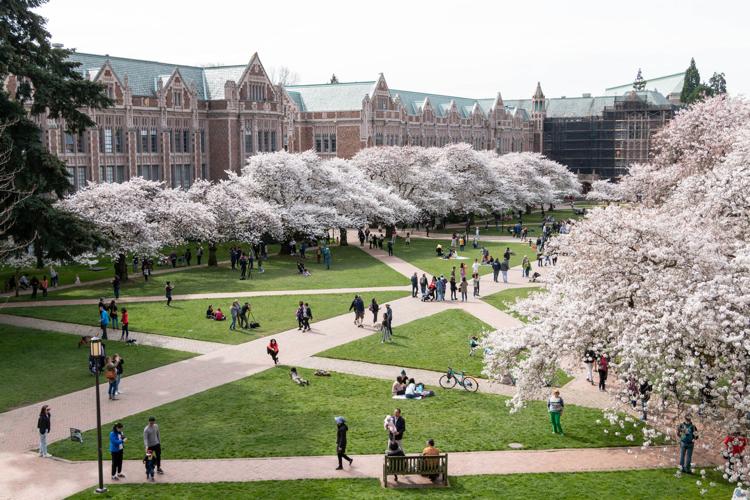 The UW has been ranked eighth among 1,500 other institutions across 86 countries on the annual U.S. News & World Report's Best Global Universities Ranking list. The latest list, which takes into account global and regional research reputations, frequently cited publications, and other related factors, was released last month. 
This academic research-focused ranking methodology places the UW above other prestigious universities, including the University of Cambridge, Johns Hopkins University, Princeton University, and even Yale University, where UW President Ana Mari Cauce did her own graduate work.
Both Cauce and Provost Mark Richards expressed gratitude for the ranking and pride in the work that UW students, faculty, and staff have contributed toward both education and research excellence.
"We see a recognition such as this one as the culmination of the great research and education that happens on our campus," Richards said. "Students' educational experiences are undoubtedly enhanced by the fact that they are being taught by experts who are among the world's leaders in their fields. Our students contribute to research in significant ways, both at the graduate and undergraduate level, which is a hallmark of the UW student experience."
The UW also ranked top 10 in the world for 10 subjects relating to medicine, computer science, geoscience, social sciences, and public health.
"Certainly, health sciences departments, including medicine, pharmacy and public health, are a big part of this recognition for good reason," Richards said. "The COVID-19 pandemic has demonstrated the importance of the outstanding work our infectious diseases and immunology programs are doing at a time when we need discovery and innovation in these areas more than ever."
While Cauce also appreciates the ranking and celebrates the positive contributions the university has had on the world, she acknowledges that the work within the university, particularly in terms of fostering inclusive environments and addressing inequities, is not done. 
 "In my recent annual address, I referred to Dr. Ben Danielson, a UW School of Medicine alumnus who leads the Odessa Brown Children's Clinic in south Seattle, and his proposal of an 'equi-covery,'" Cauce said. "This is the idea that rather than a 'recovery' from this crisis back to the way things were before, we need an 'equi-covery' in which these inequities are address[ed] through infrastructure investments in communities that have been overlooked and underinvested in for generations."
To achieve this "equi-covery," Cauce places importance on stopping the spread of COVID-19, which disproportionately impacts minority groups, as well as building a society that is better equipped economically, socially, and philosophically to deal with future global crises. She went on to highlight the importance of the university's Race and Equity and Population Health initiatives.
"We are certainly in the midst of a long-overdue reckoning with systemic racism, and the COVID-19 pandemic has also laid bare the deep inequities that exist in our society," Cauce said. "I believe that it is precisely because we are a leading educational institution that we have the reach, talent, and motivation to affect all of these challenges."
Cauce said that as society continues to become increasingly diverse and equity-centered, working across differences will be critical in solving the challenges of the present and future.
"Part of our mission as a public university is to help our state and our society address these most pressing issues," Cauce said. "My hope is that the UW continues to be a leader in this regard, and I believe we will."
Reach reporter Alvin Luk at news@dailyuw.com. Twitter: @AlvinLuk5
Like what you're reading? Support high-quality student journalism by donating here.