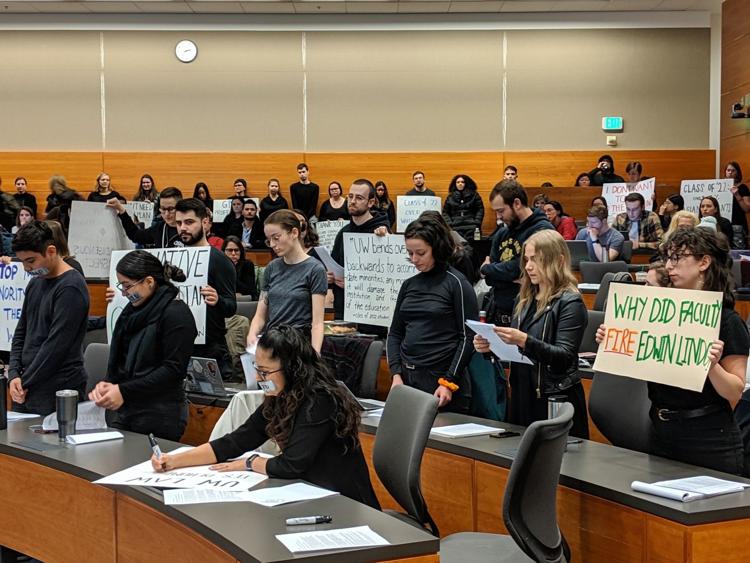 UW Regent Blaine Tamaki is donating $250,000 to the UW School of Law in the name of diversity, mental health, and additional funds to the Tribal Court Public Defense Clinic.
The donation comes after the law school has recently faced backlash from minority students for a lack of support. 
Earlier this year, students at the law school walked out of classes to demand better representation, addressing the lack of American Indian and Black students and faculty as well as insufficient attention paid in class to racial justice and legal topics.
While not targeted at the demonstration, the creation of the Blaine and Precy Tamaki Foundation was inspired by Tamaki's own difficulties attending law school as one of few minority students. 
"I disliked law school," Blaine Tamaki said in an interview with UW News of his experience, speaking of his motivation to create the foundation and make law school more accessible. Since his graduation from law school in 1982, Tamaki has become an acclaimed trial lawyer who has dedicated his career to serving historically disadvantaged populations, including Native Americans victimized by religious priests.
The money from the foundation will be distributed over two years and provides $150,000 in funds for five diversity scholarships each year, as well as $10,000 to increase diversity training and outreach to more students. 
"Obviously the intent is to create a more equitable and diverse pool of law students," Anna Endter, associate dean for students at the law school, said.
The beneficiaries of the diversity scholarships have yet to be determined, but Endter expects it would make a significant impact. The fund also attributes $50,000 for mental health services. 
"I can say in the last few years we've seen an acknowledgment finally [be made] that mental health and wellbeing is actually something that matters," Endter said. 
Students at the School of Law have access to all mental-health resources on campus, but the foundation will supply additional support, Endter said. 
"Students and lawyers tend to suffer at disproportionate rates," she said, referring to substance abuse and other mental health issues that typically affect law students and attorneys. "Mental health and wellness is maybe one of the top issues facing our students right now." 
The final portion of the foundation dedicates $40,000 to the Tribal Court Public Defense Clinic. The clinic is one of many available to second and third year law students, and offers students the opportunity to work in the Tulalip Tribal Court and Muckleshoot Tribal Court, according to Brenda Williams, the clinic's co-director.
"[It] provides them a perspective on tribal justice and tribal sovereignty," Williams said. "Without the Tribal Clinic, they may not have exposure to those particular tribal court systems."
According to Williams, 22 students have registered with the clinic for the 2020-21 academic year. The donation supports licensed attorneys who work with the students who receive course credit for their practice.
The Tamaki Foundation comes at a time when mental health, diversity efforts, and the clinic itself are in a unique position of need. 
The clinic serves those who have been disproportionately affected by the COVID-19 crisis, including the formerly incarcerated and tribal governments that rely heavily on casinos that have recently been forced to close. 
"We are able to serve [people] we would otherwise be unable to serve," Williams said. 
Reach reporter Hope Morris at news@dailyuw.com Twitter: @hopexmorris
Like what you're reading? Support high-quality student journalism by donating here.