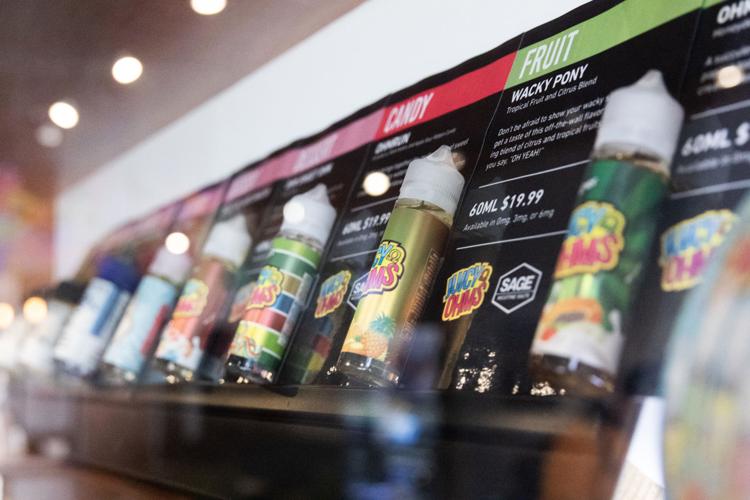 Editor's note: At the request of our sources, all names have been redacted from this story.
Washington state is approaching the one month mark in a 120-day emergency ban on the sale of flavored and THC vape products. 
In September, Gov. Jay Inslee signed an executive order that required the Washington State Board of Health to issue the ban on flavored vape products. The ban was approved by the Board of Health Oct. 9 and was implemented the following day. 
Inslee's call for action came after the Centers for Disease Control and Prevention (CDC) September announcement that there have been 805 lung injuries and 12 deaths related to e-cigarette use nationwide. Since then, the CDC released an updated report showing the number of lung injuries and deaths increasing to 1,604 and 34, respectively. 
Despite the CDC and Inslee's concerns, some students are not worried that their vape use may be linked to lung illnesses. 
"It's bootleg dab pens that's causing problems here," one UW student said. 
The student, who is a member of a fraternity, said he stocked up on flavored juice and has continued to vape since the ban went into effect, but he also has no plans to switch to cigarettes. His main concern is that the ban could lead to the formation of a black market and less reliable sources for flavored vape products.
"Some people are ordering fake pods from China," he said of other students he knows. 
For at least the short-run, other students have found ways to circumvent the ban. Several students said they bought flavored vape juice in bulk after hearing the news of a pending ban. 
"Most people I know stocked up on juice before the ban," another frat member said. "Since I live with close to 100 guys, the environment doesn't really discourage vaping." 
The second UW fraternity member personally did not stock up, but he noticed that the younger students in his fraternity were especially active in ensuring their stocks were maintained in the short run. 
In addition to stocking up before the ban, students have been able to acquire flavored vape products by other means. While some have potentially purchased fake pods from China, others have utilized friends and relatives from other states to supply flavored juice. 
Another UW student, who was vaping in the designated smoking area behind Odegaard library, said he did not know about the ban in advance. 
"I didn't know they were changing it," the student behind Odegaard said. "I just went in the store and they weren't selling flavored ones anymore so I just bought what they had." 
The student still plans to vape using tobacco-flavored juice, which unlike other flavored products, is not currently banned. The student said he has no plans to switch to cigarettes, citing his dislike for the smell. 
While these UW students expressed the desire to continue vaping and plan to avoid the switch to cigarettes, recent purchasing habits in one smoke shop on the Ave suggest some students and U-District residents have already made the change. 
An employee at a smoke shop on the Ave said the sale of cigarettes and other tobacco products has increased significantly since the ban went into effect. The shop is still selling the tobacco vape products, but it is not as popular as the banned flavors. Additionally, the store has taken an economic hit.
"Business has gone way down because of the ban," the employee said. 
Reach reporter Thomas Newman at news@dailyuw.com. Twitter: @thomasn456
Like what you're reading? Support high-quality student journalism by donating here.