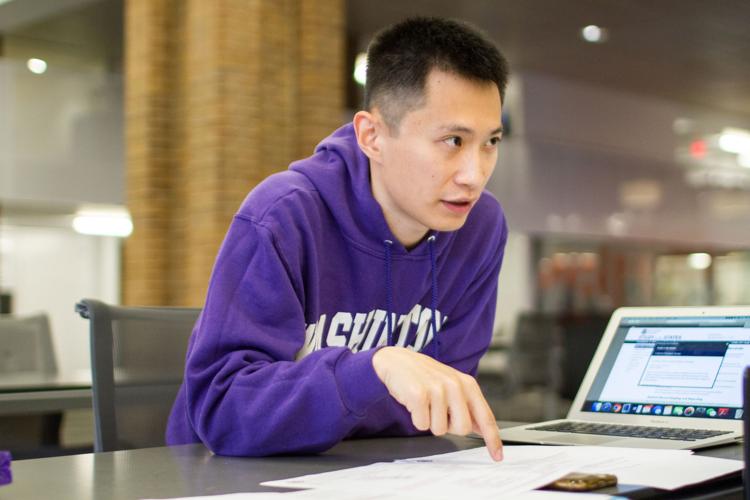 There are over 8,000 international students currently enrolled at the University of Washington. Students come to the UW to seek new opportunities, go beyond their limits, and explore their field of interest. Every experience varies. But for international students, it also means leaving their home country and entering a new one.
Wenbin Xu was one of them. Xu came to the UW in 2008 to pursue a bachelor's degree in engineering. After he completed his degree, he went on to begin a master's in electrical engineering.
Upon finishing his master's degree in 2014, he applied for Optional Practical Training (OPT), as is often the case for international students possessing an F-1 visa, which allows non-immigrants students to attend school in the United States.
OPT provides international students with F-1 visas authorization to work for 12 months in a field related to their studies during or after earning their degree. Only one OPT authorization is permitted per academic level, and it usually takes about three to five months to get an approval for OPT.
When Xu applied for an OPT authorization in 2015, his request was rejected.
"I worked hard to get my degree and then did stressful job hunting for months and finally landed a job offer," he said. "And suddenly I found out that I lost all my eligibility to work in the US."
The devastation Xu felt was indescribable. However, what bothered him more was that this was not a situation he had put himself in.
The denial had occurred from an error found in his Student and Exchange Visitor Information System (SEVIS) record.
"A review of your application, all supporting documents submitted, and the SEVIS System indicates that you have previously been granted 12 months of practical training," the denial letter stated. "However, the review failed to establish that you have changed to a higher educational level. You must have changed to a higher educational level to receive employment authorization for additional practical training."
Though he was applying for a post-completion OPT after his master's degree, the system reverted back to his bachelor's degree, where he had already completed an OPT before. Since only one OPT could be approved for one academic level, his application was denied.
His adviser from International Student Services (ISS) identified the error in his bachelor's degree SEVIS record. Though the record was supposed to include details about his undergraduate program, the level of education had been erroneously changed to a master's degree before he completed his graduate studies.
Xu strongly suspects that the root cause dates back to 2012 when he moved up to pursue his master's degree.
The Graduate Enrollment Management Services (GEMS) office issued an I-20 form for Xu that included a wrong starting date for his program. Upon noticing this mistake, Xu immediately reported it to GEMS, and Mary Fetterly, a graduate adviser at GEMS, acknowledged the issue and created a new I-20 for him.
Though the situation seemed to have been settled here, the problem was not completely fixed.
Fetterly seemed to have altered the information about his bachelor's data within his SEVIS records, changing it to a master's level, where they should have created a new SEVIS record when issuing the initial I-20 form.
"Typically, if [students] are moving from a bachelor's degree to then a master's degree or a master's degree to a Ph.D., a new immigration record has to be created for that degree," Kim Lovaas, director of ISS, said. "It is not a continuation; it is by level."
Since his bachelor's degree SEVIS record had included his first OPT application, in which the education level was just altered to a master's, it left the system thinking that he had applied for an OPT during his master's tenure.
 This error had stayed in the system for two years and arose as a fatal issue when Xu applied for his OPT in January 2015.
With an error in his SEVIS records, the ISS had to file a data fix petition to the U.S. Citizenship and Immigration Services (USCIS). The data fix could have taken months, but he only had 33 days to reopen his case for his OPT. According to Xu, his adviser at ISS sent 13 pages of documents indicating that the error was a result of the records, not Xu's own doing.
Lovaas said that the denial of OPT is "not common at all."
According to her, only designated school officials are eligible to access a student's SEVIS records; students themselves cannot. In a situation such as this, it was impossible for Xu to realize such an error had been there in the first place.
Fortunately, with major help from ISS, his petition to change his SEVIS records was issued a week before his 33-day deadline and was able to reopen the case for his OPT.
By May of 2015, the case was processed and Xu was legally able to return to the United States to work. Upon his return, Xu contacted various departments at the UW, including the Office of the President, the Office of the Provost, UW Claim Services, and GEMS to properly address this case. According to Xu, GEMS insisted that the mistake was made by the Department of Homeland Security rather than their own office. Some departments postponed their replies or never replied back to him.
Initially, he contacted GEMS, the department that he thinks caused the root issue. However, he was told that the error had been made by the Department of Homeland Security and to address his case to the UW Claims Services.
However, the UW Claim Services rejected his claim, saying it was not a matter of theirs. It was only after a state authority forwarded his message to Claim Services did the office respond with what Xu states was "a semi-literate" letter (there were several spelling mistakes), repeating that it was not the university's fault for his denial.
"We understand that all matters related to Mr. Xu's OPT application were cleared and we are glad that he was able to complete his OPT opportunity," Victor Balta, director of UW media relations, wrote in an email to The Daily, claiming that the case was closed.
[Update: On Wednesday, June 5, Balta sent the following statement in response to the story on behalf of Rebecca Aanerud, interim dean of the UW Graduate School and Julia Carlson, Director of UW Graduate Enrollment Management Services: 
"The University of Washington employs highly skilled staff to serve as designated school officials (DSOs). Over many years, these staff have successfully helped thousands of international students navigate through various visa processes, including OPT. The UW continues to encourage our students to work closely with staff members and follow their instructions and guidance to prevent encountering problems with the Department of Homeland Security."]
Xu never received a formal apology nor any compensation for all the financial losses that he suffered from this case, including $650 to reopen the OPT application, and expensive immigration lawyer fees that were $250 per hour. He also had to postpone the starting date of his job by two months, losing the salary gained from that time period.
"I would not have been this upset if it was another institute," Xu says. "This is my other mother. I was a student here for six years. I used to install UW license plates, used to have a UW key ring, I still have my UW fleece. But every time I see that I still feel complicated … [the UW] was literally a home away from home for me. How could they treat me like this?"
The Trump administration has brought about major changes in how the USCIS addresses the "unlawful presence" of students who overstay their visas. One of the examples of an unlawful presence of a student posted on the ISS website includes the denial of an OPT application after the end of the 60-day grace period, which was exactly what had almost happened to Xu.
This made Xu wonder what would have happened to him if he wasn't able to get his records corrected in time.
"It made me wonder that if my case had not been settled, if my case had not been resolved, and if it really had severe consequences, what would have the university replied?" Xu said. "If I really completely and eternally lost my eligibility to work in the US, what would the university say? What would they do?"
Though there have not been any changes regarding the general OPT application for F-1 visa students, Lovaas acknowledged some delay in the processing phase.
"[I] did know some cases that were denied on what seemed to be some minor errors on the student side," she said. "But with that said, denials are very uncommon and very few of our students get denials."
Lovaas urges students to make sure they thoroughly check their documents and requirements before submitting the application.
According to an email from Rebecca Aanerud, interim dean of the UW Graduate School, there are four advisers who are all designated school officials (DSO) at GEMS. Newly designated school officials are provided with training by the National Association of Foreign Student Advisers (NAFSA). Once a DSO, the advisers have access to SEVIS, and within that process, GEMS coordinates with ISS when necessary.
The reporter could not gain additional information on whether the university is taking any consideration for this case by GEMS or other departments.
"I want [GEMS and UW Claim Services] to properly train their employees, to find the root cause of this problem, don't make lies and false statements anymore, and to make sure it will not happen to any other international students," Xu said. "That is my only request to the university administration right now."
Reach reporter Nozomi Kurioka at news@dailyuw.com. Twitter: @n_kurioka
Like what you're reading? Support high-quality student journalism by donating here.